Teezo Touchdown Is an Architect of the Future
Thriving on uncertainty and eccentricity the subversive artist is right where he wants to be.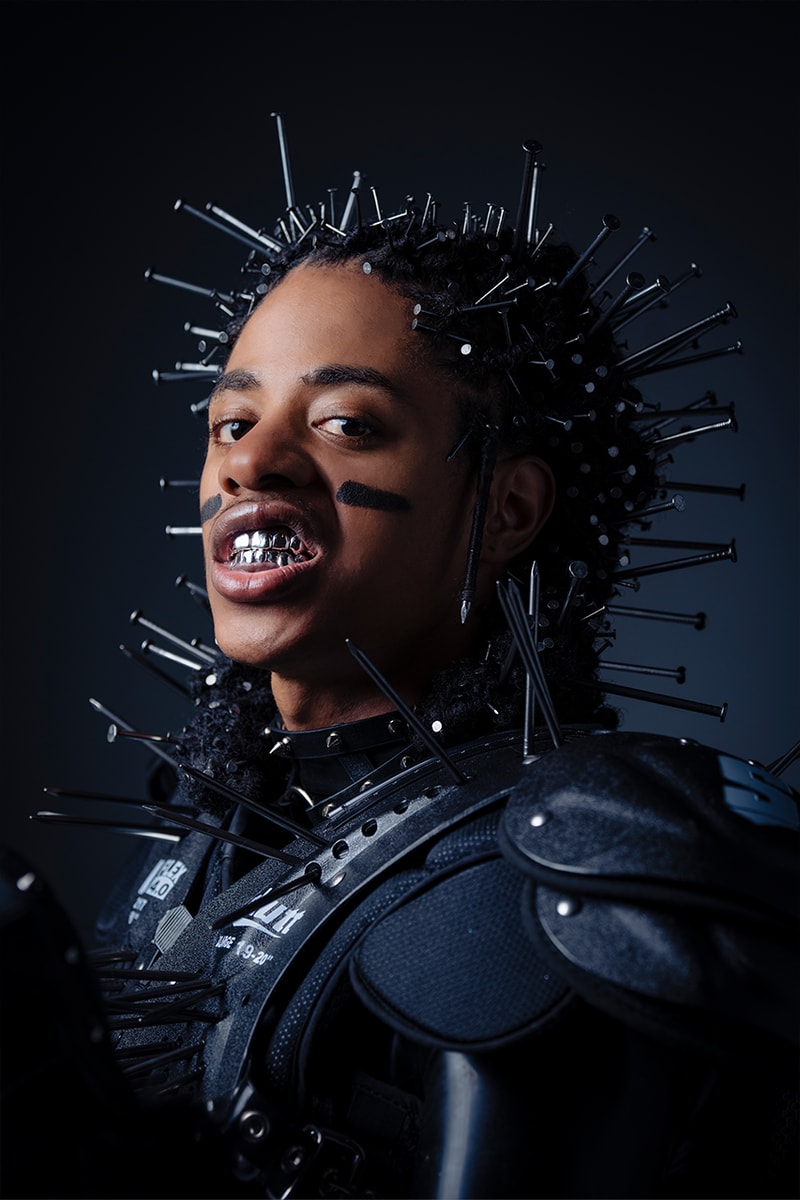 Teezo Touchdown Is an Architect of the Future
Thriving on uncertainty and eccentricity the subversive artist is right where he wants to be.
"Alright, I want to show you my outfit," Teezo Touchdown gleems through FaceTime one early evening as he walks through the streets of Camden Town, London. He hands his phone to his creative director, Austyn [Mashburn] Sux, who takes a few steps back to reveal the full ensemble: a lime green cycling jersey and complementing tie dye pants accentuated by Touchdown's signature nails piercing through his hair. "It's like I took my favorite day of the week from Spirit Week, which was Tacky Day, and just applied it to my everyday life," he explains. "How long am I going to keep doing this? I don't know."
Born Aaron Thomas in the coastal city of Beaumont, Texas, and now residing in Los Angeles, Touchdown thrives on life's uncertainties. The creation of his Teezo Touchdown ego (as well as the rest of his cast of characters) was forged through the fire of what he calls an "extreme point of trial and error." Although, Touchdown admits, he's still identifying the full potential of his primary moniker to this day. He does, however, know that he wants it to be influential enough to become a Halloween costume. He's seen this effect in the shows of Tyler, the Creator, who brought him along for his recent Call Me If You Get Lost tour, and Omar Apollo, referring to the fans who attend their concerts as the musicians' cosplayers.
Touchdown's current form might be most recognizable for the nails in his hair, but his main focus will always be his first love of music—regardless of any imposter syndrome he's experienced from it or his past. Unlike many, Touchdown doesn't see his visual presentation as a distraction from his music, which has crossed genres, ranging (so far) from high-adrenaline rap to honest indie rock and catchy electro-pop. Like a sponge, he absorbs all the sonic elements that pass through his ears and transforms each into his own, throwing all caution to the wind in the process. It's a continuous work for Teezo that serves almost as an act of self-love and self-care, freeing him from the negative thoughts from his past. "I heard a lot of that crazy, wild stuff growing up. That's how raw the world can be," he shares, "I love the direction that the world is going in now—as far as correcting a lot of its wrongs—but I'm definitely a product of a lot of those wrongs. I'm still dealing with that. I should let it go, but it's easier said than done."
"I know I'm gonna be a star. I'm just moving like a star before the rest of the world sees it."
Shaped by this culture of criticism, Touchdown's sense of humor and study of method acting (or what he calls "a display of his blind and extreme faith") have allowed him to fend off these thoughts of disapproval to better understand where the negativity originates. "I believe that it comes from being hurt inside and insecurity. If you can deflect that off to someone else…that's just the easiest thing to do," he explains. So he did the opposite; he carried himself with confidence because he knew that he was destined to become Teezo Touchdown. "I know I'm gonna be a star. I'm just moving like a star before the rest of the world sees it," he asserts.
At his very core, Touchdown is a self-taught artist. After music, his second love is cinema, specifically the kind deeply rooted in DIY culture. He credits the videographer Denzel Seale as his introduction to this filmography. Supported by the filmmaker, Touchdown began shooting his own music videos on his phone, and his friend's "five-minute course" about ISOs, shutter speeds, and editing allowed the musician to film for other artists as well. "Look at the videos of Sucka!' and 'Careful.' Those were shot on a Sony camera you can get at Best Buy," he says. "We use our resources to make it look like these videos are avant garde." Even with a budget now, Touchdown's do-it-yourself aesthetic can still be seen in his present work today, although perhaps now he realizes that maybe he took the "yourself" part too literally. He's still trying to unlearn that part of his methodology and replace it with DIWYF: do-it-with-your-friends. He's grown to love collaborating with other artists like Tyler and Westside Boogie, knowing that the culture of DIY will only grow stronger in music, but he does advise other young artists to use their resources. This maturity is reflective of both Touchdown's personal and professional journeys; though both have not been the easiest, they have transformed him into the understanding, independent, and unique artist that he is today.
But will Touchdown ever get rid of the nails in his hair? The answer is maybe. After all, the nails aren't simply part of his character; they hark back to his childhood (his father kept many tools around their family home) and the turning point in his musical career in 2019, when his breakout track about gun violence, "100 Drums," caught the attention of Chance The Rapper and Trippie Redd. The nails are, in fact, more than a gimmick—they're a symbol of his ability to change.
This piece was originally published in HYPEBEAST Magazine Issue 30: The Frontiers Issue, which is available now on HBX.