Jalen Hurts Becomes the Highest-Paid Player in NFL History After Signing $255M USD Extension With the Philadelphia Eagles
Hurts' contract will pay him a record-breaking $51M USD per season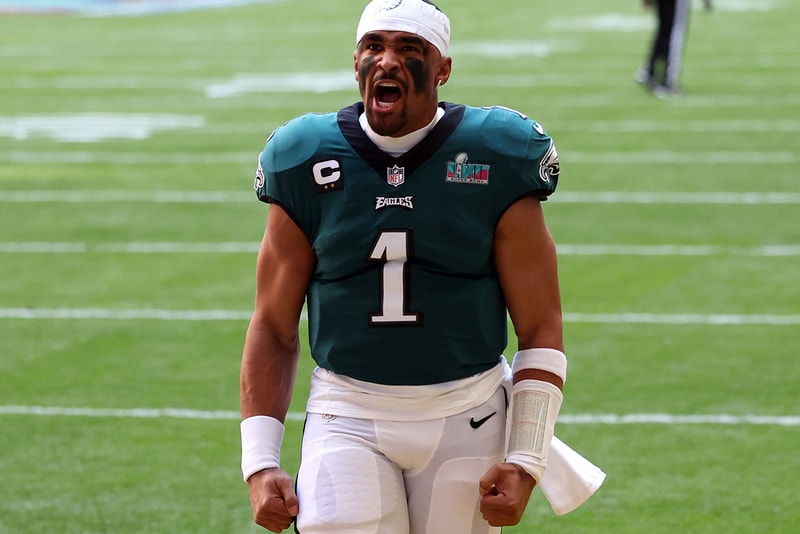 Philadelphia Eagles quarterback Jalen Hurts has become the highest-paid player in NFL history after agreeing on a five-year, $255M USD extension with the team — $179.304M of which is guaranteed. Hurts' contract will pay him $51M USD per season, a league record, and includes a full no-trade clause, the first such clause the Eagles have ever granted to a player.
Hurts, 24, blossomed into an MVP candidate during the 2022 NFL season, his second as a starter. A dual-threat quarterback with a strong, accurate arm, and a physical, contact-seeking running style, Hurts threw for 3,701 yards and 22 touchdowns in while tossing only six interceptions — and besides his aerial acrobatics, he also ran for 760 yards and 13 touchdowns over the course of the campaign. The Eagles' option offense was centered around Hurts, and he led plays like the controversial, borderline-unstoppable "tush push" quarterback sneak, where trailing linemen and backs would essentially shove Hurts — who can squat 600 pounds — over the line of scrimmage in short-yardage situations. Hurts' total touchdown output set a new franchise record, and saw him earn second-team All-Pro honors as well as a Pro Bowl nod. The Eagles fell short of their ultimate goal of winning a Super Bowl, however, as they fell 38-35 to Patrick Mahomes and the Kansas City Chiefs in Super Bowl LVII.
Apart from his on-field exploits, Hurts is known as a preternaturally calm locker room presence and leader, with a maturity that belies his age: he's only 24. This may be due to his non-traditional path to NFL superstardom, as he started at QB as a freshman at perennial college football powerhouse Alabama, but was benched in favor of Tua Tagovailoa during the 2018 National Championship Game, and lost his starting job to Tagovailoa the next year. Hurts then transferred to Oklahoma, finished second to Joe Burrow in Heisman voting, and was selected by the Eagles in the second round of the 2020 NFL Draft (53rd overall). After spot starts in his first season, he eventually replaced failed former franchise QB Carson Wentz as the full-time starter in 2021, and has a career record of 23-11.
"I think the beautiful part about [the 2022-23 Eagles' journey] is [that] everyone experiences different pains, everyone experiences different agonies of life, but you decide if you want to learn from [them]," he said shortly after the Eagles fell in their effort to capture the Vince Lombardi Trophy. "You decide if you want them to be teachable moments. I know I do."
Eagles and Jalen Hurts reached agreement on a five-year, $255 million extension, including $179.304 million guaranteed, per source.

Hurts becomes the highest-paid player in NFL history in a deal negotiated by Nicole Lynn of Klutch Sports Group and Eagles' GM Howie Roseman. pic.twitter.com/DXG0ZWzsGJ

— Adam Schefter (@AdamSchefter) April 17, 2023
News of the signing, first reported by ESPN's Adam Schefter, skyrockets Hurts over other star quarterbacks like Mahomes and Deshaun Watson on the NFL's annual pay scale. Though Hurts' $51M USD is indeed a league record for annual salary, Watson's 5-year, $230M USD contract with the Cleveland Browns still holds the most guaranteed money and Mahomes' $503M USD 10-year pact with the Kansas City Chiefs is the largest gross value contract.
For more football news check out Hypebeast's 2021 interview with Hurts, conducted just weeks before he became the team's full-time starter.