Balmain x evian Is Olivier Rousteing's "Fight to Change the Fashion Industry"
Hypebeast speaks to the Boy Wonder of Balmain about the House's latest sustainable project and how he has the key to unlocking longevity.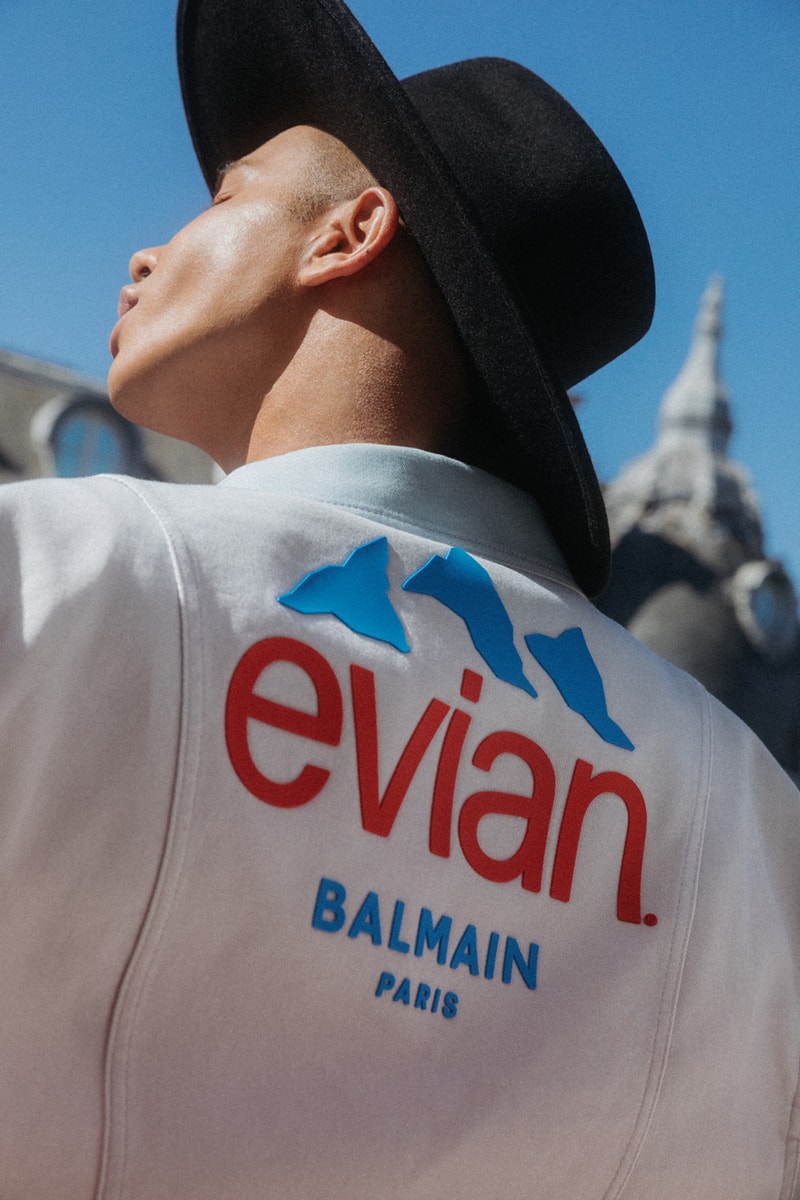 Balmain x evian Is Olivier Rousteing's "Fight to Change the Fashion Industry"
Hypebeast speaks to the Boy Wonder of Balmain about the House's latest sustainable project and how he has the key to unlocking longevity.
For Olivier Rousteing, it's imperative that his second Balmain x evian collaboration proves "that conscience and creativity can actually work quite well together."
More than ever, the world is feeling the impact of unsustainable practices, such as those caused by the fashion industry which contributes 10% of the total global carbon emissions emitted. In order to save the planet, the change has to – in Rousteing's own words – "start somewhere."
It's easier said than done. From supply chains not being able to produce sustainable materials to Haute Couture traditions falling short of eco-friendly ways, there are a number of obstacles that could make a designer give up on trying to change the world. But not for the Boy Wonder of Balmain – Rousteing sees it as a "good challenge," bringing the beautiful Balmain legacy forward through collaborations, techniques, applications, fabrications, and all things sustainable.
At Paris Fashion Week Spring/Summer 2023's Balmain Festival, Rousteing debuted a couture dress constructed from a single fabric woven from threads derived from recycled evian bottles. As the designer then hoped when he spoke to Hypebeast – "for me, it's not just about the bottle and the dress, I hope this is the beginning of a collaboration that will stay forever" – he is now ready to tackle a more pressing part of the fashion industry: ready-to-wear.
Teaming up with evian once more, Balmain now debuts its second collaboration with the bottled water company. The collection spans every element of the fashion scene, serving sculptural dresses cut with the most unusual shapes and made with unconventional recycled materials for a piece that's nothing short of breathtaking, to staple T-shirts.
With the collaboration, consciousness and creativity work together fluidly. Balmain x evian eschews the stereotype of sustainable fashion not being fashionable. We find denim trucker jackets covered in a balayage of pink and blue hues cut with cuboid pockets and fastened in the House's signature gold buttons, the Blaze Clutch bag re-imagined in evian themes using 45% plant-based 3D-printed resin and recycled polyethylene terephthalate for the handle and lock, and even GOTS-certified organic cotton tailoring, perfected beyond contemporary sartorial cues.
In light of the transformative Balmain x evian collaboration, Hypebeast caught up with Olivier Rousteing once more to discuss the collection, its impact on the House, the consumer, and the fashion industry, and to understand why Rousteing sees sustainability as the key to unlocking longevity and relevance for years to come.
Hypebeast: The tagline of the collaboration is "Together, Change is Beautiful." On a personal level, how do you continue to change and keep Balmain moving forward?
Olivier Rousteing: I am the witness of my time. This is what I love to do, and Balmain is my platform to express all the changes in this world, and all the fights I will go through for the next generation. I wake up every morning and think about what I love about the world and what I don't like about the world, pushing for different ways to make the world the way I want it to look for tomorrow.
In doing so, is Balmain changing the world of fashion?
Yeah. I've been at Balmain for over 11 years. I started as a 24-year-old kid. I have seen and been through so many things in the fashion industry; I have been in so many fights to change the fashion industry and to push my vision to the next level, making sure that the world will be different.
Today, it's really rare to see a designer that's spent such a long time at a House. I can tell you that I have seen so many changes in the industry since I started – the concept of inclusivity [for example]. Today people say it's normal, but 11 years ago inclusivity was not a word that people used to define fashion. People forget that I started a long time ago. As a Black designer in a French luxury House, I have seen so many things and fought so much so that the next generation won't feel what I went through.
"My association with evian is pushing sustainability forward, it elevates fashion to the next level away from superficialitity."
You can say the same for social media. It was not synonymous with luxury. I remember when I first got a big amount of Instagram followers, people would say it was not the right platform to express luxury. These things might feel really banal and normal today, but the reality is that people had to fight. The people that fought yesterday is what makes tomorrow different.
My association with evian is pushing sustainability forward, it elevates fashion to the next level away from superficiality. It reminds people that the planet is suffering, but we can love our fashion shows and our editorials. But the reality is that we need to be conscious that our industry can aggravate the system and we need to be cautious and aware. We need to change. No fights are easy. But we need to start somewhere, and my collaboration with evian is the beginning of a new era for fashion.
You talk about change being beautiful, but isn't the world changing in a really ugly way? 
The world is tough. I'm not saying the world is perfect. But if there are imperfections in our world, let's change it to make it beautiful. Don't forget that there's one word before it, "together." A sense of togetherness; my vision for this is that being together is beautiful. The sense of community, the sense of togetherness, the sense of not being apart. This is the key for our planet to be better tomorrow.
This might sound really cheesy, but all the problems we face today are because there is no togetherness. If we take care of each other and be together the world will be better. We don't need to understand opinions, we need to share opinions, and exchange ideas so that everyone is confident tomorrow.
I have the chance [to do this] with Balmain. It's a fashion House that was created in 1945, but [it allows me] to express my vision in such a free way. I feel lucky every day and I have always pushed for togetherness since the start of my career, and I shall until the end. Together we are one.
Another thing the collaboration aims to do is search for new possibilities. What new possibilities have you come across? 
The evian collaboration has been like a laboratory for me, it was all about experimenting with different creative processes. [When doing projects like this] you will face obstacles – some fabrics or embroideries aren't sustainable, so there is an entire process behind your creation that can look like an obstacle, but when you think about it, it becomes a good challenge.
"I think sustainability is about a vision, and that can be maximalism or minimalism."
That's what I love about the collaboration. It's very casual, very simple, really easy, but at the same time there is tension between a pair of jeans and a T-shirt and sneakers, and the opposite, the embroidery dress which is couture. I've tried to play with all of the categories that comprise the fashion industry, and faced new challenges to create a collection that has a big range of price points, of style, and made sure that everybody can find their item. It's another incredible moment of my career to explore different fields that I am, let's say, maybe not as confident in. But today, they are a part of me.
For this collaboration, and as touched upon here, you wanted to make it clear that "consciousness and creativity can work well together." Are you saying, despite the stigma, sustainable clothes can be fashionable?
I am clearly saying that, you are totally right. When you go for sustainability, you have fewer fabrics available. You might envision a color or texture but it might be hard to get that in a sustainable way. When you start to create sustainably, the supply chain starts to understand your requests.
What's the real problem? There are not many suppliers that get what being sustainable [means]. What's interesting is that you can teach them how to be 100% sustainable; if we are all cautious, all the fashion Houses, about wanting to and needing to be sustainable, the supply chain will be open to not seeing obstacles and instead welcoming challenges.
That's where we are. This is the new reality and we have to start from somewhere.
I think you proved that concept with the couture dress which we saw during Paris Fashion Week. Did that piece inspire the RTW collection?
I really wanted to show other things than just jersey. That's the easiest piece to do sustainably. I wanted to show that you can create couture and still be relevant in the sustainable world. Being sustainable is not a style, this is the problem with the world – people think you can only be sustainable if you are minimal. This is not true. I think sustainability is about a vision, and that can be maximalism or minimalism.
You can create the most complicated cut and the weirdest shape and still be sustainable.
I wouldn't say that the couture dress inspired the collection; I wanted the Balmain customers to go to the store to get a T-shirt to also get a €40,000 or €100,000 dress, and so I am showing the diversity you can create within sustainability.
Last time we spoke, you said the evian collaboration "pushed you" to create and design. Have you learned anything from making the RTW collection?
I learned a lot. I am trying to push sustainability in my collections. But I am not able to do a 100% sustainable collection because of my supply chain. Season after season, you see that there are more and more sustainable items in the store.
"Everything I do, I make sure it's going to be a part of history."
Working with evian has helped me develop my next collection to be more sufficient and sustainable.
If you go to the Balmain store you're not going to think, "oh my god, this is a sustainable brand." But that's not what I want to do. I don't want my fights to be obvious. I am not using this as a marketing trend. What I have learned after 11 years, is that what makes fashion beautiful is to not be hype, but to be timeless.
It's about longevity.
Yes – when you start your career you want to be hype and trendy. This happens to everybody because newness is what hype is. But it's easier to be hype than it is to be forever. And relevant. This is my fight and my challenge when I create with my teams, it's really not about being seen to be seen, or being loved for being loved, oh people are talking about me. It's about waking up in the morning and thinking about what I am going to do in the world tomorrow. This is longevity, this is why I love working with evian. Everything I do, I make sure it's going to be a part of history.
Has this changed the future of Balmain?
I don't think it changed the future of Balmain. My team and everyone that works around me know my goal for the House, that being that the House is forever. It was built in 1945 right after the Second World War; Pierre Balmain loved a challenge because he didn't have the fabrics or the leather, he didn't have anything to make his own brand, but he made it happen.
What I want to do is to make sure that people won't forget Balmain in 100 years. It's really easy, sometimes, to forget a House because trends and the world are changing, and you're not relevant anymore. Some people forget the name. But my goal at Balmain will always be to make it relevant for tomorrow.
When I started at the House, people barely knew what Balmain was. I remember my grandmother knew Balmain because she wore the Ivoire fragrance, but the young generation thought Balmain was for grannies. While some people might not like my taste, what I love about it is the idea that people know Balmain exists, and that it is a House that is relevant today, and the young generation will know it tomorrow.
This is my goal and I have achieved it, and I need to continue to achieve it while I am at the House.
Why is the mentality that underpins the evian collaboration so important for the growth of the wider fashion landscape? 
The longevity of the industry is more complex. Magazines, press, fashion designers, stylists, we all need to be on the same page for what we expect for tomorrow. That's the struggle for the industry – like I said, "together, change is beautiful." But if people don't believe in inclusivity or diversity… this is the challenge.
"The fashion industry is an incredible platform but it needs a lot of changes to be relevant tomorrow. The moment that we change, it will be relevant."
What I've tried to do is show that change is beautiful and that we cannot be scared of change. We know what we lose, we never know what we win or gain. It's human nature. We are scared to change because we don't know what or how we will change. But the reality is that your future will be better if you believe in it.
This is my mantra. This is what I have in mind every morning. After the storm there is the sun, after the struggle there will be a beautiful sky. The fashion industry is an incredible platform but it needs a lot of changes to be relevant tomorrow. The moment that we change, it will be relevant.
Balmain x evian releases online and in Balmain's boutiques on April 18.