These 9 Black Entrepreneurs and Creatives Are Changing Golf
Widening the game's scope beyond the fairways and wood paneled locker rooms.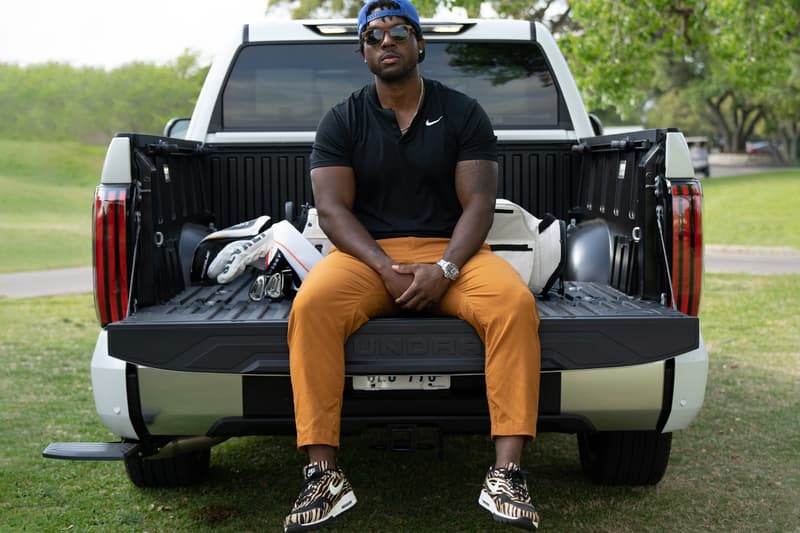 As a rule of thumb, Black culture has always driven trends across streetwear, sports and lifestyle, from the rise of brand logos as status symbols in the 80s, to the growth of sneaker culture emanating from basketball in the 90s. In golf, early pioneers of the culture include Lee Elder, who broke the color barrier at The Masters in 1975, and Calvin Peete, who was the winningest Black golfer on tour before Tiger Woods came around. When Tiger did finally arrive on the scene, he brought golf to a completely new audience and inspired an entire generation of young golfers who came after him.
20 years on from Tiger's initial surge, a new wave in golf is being led by Black innovators not through the PGA TOUR, but through creative content and ventures that show a more dynamic side of the sport. There's an appetite for fresh voices in golf that come from different backgrounds, that bring new perspectives. And they're often a lot more relatable to people just getting into golf compared with tour players because they understand the struggle of learning the game, of not having a perfect swing and of balancing the sport with a job and a social life. It's created this new community of personalities in golf, driven by the power of social media platforms like Instagram and TikTok to tap into different segments.
With Black History Month on our mind, Hypegolf has rounded up nine influential figures across golf fashion, footwear and lifestyle who are leading the sport into a new era.
Roger Steele
Roger Steele grew up in Chicago and was introduced to golf at a young age. But he stopped playing for a long time, and it wasn't until he got out of college that he found a passion for the sport once again. Steele started his own media company and in 2020 posted a video on Instagram that went viral where he proclaims himself as "one of the coolest people playing golf right now" and educates newcomers on golf's unspoken rules.
Nowadays he hosts the YouTube series Range Talk with Callaway Golf where he profiles people like Steph Curry, Jon Rahm and Larry Fitzgerald, and also works with others brands such as Trap Golf, indoor golf venue Five Iron Golf and Nike Golf. Steele's game isn't to be sniffed at either. He plays to a low single digit handicap and has an undoubtedly nice looking golf swing. He's swiftly become a key figure in the movement that's bringing more youth and diversity into the sport.
Jacques Slade
View this post on Instagram
A multi-hyphenate and true creative, Slade is an actor, rapper and more recently has gained a reputation as "YouTube's Sneaker Unboxing King." He provides insights into new releases from Jordan, Nike, adidas, and others, and has increasingly become a voice in golf with the growing influence of sneaker culture, speaking to the potential of brands like Jordan to grow the game.
In the last year he started a new series called Voices with the PGA TOUR through their YouTube channel where he explores different perspectives on golf. In the most recent episode he tees it up with Macklemore, chatting about Bogey Boys and his reasons for getting into golf.
Tiger Hood
Originally a street photographer, Tiger Hood, aka Patrick Barr, is a New York City local celebrity known for bringing his unique style of "golf" to the alleyways of Manhattan. He's appeared in various campaigns for new golf brands like Malbon, Top Golf, Radda and others.
He navigates through the city on a folding Brompton bike with a selection of his best photos and recently acquired golf swag in tow, often popping up around Greenwich Village where he'll set up his milk cartons and basket. His legend grew through cameos with New York Nico, and just in the last few months he was spotted playing golf with an eclectic trio of Ed Sheeran, Benny Blanco and Eric Andre.
Gavin Parker
View this post on Instagram
If you've stumbled upon his videos before, you might recognize the catchphrase "golf's not that hard." Gavin is a PGA certified instructor who was recently named one of the top young instructors in America by Golf Digest. 
He's part of a wave of millennial instructors who are better versed in social media than their predecessors, and thus better equipped to extend their reach to new eyeballs. He presents information in a fun, digestible, and undoubtedly loud manner. The latter is what catches people's attention at first, but the quality of the information is why they come back for more. 
Snappy Gilmore
View this post on Instagram
It all started for Eliezer Paul-Gindiri, otherwise known as Snappy Gilmore, in 2021 when he picked up a club for the first time, opened his phone, pressed record, and then took a wild one-handed swipe at a golf ball. Fast forward to today, and Snappy has over 2.2 million followers on TikTok, and just shy of 170K on IG.
A natural athlete who first took up soccer, his windmill-like swing defies logic and displays an extreme level of hand-eye coordination. His swift rise is a testament to the appetite for new faces in the sport, and his technique has even been given the stamp of approval from golf swing and biomechanics experts.
Troy Mullins
Troy Mullins first arrived on the scene in 2017 as a long drive competitor, having previously competed in track and field throughout her four years at Cornell University. Her record of 402 yards makes her the longest female golfer in America, and the second longest in the world.
Alongside her competitions, the LA native now appears in campaigns for adidas Golf and Tonal, while sharing tips for gaining distance via Instagram in her free time. Just in the last year, Mullins was introduced as a presenter for LIV Golf, the upstart, team-based golf league where she conducts pre and post-round interviews with competitors.
Olajuwon Ajanaku
Olajuwon Ajanaku is the founder of Eastside Golf and the man depicted in the recognizable swinging chain logo. After graduating from Morehouse College, he turned professional and still has aspirations of making it on tour alongside his role as creative director for the brand. Eastside made its first big splash when it collaborated with Jumpman on the Jordan 4 Retro Golf, the first golf brand to do so, and since then has been embraced by celebrities like DJ Khaled, Chris Paul and Patrick Mahomes.
Giving back to the community, the brand supports initiatives that prop up Black golfers, widening the game's scope beyond the fairways and wood paneled locker rooms.
Marissa Hill
View this post on Instagram
Marissa Hill is a content creator who covers and styles sneakers and apparel on her YouTube channel called ShadeTV. She reviewed Eastside Golf's "Out of the Mud" and "Red Clay" collaborations with Jordan in November, and then subsequently was a part of the Hulu docuseries Grails: When Sneakers Change the Game where she sits down with Ajanaku and co-founder Earl Cooper.
Look for her to become a more influential voice as sneaker collabs become increasingly commonplace in golf.
Andrew Haynes
View this post on Instagram
Andrew Haynes is an NYC based creative director, and one of the people behind Fairgame, a new social app for golfers. The app's main draw is connecting users for 18 holes, allowing you to create an open round that anyone can join, and then providing a platform to log scores as you go along.
With support from Ben Clymer of Hodinkee, Fairgame is modernizing golf and connecting creatives within the industry. There's also a Fairgame podcast co-hosted by Haynes and professional golfer Adam Scott where they delve into discussions with people like Tisha Alyn, Nelly Korda and Cole Young of Metalwood Studio.