A$AP Rocky Wants to "Press the Reset Button" for PUMA and Formula 1
Hypebeast spoke with Flacko at the Las Vegas Grand Prix, where the rapper explained how he plans to "change the game" as the creative director for PUMA's F1 partnership.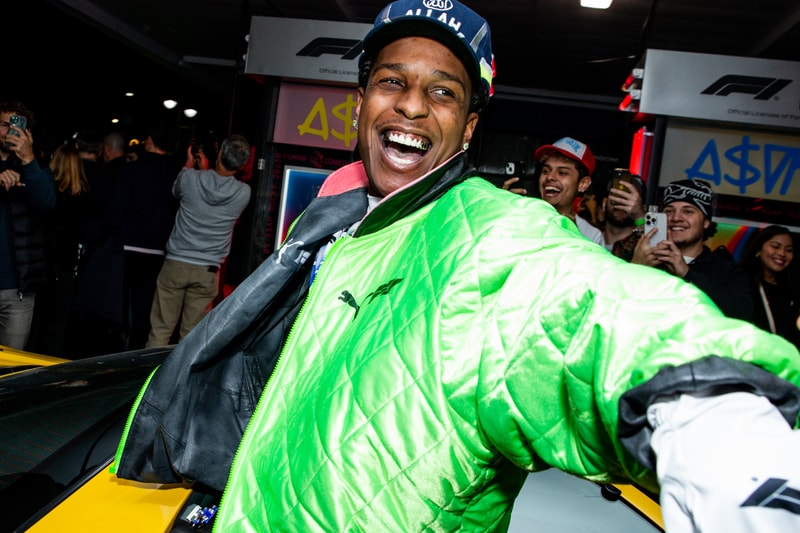 "Ladies, excuse my French," A$AP Rocky preps an intimate group of editors inside Las Vegas' Venetian Hotel, where he's just about to dish on his goal as the newly-appointed creative director for PUMA's Formula 1 partnership. "I just want to let [my] nuts hang for a little bit," he laughs. In a less explicit translation, Rocky's objective, at the helm of both a multi-billion dollar sportswear brand and the world's most prestigious motor-racing competition, is to prove his abilities as a designer, and in his words, "change the game for fashion and [motorsports]."
Flacko's appointment was announced in October, several months after PUMA revealed that it had signed on as the official licensing partner and exclusive trackside retailer for Formula 1 in May. Formally, Rocky is responsible for developing "bespoke capsules" to influence the brand's future seasonal design directions. His inaugural, extremely limited drop launched at the Formula 1 Las Vegas Grand Prix over the weekend, lifting the veil on what to expect in 2024, when he will conceptualize collections for several Grand Prix races beginning in Miami, and later, in 2025, when he plans to put out full-size collections of racewear, fanwear and pure fashion pieces.
In the design process, Rocky's agenda is clear: "I want to press the reset button," he says. "I want to show the alliance [between PUMA and Formula 1], and I want to show the strength of that." He flexes this muscle by carefully intertwining notes of performance sportswear with classic streetwear shapes: in his debut collection, baggy jeans are modified with embedded knee pads and adjustable velcro straps; long-sleeve shirts, housing airbrushed illustrations of flames and tire marks, feature attached gloves, and balaclavas, referencing those worn by Formula 1 drivers under their helmets, appear artfully distressed. It's this clever categorical fusion that makes Rocky's designs feel new to the racing-style genre, but it's his impulse to center street culture on the Formula 1 stage that truly "resets" the conversation surrounding motorsports and fashion.
"Car culture has always been prevalent in hip-hop. It has always been a part of me," says Rocky. Growing up in Harlem, he was not exposed to Formula 1's multi-million dollar racetracks, nor was he afforded the luxury to get behind a racecar's wheels; instead, he viewed flamboyant cars, and the status associated with them, as an integral component of his neighborhood's "lifestyle." "Teenagers, rappers, the street guys — they would drop money on vintage BMWs and different glamorous, flashy cars," he says. "I remember seeing a Ferrari that some drug dealer bought back in the day. It was in the middle of the ghetto, and it looked like a centerpiece, like an exhibition."
Cars, like custom iced-out jewelry, oftentimes form an intrinsic piece of a rapper's identity. In the mainstream auto space — particularly in arenas like Formula 1, where there is a significant lack of diversity — Rocky points out that street culture's presence is noticeably insufficient. "I don't see the hip-hop side of car culture glorified or displayed," he says. "I want to make it more prevalent in this role. I would like to see a lot more of that, what I grew up on."
While Rocky has only put out one capsule thus far, it's evident that he looks to accomplish this goal by leaning heavily into hip-hop's streetwear codes — bold graphics, oversized silhouettes and vivid color stories — and by more closely aligning the brand's visuals and video content with those of the rap genre. "This [type of fashion-motorsports partnership] hasn't been done like this before," he says. "So we can really disrupt it."
He calls the collaboration "playful," but he's extremely conscious of avoiding anything too kitschy. "If somebody's too tacky in my presence, I've just got to turn away," he explains. For Rocky, the creative ideas come naturally, but it's articulating his vision that sometimes poses a challenge. "It's because I have a weird way of processing things," he says. "[The design team] looks at me like I'm crazy, but they're receptive."
Looking to 2024, Rocky's PUMA x Formula 1 creations will travel from race to race, with collections inspired by their launch locations and rooted in the rapper's own experiences. While he looks to platform "street culture" alongside the world's most-revered racing tracks, he's also conscious of keeping prices at a respectable level. "This isn't too high-end," he says. "We're trying to figure out how to make elevated, premium designs that are still affordable and accessible to everybody." For reference, the distressed hats, racing gloves and balaclavas that comprised his first release ranged from $60 USD to $80 USD in price.
There was a discernible absence of footwear in Rocky's first collection (and considering his powerhouse partner Rihanna is already reaping the benefits of her own FENTY x PUMA collab, a signature Flacko sneaker only feels right); however, when asked if he would expand into the category, he wasn't shy about teasing what's to come: "I'm very excited to [work on shoes with PUMA]," he confirmed. And as for the future of the partnership at large, Rocky offers three foreshadowing letters: "F. U. N."