Dirk Schönberger Trades Fashion for Furniture in Latest Career Move
We chat to the sneaker veteran about his move to design label vetsak, what it represents for the wider industry, and why furniture is the future.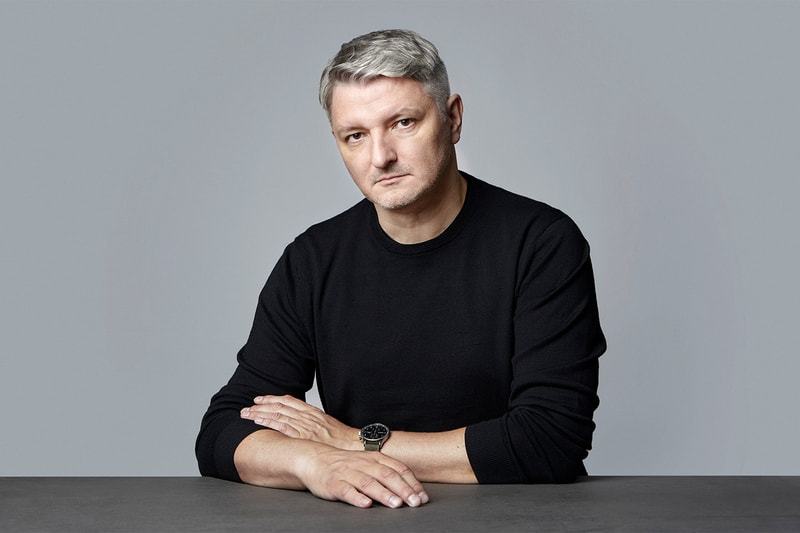 Increasingly, the worlds of fashion and design are bleeding into one another. Identity is no longer represented only by the clothes we wear – it's shown through the objects we choose to live with. We've seen the worlds colliding in real life too, perhaps most notably at the most recent editions of Milan Design Week, where the likes of Louis Vuitton, Bottega Veneta and Loewe put on shows that attracted huge visitor numbers.
And while fashion seems to be wisening up to the influence of design for some time, the furniture brands now seem to be following suit, too. In the case of vetsak, a sofa specialist founded in 2012, the innovative nature of the fashion industry feels harmonious with their own objectives, so much so that the team has brought on Dirk Schönberger as the new Chief Brand Officer.
Schönberger, who has spent the last three decades making a name for himself in the fashion industry, joined vetsak this Autumn in order to develop it into a global lifestyle brand. He arrives fresh off of the back of serving as Global Brand Officer at MCM – the company he joined upon exiting adidas as Creative Director in 2018.
Throughout his time at both labels, he orchestrated high-profile partnerships – most notably with the likes of Billie Eilish, Pharrell Williams, Rick Owens, Opening Ceremony, Y-3, Yohji Yamamoto and Raf Simons.
But for Schönberger, the next challenge in his career needed to lay somewhere entirely different, and he will now tackle what he perceives as the "next rising-star for the new luxury generation" – furniture. "I have been working in fashion for 3 decades now and besides fashion I have always been very passionate and interested in the space that surrounds me or how friends develop their space around them," he told Hypebeast.
As he embarks on his tenure, we sat down Schönberger to unpick his decision to move from fashion to a company specialising in foam-filled beanbags. Read on for the full interview.
---
What influenced your decision to move into the furniture sector?
I took the decision to move into the furniture sector as I have been working in fashion for 3 decades now and besides fashion I have always been very passionate and interested in the space that surrounds me or how friends develop their space around them.
It's such a personal statement/expression what kind of furniture you put into your house, what kind of accessories and memorabilia you keep around you – a permanent manifestation of what you are as a person. Very similar to fashion – only slightly more long-term than what you might wear this season.
This is one of the other aspects that intrigued me: working on furniture is working on a long-term development and a long-term investment of a consumer – a much slower turnaround than creating many collections a year that sometimes might only stay in a store for a few weeks.
How are you feeling about the new challenge?
It is all a new experience for me as well. As much as creation processes are similar in different sectors – to build a brand with a very successful business model based on a beanbag style and a modular sofa with a highly innovative construction and design into complete interior brand will be an amazing journey. This is not a classical furniture brand – and extensions outside of the "normal" range of product will be the interesting part – extending the borders of what people would expect from an interior brand.
"The pressure of permanent reinvention is much slower in the interior design world"
Would you say that your move is reflective of the growth of the design industry and fashion's increasing interest in it?
It might be – you clearly see that the borders between fashion, art, interior and music are very blurred and that the collaborations between these sectors create something interesting and new. What is a very intriguing difference for someone working in fashion, is, that all ideas we work on need to stand a different test of time, have relevance in the now and tomorrow. In these times which are very often driven by short-lived trends in fashion – and in the consumers behaviour – the pressure of permanent reinvention is much more slowed down in the interior design world. It's a welcome change for me…
Both fashion and furniture/interior are an expression of what the consumer is passionate about and those consumers, who used to be focused on their own exterior – are now very precise in what they pick: the bike they ride, the outfit they wear, the coffee cup they drink from and the sofa they want to sit on. The self-expression has taken over their whole life, not only their fashion choices. This is something that has been growing for the past decade – and this is why fashion brands also increasingly become very involved into architecture and interior design.
How do you plan to transform a brand that has had ample commercial success – but hasn't really tapped into the design audience in the way that others brands have?
For me it would be interesting to extend the product portfolio of the brand – within the furniture world, but also beyond. I see vetsak as becoming the first interior design brand that crosses the boarders into other other creative areas.
We started conversations with partners and will work with them on either new versions of existing products or developing completely new projects for the brand – from interior projects or reaching into fashion and lifestyle. We already discuss some projects that are going beyond what you would expect from a furniture brand.
"I want to create the environment for wherever the avant garde nomad goes and stays"
What customer are you looking to target in the future – how do you plan to do that?
When we talk about our ideal consumer, we think about an avant garde nomad. An explorer who never rests, who is always extending their experience, and who is continuously building their life story. It's not a cold polished way of life, but a collection of different elements. I see this brand like a collection of objects that you bring home from travels: a very curated mix of things that create a creative, complex vision of your very individual expression of self. Never going the classical way and always being ahead of the mainstream.
These days, we hear a lot about new luxury, quiet luxury etc – this is a call for slowing down, make conscious decisions how we want to live, how to express ourselves – an always evolving process I want to create the environment for wherever the avant garde nomad goes and stays: this new luxury consumers' house, for their travels and their personal style. vetsak should be the brand for life – and not only when they sit at their own home.