Outkast's 'Speakerboxxx/The Love Below' Is Now The Highest-Selling Rap Album in History
Just in time for its 20th anniversary.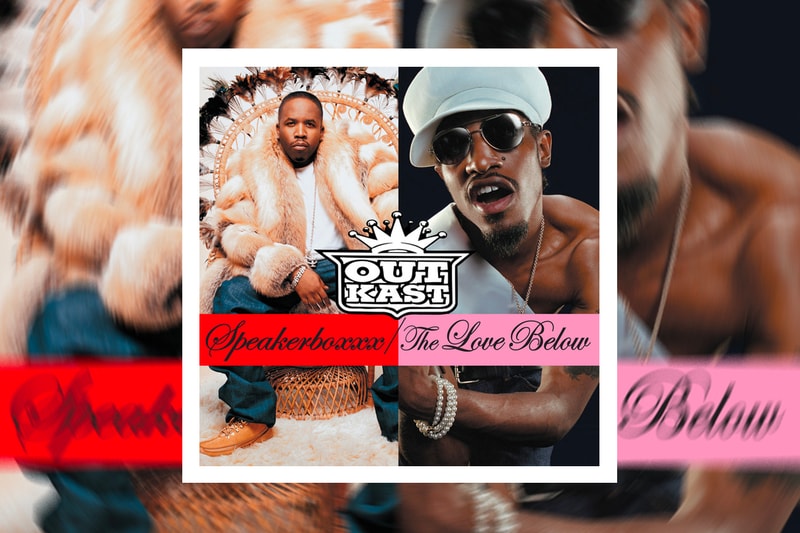 Outkast's fifth studio album Speakerboxxx/The Love Below is officially the highest-selling rap album in history.
The 2003 effort set the new the record as it has now sold a total of 13 million copies in the United States and was certified 13x platinum by the Recording Industry Association of America (RIAA), dethroning Eminem's The Eminem Show which was certified 12x platinum in 2022. The news coincides with the 20th anniversary of Speakerboxxx/The Love Below on September 23, with Big Boi showing off the shiny new plaque on Instagram. "Special delivery just in time for the 20th anniversary 9/23/03 … #speakerboxxxthelovebelow Over 13 Million albums sold . ( Diamond & a 3.5 )," he wrote. "What Are Your Jams ? @ outkast is everlasting. Stank You Smelly Much …To All Y'all."
For even a bigger celebration, Outkast is reissuing Speakerboxxx/The Love Below and their 1998 album Aquemini for special vinyl releases. The Speakerboxxx/The Love Below 20th anniversary reissue will include the 2xLP colored vinyl for Speakerboxxx and the 2xLP colored vinyl for The Love Below, while Aquameni will be 3xLP offering on gold galaxy, cloudy magenta and cloudy green vinyl.
Pre-orders for the LP reissues are available via Get On Down.
Elsewhere in music, Hypebeast recently sat down with Saweetie for an exclusive interview.