Saweetie Wants to Do It All
Coming off of her viral VMAs hosting gig, the rapper reflects on next steps and her long-awaited debut album.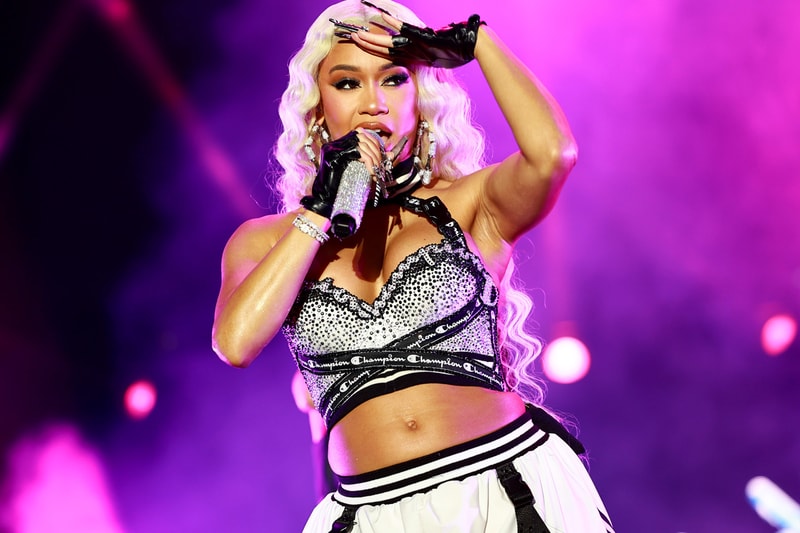 Saweetie is something of an anomaly in the world of hip-hop right now. Six years ago, the then-24-year-old rapper, whose real name is Diamonté Harper, splashed onto the scene with the red-hot single "Icy Girl," introducing her punchy, lighthearted rap style in a flip of the 2001 Khia original, "My Neck, My Back." As Saweetie quickly assembled a dedicated following, "Icy Girl" went platinum and the same year, she delivered her debut EP, High Maintenance, followed by a second and third EP, 2019's Icy and 2021's Pretty Summer Playlist. Fans, however, are basically begging the rapper for her debut album at this point.
If one thing is true though, it's that Saweetie isn't slacking. From television to cosmetics, she's left her mark across industries. She's been putting out singles left and right, just not the full LP. And within the past few years, she's launched a jewelry line, designed a capsule collection, hosted a sex-positive Netflix special and had a cameo role in a few episodes of ABC's Grown-ish. Recently, the "Tap In" rapper launched a campaign for Tinder dubbed "Swipe-Off," where the US college with the most swipe activity will win a double feature concert headlined by Saweetie herself.
It's a fitting partnership, given that Saweetie has long been an advocate for higher education. She's the founder of a non-profit organization, the ICY Baby Foundation, that empowers minority youth in underserved communities with training in financial literacy, entrepreneurship, and technology resources. Empowering youth, particularly when it comes to their pursuit of a degree, is something she's always been passionate about, Saweetie tells Hypebeast in a recent interview. The rapper is a proud college graduate herself — she spent two years studying at San Diego State University before transferring to USC, where she graduated with a bachelor's degree in communications — and it was in college that she began freestyling.
"I'm so glad I had that opportunity. It was a lot of work, of course, but I did it in the end," Saweetie says, noting that the skills she learned in the classroom have come to her aid in the music industry, such when it comes to building a personal brand or reading contracts. Since graduating, she's even returned to her alma mater as a guest lecturer in business and media relations classes.
As one of the leading female rappers in the industry, does Saweetie ever feel she's being spread too thin? The rapper says, if anything, she "wants to do even more," and she won't be letting critics stand in her way of that.
Earlier this month, Saweetie hosted the red carpet pre-show for MTV's 2023 Video Music Awards. Clips from the gig briefly went viral after she slipped up reading from the teleprompter, a relatively minor mistake, but a moment that nonetheless became a topic of conversation online.
"Even bad b*tches make mistakes too," Saweetie says with a laugh. "I want to do more hosting gigs in the future though. I had a great time that night."
Fingers crossed, she'll have even more on her plate pending the release of her debut album, Pretty Bitch Music. The project was originally due to be released in June 2021, a date that's been pushed back quite a few times since. Saweetie remains optimistic about the LP dropping by the end of 2023. Fans got a potential taste of the album in August, however, when Saweetie returned with two singles "Shot O'Clock" and "Birthday" featuring YG and Tyga.
"It's okay, you can say it," she laughs. "Y'all have been waiting forever for this album."
Saweetie coyly declines to give an exact, updated release date for the project but promises it'll be worth the wait. Four years in the making, she "knows the bar has definitely been raised by now" and she's looking forward to delivering it to her fans sometime soon.