Highlights of the 2023 Hypefest Cultural Event: a "Holy" Skateboarding Competition Alongside Vans
Hypefest makes its debut in China.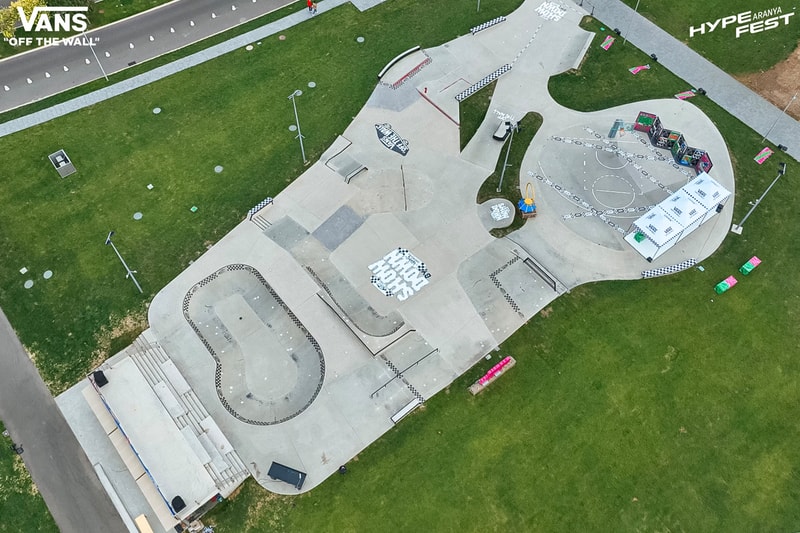 The Hypefest Aranya cultural event, held in Qinhuangdao, China, at the Aranya Resort, was an experiential extravaganza featuring various pop-ups and brand activations. Hypefest hosted a takeover of the skate park located on the easternmost side of the Aranya coastline, joined by Vans and professional skater Jeremy Hu. The activation included handicraft workshops and other multicultural experiences, uniting local communities to enjoy custom skate parks, live music performances, art, fashion and more.
Born in Southern California, Vans has led the fore in the skate community through activations celebrating contemporary youth culture. The Vans Showdown Contest is globally regarded as one of the most stylish, large-scale skateboarding events in the United States. It debuted in 2010 and adopts a unique format of jam and line competition. Rather than following regular game rules or traditional competitive structures, skaters are awarded for their unique movement, style and innovative tricks.
The "Hu" skateboarding competition, hosted by Vans and professional skateboarder Jeremy Hu, debuted for the first time in China. Many Vans-sponsored Asia-Pacific skaters used their sharp styles and whimsical moves to score points and win cash prizes and merch. The skate park, designed in partnership with Jeremy Hu, unveiled unconventional course setups, encouraging participants to use their imagination while navigating complex terrains, such as bowls, stone platforms, railings, steps, pyramid ramps and unique ring-shaped props.
Conducted in groups, the courses challenged skaters to creatively approach their skate styles using props and dynamic movements during the speed and "freewheeling" contests. The event also introduced "Hu" costume and championship ring competitions subject to cash prizes.
Not long ago, Vans teamed up with local skateboard brand AVENUE & SON and professional skateboarder Jeremy Hu to launch a crossover collaboration. The collaborative model references Van's iconic "Skate Old Skool" and "Zahba" silhouettes. Ingenious elements featured on the shoe reflect a microcosm of Jeremy Hu's life and skateboarding experience. During Hypefest, custom pop-up displays showcased the shoe, allowing guests to test out the silhouette while participating in high-spirited skateboarding competitions.
An arts and crafts workshop, led by Indonesian artist Chepi, invited guests to create custom "KNU SKOOL" candles. Chepi is widely known for creating unique wax sculptures inspired by skateboards. Since 2019, Chepi's eccentric designs have blended the realms of art and skate culture — this time paying homage to Van's beloved "Knu Skool" shoe. The collaborative pop-up encouraged open expression as guests envisioned their own interpretations of skate fashion, drawing inspiration from street art, music, sports culture and more.
Vans' "Knu Skool" series, born in 1998, is based on the classic shoe style "Old Skool." Design wise, its construction features an oversized toe cap, tongue and other design elements aiding in a comfortable, stable foot feel. This season, Vans introduced its "It's just bravery" campaign centered around the "Knu Skool" series. "It's just bravery" encourages the youth community to break traditional fashion molds and experiment with trends that allow bold, authentic self-expression; this is mirrored in the shoe's pop-culture-inspired motifs, embracing the diversity of today's youth culture. The "Knu Skool" shoe pays tribute to the 90s and those who dare to venture outside the box.
Jeremy Hu opened up about attending Hypefest and its immediate impact on the local community: "This is the first time Vans Showdown has come to China. Vans asked me to design the skatepark and customize some rules for the skateboarding competition. It just so happened that [my] surname is Hu, so we made a "Hu" contest. It's not that everyone is [unserious here], but [that] this is an important moment to enjoy skateboarding."
Hypefest aims to cultivate this spirited energy at future activations, spotlighting the joy and freedom embedded in skate culture and its diverse network of artists and creators. See more of the Vans Showdown Contest at Hypefest in the galleries above.