Thom Browne Testifies About His Lifelong Love of Sports in Adidas Lawsuit
Citing his Ivy League references as a major inspiration for his label.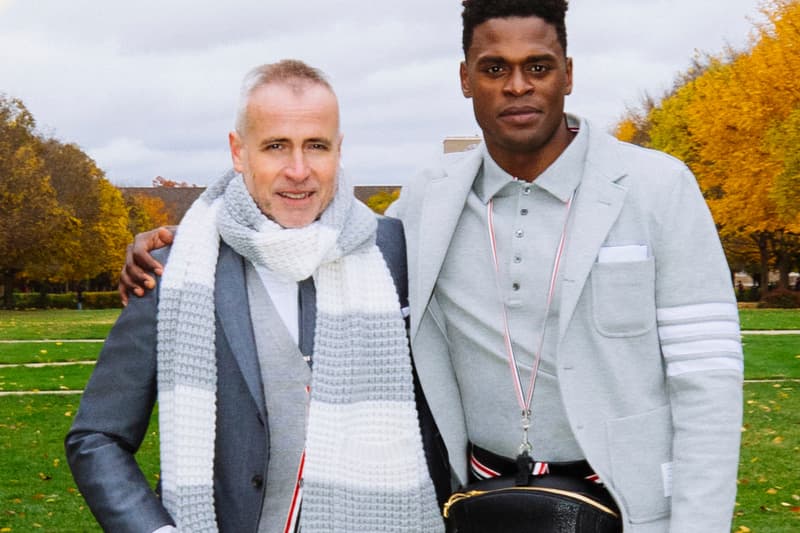 Two of fashion's biggest brands are going head-to-head in a trademark lawsuit. Presently, sportswear giant adidas is suing New York-based luxury brand Thom Browne over the "Three Stripes" trademark dispute. Adidas is seeking almost $8 million USD in damages and profits from Thom Browne in the trademark infringement trial.
The designer recently testified in court where he pinpointed his lifelong love of sports to be the center of his label's inspiration. Browne cites his varsity days as a major milestone that pushed him to become one of the most successful American designers in the world. WWD reported that in his testimony, Browne took the eight-person jury on his journey to Thom Browne, the label.
Browne paints a picture of his sports-obsessed household and how growing up with six siblings was a cause for great competitiveness in sports, particularly in swimming and tennis. After graduating with a business degree, he tried his hand at various careers before he worked for a Giorgia Armani showroom which led to Ralph Lauren hiring him to be the creative director of its new Club Monaco division. Browne claims that from the beginning, his design aesthetic was centered around blending tailored clothing with sportswear, calling it "tailored sportswear." Browne explains how he came up with utilizing the "three stripes," stating that his time at Ralph Lauren taught him the importance of creating an "external signifier." He did so by channeling his love for sports and combining the known three stripes graphic, often seen in varsity sweaters and collegiate pieces, in his apparel.
However, Browne recalls receiving a call from adidas' then-CEO in 2007 who complained about the three stripes "design choice." Browne then decided to change it to four stripes, however, he told the court, "Initially, it was frustrating because my inspiration was from a varsity reference." He added, that the "last thing I wanted to do was get into a fight with a big company like adidas." He decided to use four bars instead because it "looked the best and stayed true to the original inspiration," which points towards Ivy League athletics references.
Since the call, Browne had not heard from the German sportswear brand for over a decade. Browne testified, "Every collection and garment I design has a sporting reference." Adidas is currently seeking $867,225 USD in damages as well as the $7,011,961 USD in profits, alleging that this is the amount the American fashion designer made from selling apparel and footwear with stripes.
It remains to be seen how the lawsuit will unfold.
In other fashion news, Jean Paul Gaultier revealed archive-inspired "BURN" collection.