The Now and Next of Ye's Beefs With adidas and GAP
What the fracas between Ye and his corporate partners means legally and personally — and what may be next.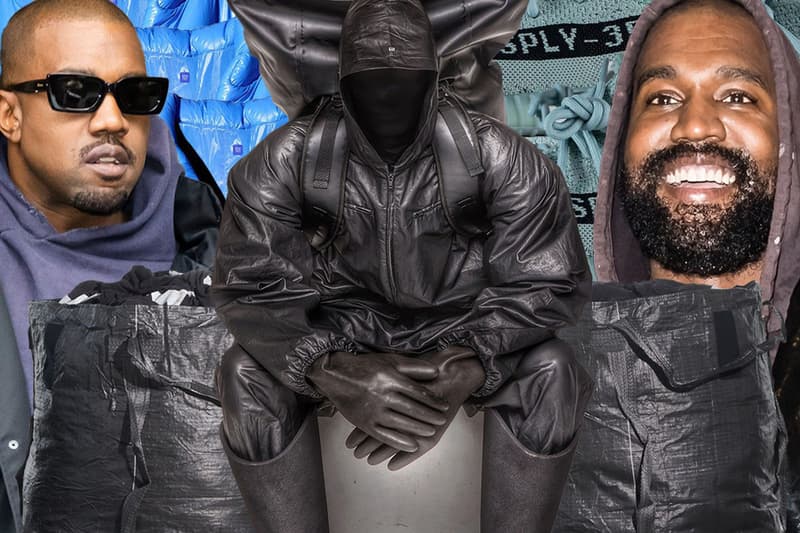 Forget Keeping Up with the Kardashians — keeping up with Ye is a full-time job. The artist formerly known as Kanye West has a knack for staying in the headlines, from meming chapeau-coiffed adidas senior vice president Daniel Cherry III into the next SZN or shooting for a lofty long-term goal like reimagining education at DONDA Academy.
Ye is an enigma, and it can be hard to tell what's permanent and what's transient in his world. In recent weeks, however, he's aired gripes with both adidas and GAP that seem to be anything but ephemeral. He's spoken at length about his dissatisfaction with both brands, and his YEEZY label is embroiled in a legal fracas with GAP, leading fans to wonder if these battles will have long-term effects on the YEEZY brand and Ye's creative endeavors as a whole. Below is a primer on what already happened, what's happening now and what might go down in the future.
The Unfolding of Allegations, Explained
Ye has been expressing his bitterness towards adidas since June, beginning with a gripe about the adilette 22 sandal before expanding his complaints to the brand "not getting his approval" for YEEZY Day and even publicly stating that he'd been offered a billion-dollar buyout. Then, on September 5, Ye said in an Instagram story that he'd "settled" with adidas and that GAP was "next." A few days before that story was posted, Ye began publicly slamming GAP, alleging that they'd stolen his designs and saying that he planned to open his own standalone YEEZY stores.
On September 12, Ye upped the ante by announcing he'd be leaving both adidas and GAP when his contract with each company expired. "It's time for me to go it alone," Ye told Bloomberg on September 12. "We created ideas that will change apparel forever … now it's time for Ye to make the new industry. No more companies standing in between me and the audience."
This new stance was a stark about-face from a man who, in earlier years had expressed his need to work with brands like adidas and GAP because they had the means of production he so desperately craved to fulfill his fashion visions. Then, things got even more intense on September 15, when the famously impatient Ye announced that the partnership with GAP had been terminated, effective immediately. "GAP left Ye no choice but to terminate their collaboration agreement because of GAP's substantial noncompliance," said West's lawyer Nicholas Gravante, Jr. in a statement to Footwear News. "Ye had diligently tried to work through these issues with GAP both directly and through counsel."
It wasn't just bluster either: images of a notice of termination sent to GAP by YEEZY's lawyers began circling on the internet. "If two feuding business partners can't come to an amicable solution, the next step is often litigation, which usually suggests there's a breach of agreement so one of the parties can get out of [the agreement]," said Kenneth Anand, a lawyer, author, professor and co-creator of Sneaker Law who recently represented John Geiger in his trademark battle with Nike.
Ye versus his corporate partners was quickly becoming a full-on public spectacle that felt more like a heavily-promoted title fight than a business disagreement. However, under the theatrics lay a fairly standard discordance. According to Anand, personal and legal issues of this nature are common between corporate partners — but what's not common is how Ye is handling the issues. "One partner might not like something the other partner is doing, but normally, they'd work it out privately, behind closed doors," he said. "The difference with Ye is that he puts it on the internet. That's his leverage: getting the public and his very eager fan base behind him."
Speaking to CNBC on September 17, Ye indicated that he had high hopes for the partnership and understood the difficulties he faced at first but became disheartened by his lack of control, referencing how he had no say over price points, that GAP hadn't made good on promises to open YEEZY GAP flagship stores and that unapproved colorways and stockists made him question his place with the company. "I would talk to the leaders [of GAP] and it would be like I was on mute or something," he said. "Our agenda, it just wasn't aligned."
What Does This Mean for YEEZY?
Not even 48 hours after his conversation with CNBC, Ye took to his Instagram to post a document titled "Summary of Restrictions on YEEZY Standalone Activities." This piece of legalese indicated that although the artist and designer had terminated his contract with GAP, his brand was still required to follow a restrictive set of limitations. Products that Ye and YEEZY had made with adidas in the past were included as well, leading fans to wonder: was Ye cutting ties with the Three Stripes too?
According to Anand, it's unlikely the meaning of the document was so extreme: "The notice looks like it was prepared by Ye's attorneys to notify him of the current restrictions on his respective deals," he said. "It seems like they're taking all the agreements Ye has with his partners in totality, and saying 'this is the whole scope of product that you cannot make by yourself without pissing off one of these two companies.'" In short, the document isn't a signifier that Ye is ending his relationship with adidas — more so a notification to Ye himself of goods he may not be able to make solo while under contract or in litigation with GAP or adidas.
Anand went on to explain that when a brand and manufacturer/distributor partnership like the ones between YEEZY and adidas or GAP is established, there are often restrictions on what the brand can produce outside of the partnership while it's ongoing: for example, if YEEZY creates shoes in partnership with adidas, they're not allowed to manufacture and promote their own shoes as they're already a core tenant of the existing partnership.
What's Next?
What's the future of the YEEZY brand if it does indeed go solo? It's unlikely that Ye and YEEZY will be barred from making clothes for an extended period, as a few hours after he shared the above-mentioned "Summary of Restrictions" on YEEZY's standalone activities he posted to his Instagram Stories that some of the "restrictions" on what he could produce had been lifted, though exactly what those restrictions entailed had not been clarified. From GAP's side, it's also important to note that the YEEZY GAP ENGINEERED BY BALENCIAGA collection is governed by a different agreement and should not be affected by the same agreement.
At the time of writing, there's no further word on the termination of YEEZY's partnership with adidas either — our only hint of that was the notice prepared for Ye by his attorneys, which, according to Anand is par for the course with most partnerships of this nature. "These are very standard legal proceedings that are usually worked out," he said, also noting that Ye's airing out of the particulars in public may make the situation seem more complicated than it actually is.
What of all the trademarks Ye has been filing over the past few months? Sharp-eyed fans have noticed that Ye has been racking up trademark applications, aiming for everything from YEEZUS-branded amusement parks and NFTs to toys and more — items that are far removed from the purvey of his standard clothes and shoes — as well as more straightforward marks for apparel. Sadly, we're not likely to see a YEEZY rollercoaster any time soon. "A lot of people like to discuss Ye's latest trademark filings and it looks like there are a hundred different product categories," says Anand. "It's very standard for attorneys who are filing trademarks to submit a mass list of categories just in case the client wants to enter that field one day." Anad also noted that trademark applicants only have a limited amount of time to put their filings into "commerce," so eventually the wide trademark list will be whittled down.
Maybe it's not worth fretting or about what's next for Ye and adidas, Ye and GAP, or Ye's solo business ventures. Maybe it's better to just enjoy the ride and use it as a learning experience. "Personally, I think this is extremely educational for everyone," said Anand. "It's rare we get to see behind-the-scenes stuff like this. This is a high-level lesson for up-and-coming designers and creators. If you aspire to have deals of the magnitude that Ye does, you now know what they look like — and how difficult they can be to carry out."
---
Stay in touch with the most up-to-date news on everything going in the wild world of Ye by clicking here.