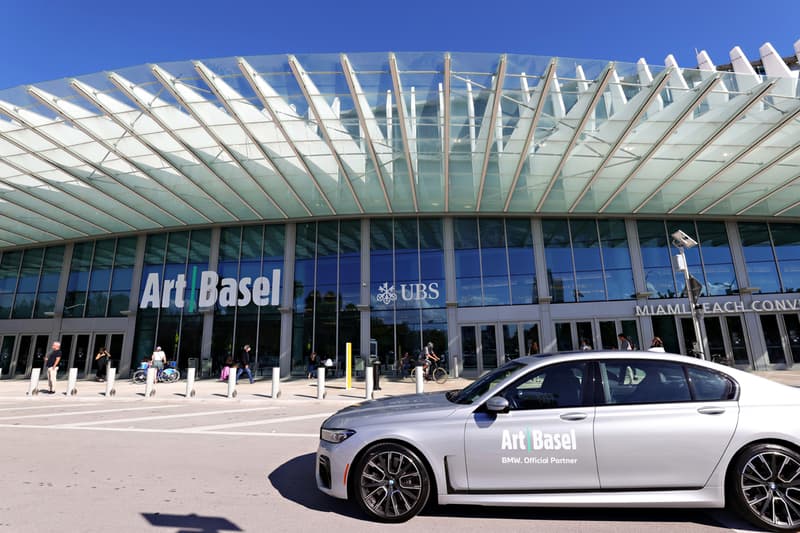 Art Basel Reveals Lineup for 2022 Miami Edition
Featuring 283 galleries, the 20th anniversary of the fair is being billed as the biggest iteration to date.
---
Although the inaugural Paris+ is just on the horizon, Art Basel is already looking to its Miami edition by announcing its exhibiting galleries for 2022. Celebrating 20 years in South Florida, Art Basel Miami 2022 will feature 283 galleries and is being billed as the largest edition to date.
"It is truly exciting to celebrate our 20-year presence in Miami Beach,' said Art Basel global director, Marc Spiegler, in a statement. "Over the last two decades our show has not only reinforced its pivotal position in the region – uniquely bridging the art scenes of North and South Americas, Europe, and beyond – but also played a galvanizing role in the city's profound cultural transformation. The increasingly diverse range of galleries and artistic voices represented will make our show richer in discoveries than ever before," Spiegler added.
This year's edition will also feature 26 new galleries, including Super Dakota (Brussels), P21 (Seoul) and Hannah Hoffman (Los Angeles), amongst others. Art Basel Miami 2022 will be open to the public from December 1 to 3 at the Miami Beach Convention Center.
Also in the news, Almine Rech announces second New York gallery.
Art Basel Miami
Miami Beach Convention Center
1901 Convention Center Drive
Miami Beach, FL 33139
Art Basel Miami 2022:
303 Gallery
47 Canal
A Gentil Carioca
Miguel Abreu Gallery
Acquavella Galleries
Altman Siegel
Galeria Raquel Arnaud
Alfonso Artiaco
Balice Hertling
Barro
Nicelle Beauchene Gallery
galería elba benítez
Berggruen Gallery
blank projects
Blum & Poe
Peter Blum Gallery
Marianne Boesky Gallery
Tanya Bonakdar Gallery
Bortolami
Luciana Brito Galeria
Ben Brown Fine Arts
Galerie Buchholz
Canada
Cardi Gallery
Carlos/Ishikawa
Casa Triângulo
Casas Riegner
David Castillo
Ceysson & Bénétière
Chapter NY
Cheim & Read
Clearing
James Cohan Gallery
Sadie Coles HQ
Commonwealth and Council
Galleria Continua
Paula Cooper Gallery
Corbett vs. Dempsey
Pilar Corrias
Galerie Crèvecœur
Galerie Chantal Crousel
DAN Galeria
DC Moore Gallery
Massimo De Carlo
Jeffrey Deitch
Bridget Donahue
Andrew Edlin Gallery
galerie frank elbaz
Derek Eller Gallery
Thomas Erben Gallery
Eric Firestone Gallery
Konrad Fischer Galerie
Fortes D'Aloia & Gabriel
Peter Freeman, Inc.
Stephen Friedman Gallery
James Fuentes
Gaga
Gagosian
Galerie Christophe Gaillard
Galerie 1900-2000
Gavlak
François Ghebaly
Gladstone Gallery
Gomide & Co
Galería Elvira González
Goodman Gallery
Marian Goodman Gallery
Galerie Bärbel Grässlin
Gray
Garth Greenan Gallery
Greene Naftali
Galerie Karsten Greve
Cristina Guerra Contemporary Art
Kavi Gupta
Hales Gallery
Hauser & Wirth
Galerie Max Hetzler
High Art
Hirschl & Adler Modern
Hannah Hoffman
Rhona Hoffman Gallery
Edwynn Houk Gallery
Pippy Houldsworth Gallery
Xavier Hufkens
Gallery Hyundai
Mariane Ibrahim
Ingleby Gallery
rodolphe janssen
Catriona Jeffries
Jenkins Johnson Gallery
JTT
Annely Juda Fine Art
Kalfayan Galleries
Casey Kaplan
Karma
Karma International
Kasmin
kaufmann repetto
Sean Kelly
Kerlin Gallery
Anton Kern Gallery
Kewenig
Galerie Peter Kilchmann
Tina Kim Gallery
Kohn Gallery
David Kordansky Gallery
Andrew Kreps Gallery
Galerie Krinzinger
Kukje Gallery
kurimanzutto
Labor
Simon Lee Gallery
Lehmann Maupin
Galerie Lelong & Co.
David Lewis
LGDR
Josh Lilley
Lisson Gallery
Luhring Augustine
Magazzino
Mai 36 Galerie
Maisterravalbuena
Jorge Mara – La Ruche
Matthew Marks Gallery
Marlborough
Philip Martin Gallery
Barbara Mathes Gallery
Mayoral
Mazzoleni
Anthony Meier Fine Arts
Mendes Wood DM
kamel mennour
Meyer Riegger
Mignoni
Millan
Victoria Miro
Mitchell-Innes & Nash
Mnuchin Gallery
The Modern Institute
moniquemeloche
mor charpentier
Morán Morán
Galerie nächst St. Stephan Rosemarie Schwarzwälder
Galerie Nagel Draxler
Edward Tyler Nahem
Helly Nahmad Gallery
Nanzuka
Galería Leandro Navarro
neugerriemschneider
Nicodim Gallery
Galleria Franco Noero
David Nolan Gallery
Galerie Nordenhake
Galerie Nathalie Obadia
OMR
Galleria Lorcan O'Neill Roma
P.P.O.W
Pace Gallery
Franklin Parrasch Gallery
Patron
Peres Projects
Perrotin
Petzel
Galerie Eva Presenhuber
Proyectos Monclova
Almine Rech
Regen Projects
Revolver Galería
Roberts Projects
Rodeo
Nara Roesler
Thaddaeus Ropac
Michael Rosenfeld Gallery
Lia Rumma
SCAI The Bathhouse
Esther Schipper
Schoelkopf Gallery
Galerie Thomas Schulte
Marc Selwyn Fine Art
Jack Shainman Gallery
Sicardi Ayers Bacino
Sies + Höke
Sikkema Jenkins & Co.
Jessica Silverman
Simões de Assis
Skarstedt
Fredric Snitzer Gallery
Sperone Westwater
Sprüth Magers
Galleria Christian Stein
Stevenson
Galeria Luisa Strina
Simone Subal Gallery
Galería Sur
Timothy Taylor
Templon
Galerie Thomas
Galerie Barbara Thumm
Tornabuoni Art
Travesía Cuatro
Van de Weghe
Van Doren Waxter
Vedovi Gallery
Venus Over Manhattan
Vermelho
Vielmetter Los Angeles
Waddington Custot
Galleri Nicolai Wallner
Wentrup
Michael Werner Gallery
White Cube
Yares Art
David Zwirner