Apple Reveals Latest Product Slate and Elon Musk Allegedly Cuts Twitter Deal Due to "World War 3" in This Week's Tech Roundup
TikTok also denied a security breach despite hackers claiming access to personal data from billions.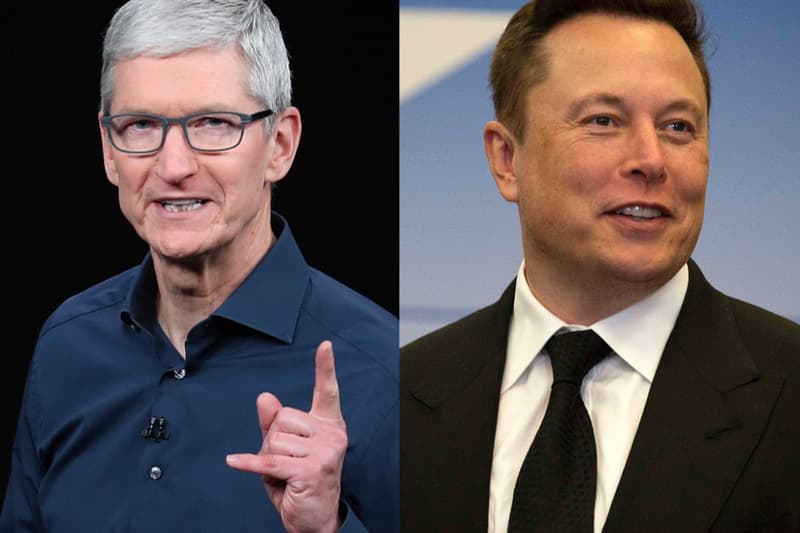 This week, the tech industry was hit with its fair share of innovative product reveals, high-profile legal updates and, of course, a few scandalous headlines. On the hardware front, Apple debuted the latest updates to its iPhone, Apple Watch and AirPods Pro product categories, and, in a different vein, preium audio lable Pro-Ject enlisted Seth Rogen's cannabis-lifestyle brand Houseplant for a retro turntable. Meanwhile, in court, lawyers were suggesting that Elon Musk cut his Twitter deal due to his alleged belief in "World War 3," and, on Instagram, Steve Jobs' daughter Eve Jobs, who shaded Apple's iPhone 14 for looking a little too similar to its iPhone 13 predecessor.
Between all the madness, Hypebeast has rounded up the top tech stories of the week so you can stay up to date on trends in the industry.
On Wednesday morning PST, Apple hosted its annual September Keynote, during which the tech giant unveiled a slew of new updates to its iPhone, Apple Watch and AirPods Pro product lines.
Among all of the announcements, the iPhone 14 Pro and Pro Max are certainly standouts, arriving with an all-new pill-shaped notch and a 48-megapixel camera. Additionally, the company revealed its dust-proof, swim-proof and crack-resistant Apple Watch Series 8, which boasts a series of high-tech additions that prioritize its wearer's health and safety, and the next generation of its AirPods Pro, which offer improved sound quality and increased noise cancellation. Apple also unveiled the iPhone 14 and 14 Plus, the next-generation Apple Watch SE and the all-new Apple Watch Ultra.
Earlier this week, lawyers representing Twitter suggested that Elon Musk was searching for chances to cut his Twitter acquisition deal, referencing a text that he sent to an associate at Morgan Stanley on May 3. "Let's slow down just a few days…it won't make sense to buy Twitter if we're headed into World War 3," a lawyer read."This is why Mr. Musk didn't want to buy Twitter, this stuff about the bots, mDAU (monetizable daily active users) and Zatko is all pretext." The judge overseeing the hearing did not disclose a ruling in regards to the progression of the case between Elon Musk and Twitter.
Following Apple's September Keynote, manny tech fans took to social media to jokingly comment on the iPhone 14's strikingly similar design to its predecessor, the iPhone 13. Among those who shared that sentiment was Steve Jobs' daughter Eve Jobs, who posted a meme to her Instagram Story poking fun at the similarities between the two devices.
Eve Jobs, the daughter of Steve Jobs and Laurene Powell Jobs, reacts to today's iPhone announcement on her Instagram. pic.twitter.com/bfn2VtbpsA

— Yashar Ali ? (@yashar) September 7, 2022
Leave it to NASA's famed James Webb Telescope to capture images of a so-called cosmic "space tarantula." Operating under the more-official moniker Tarantula Nebula, the "space tarantula" is a star-forming region that stretches across 340 light years and hosts tens of thousands of young stars. Notably, the Tarantula Nebula, which is located 161,000 light years away, is the largest and brightest star-forming region in the galaxies closest to the Milky Way.
In a statement posted on Twitter, TikTok said that it "found no evidence of a security breach," despite hackers claiming to have access to personal information and date belonging to more than a billion accounts. In a later coversation with Bloomberg, the company stressed that the hackers' source code "is completely unrelated to TikTok's backend source code." Cybersecuity researcher Troy Hunt noted that there might not have been a breach at all, pointing out that the hackers were publicly accessible in the first place.
TikTok prioritizes the privacy and security of our users' data. Our security team investigated these claims and found no evidence of a security breach. https://t.co/TdCZDUFLPN

— TikTokComms (@TikTokComms) September 5, 2022
Seth Rogen's cannabis lifestyle company Houseplant linked up with premium audio company Pro-Ject on a special-edition HP1 Phono BT turntable. Fusing Rogen's chilled MO with the sound label's state-of-the-art performance technology, the device exudes a retro surfer aesthetic and comes packed with a built-in phono preamp with by-pass switch, an 8mm thick glass platter with vibration-absorbing feet, an Ortofon OM 5E moving magnet cartridge, HiFi sound system, and Bluetooth support, an adapter for 7-inch singles, am 8.6-inch high-precision, lightweight, one-piece aluminum tonearm, and several maintenance tools.