Here Are All the Biggest Announcements from Apple's September Keynote
The company offered several updates across iPhone, Apple Watch and AirPods Pro.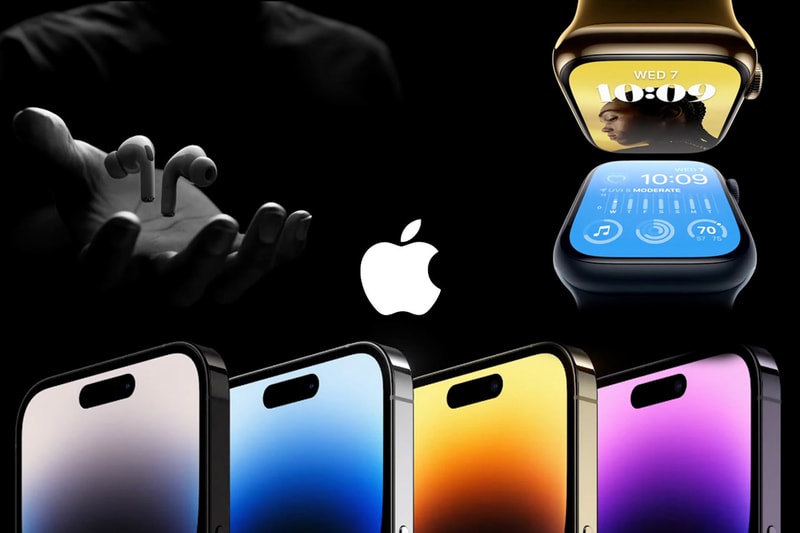 Apple hosted its annual September Keynote on Wednesday morning PST, unveiling a slew of new updates to its iPhone, Apple Watch and AirPods Pro product lines. Between the iPhone 14 Pro and Pro Max with all-new pill-shaped notches and a new flagship Apple Watch Ultra for the terrain-trotting adventurers, see all of the biggest announcements from the event below.
iPhone 14 Pro and Pro Max
Apple CEO Tim Cook is calling the iPhone 14 Pro and Pro Max the "most innovative pro lineup yet." At first glance, both Pro models alter the usual display with a new pill-shaped notch that houses the devices' Face ID sensors and front-facing camera, ushering in a new display system called Dynamic Island. Located on a surgical-grade stainless steel and textured matte glass design, the innovative system pushes the proximity sensor behind the display and introduces adaptive animations for notifications.
Both Pro models arrive in recognizable sizes — with the iPhone 14 Pro boasting the same 6.1-inch screen, and the 14 Pro Max featuring the same 6.7-inch screen — and in four colors: deep purple, silver, gold and space black. Additionally, the 14 Pro and Pro Max use Apple's A16 Bionic chip, which mixes power with 1 billion transistors and features two performance cores and four efficiency cores.
The camera also receives major updates, ditching the 12-megapixel sensor for the first time and introducing an all-new 48-megapixel sensor with f/1.78 aperture and 24mm focal length. Apple notes that the camera supplies a 49% increase in low-light image quality, as Deep Fusion image processing now occurs earlier in the photo-taking process with a new technology called Photonic Engine. Video is now available in 4K resolution up to 40 frames per second in Cinematic mode.
Both devices will be available for preorder starting September 9, with the Pro starting at $999 and the Pro Max starting at $1,099.
iPhone 14 and 14 Plus
The iPhone 14 and 14 Plus models preserve several qualities of the iPhone 13's design, including the front-facing camera and Face ID sensors on a new notch. The iPhone 14 boasts the same 6.1-inch screen, and the 14 Plus features a larger 6.7-inch screen. Both devices arrive with the same A15 Bionic chip as the iPhone 13. Meanwhile, a new camera system features a new Main and front TrueDepth camera, the Ultra Wide camera for new perspectives and the aforementioned Photonic Engine.
Notably, all the new iPhones arrive with a new emergency messaging feature, dubbed Emergency SOS, which connects to communication satellites when users are not able to connect to a cell signal. The company said that the feature will let users to send messages in under 15 seconds when under a clear view of the sky, and the function will guide users in pointing their phone in the right direction.
The iPhone 14 and 14 Plus will be available in midnight, blue, starlight, purple, and (PRODUCT)RED. The standard iPhone 14 model begins at $799, and the 14 Plus begins at $899. Preorders begin on September 9; the standard iPhone 14 will begin shipping on September 16 and the 14 Plus will arrive on October 7.
Apple Watch Series 8
The Apple Watch Series 8 boasts the classic Apple Watch design, with a large, Always-On Retina display and a crack-resistant front crystal. The device, which is capable of supplying an all-day 18-hour battery life, includes several high-tech additions prioritizing its wearer's health and safety.
The Series 8 is built with a series of advanced motion sensors that are capable of documenting health data and offering comprehensive fall and crash detection. If the Apple Watch detects that a user has been in a car crash, it will automatically connect its wearer to emergency services and notify emergency contacts. Additionally, the Series 8 offers new sensors tracking blood oxygen levels and irregular pulse rhythms, as well as features supplying sleep-logging insights.
In terms of design, the Series 8 is dust-proof, swim-proof and crack resistant. The interface stretches to the edge of the Watch and provides a brighter, more detailed display. The Series 8 is available in silver, gold and graphite stainless steel finishes.
Apple Watch Series 8 is available to order today, with availability beginning Friday, September 16. The cellular edition of the Series 8 will now support international roaming and is priced at $499 USD, while a standard GPS mode goes for $399 USD.
Apple Watch SE
Powered by watchOS 9, the next-generation Apple Watch SE delivers the true Apple Watch experience, complete with Activity tracking, high and low heart rate notifications, Emergency SOS and the aforementioned Crash Detection feature.
Arriving in a completely redesigned back case and three stylish case colors, the new SE model hosts a faster dual-core processor for added performance. The SE offers a slew of additional features including a Camera Remote, which lets wearers use their Watch as a viewfinder for their iPhone camera, and Medications, which provides users with convenient and discreet reminders for logging medications.
Offered in midnight, starlight and silver colorways, the GPS model runs for $249 USD and the cellular model is slightly more expensive at $299 USD.
Apple Watch Ultra
Apple introduced a new flagship model dubbed the Apple Watch Ultra, designed for the adventurous, tech-forward timekeepers with durable and resistant materials for harsher environmental conditions. The Ultra arrives enclosed in a protective 49 mm aerospace-grade titanium case, marking the brightest and largest Apple Watch screen to date. Additionally, the device comes with an orange Action button, which can be customized to streamline various controls and features on the Watch.
The Apple Watch Ultra prioritizes sound with three microphones located at different points across the design, each of which serves to reduce background noise for phone calls while on the go. The Ultra is also equipped with cellular data and Apple's most accurate GPS yet, which operates on a new positioning system, as well as on an L1 signal and a new frequency called L5.
The Apple Watch Ultra is available beginning today for $799 USD.
AirPods Pro
The next generation of Apple's new AirPods Pro provide improved sound quality and increased noise cancellation with the H2 chip. Offering high-bandwidth connectivity for "exceptional sound quality," the device is crafted with a low-distortion audio driver and a custom amplifier for empowered, detailed sound across a wider range of frequencies. Additionally, the new earbuds supply Spatial Audio, which can be personalized via the iPhone camera.
The updated AirPods Pro model optimizes sound with a new active noise cancellation configuration with "advanced computation audio" on the H2 chip, which cancels up to double the amount of noise. Additionally, new Adaptive Transparency dynamically reduces harsh environmental noise.
The device arrives with adjustable ear pieces, ranging from extra small to large, and a new capacitative layer that allows wearers to swipe controls on the stem. For battery, the latest AirPods Pro supplies six hours of listening time with a single charge, which is a 33% increase over the original model. Similarly, the charging case now allows for 30 hours of listening time, which is an increase of six hours from the previous model.
The AirPods Pro with H2 will be available for pre-order for $249 USD on September 9, and will begin shipping on September 23.