LeBron James Talks Possibility of Playing With Both Sons, Bronny and Bryce in the NBA
Appearing on the cover of 'Sports Illustrated' with his sons, 20 years after his iconic issue.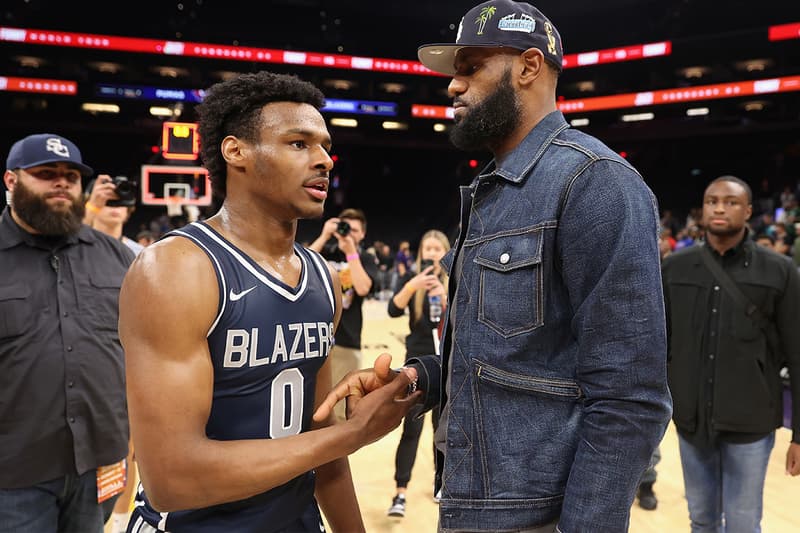 20 years ago, LeBron James appeared on the cover of Sports Illustrated as the "Chosen One." The iconic cover has now received a "Chosen Sons" remake with James and his sons Bronny and Bryce.
In the interview, the four-time NBA champion spoke about being on the cover, this time joined by his oldest sons and the possibility of remaining in the league to play with his younger son, Bryce. Bronny admits that he had not heard about his dad's desire to play with him in the NBA until James announced it to the public, but he did find it a cool idea. James confirms this and explains that he would like to leave it up to fate,
"We don't even really talk about the future too much. I put it in the air because I like to talk to the basketball gods out there and see if things can come to fruition. I've always set out goals in my career, talked to the basketball gods, and they've listened to all of them. Hopefully, they can listen to this last one, too."
Bronny is currently in his senior year of high school while Bryce is in his sophomore year. While there have been fathers and sons who have overlapped within the NBA organization with one another, there has yet to be a father-son duo that plays together in the NBA. James and his oldest son have the best and most realistic shot. To this point, James added, "I like to throw things out in the airwaves, but I'm not one to [say] what's going to happen in the next two to three years. I am a visionary, but I'm also a guy that lives in the moment."
Since Bronny is in his senior year, there is a potential he could be drafted to the NBA next year, if he does not choose the college path. James appears to already be putting gears into motion as he discusses free-agency trades and deals, "I'd definitely be looking at who got first-round picks in 2024, 2025, things of that nature; 2026, '27. I pay attention to that type of stuff." By 2027, Bryce could be entering the league, to which James was asked if he would "stick around," for his youngst son, too. James, whou would be 43 at the time, does not discount the possibility and states,
"I feel like I could play for quite a while. So it's all up to my body, but more importantly, my mind. If my mind can stay sharp and fresh and motivated, then the sky's not even a limit for me. I can go beyond that. But we shall see."
While Tom Brady is 45 and still playing, it remains to be seen if James will still be playing at a high level in his fourties.
In other sports news, Audi will join Formula 1 starting in 2026.