Best New Tracks: ROSALÍA, Charli XCX, Syd x Lucky Daye and More
Dive into the weekend with these music projects.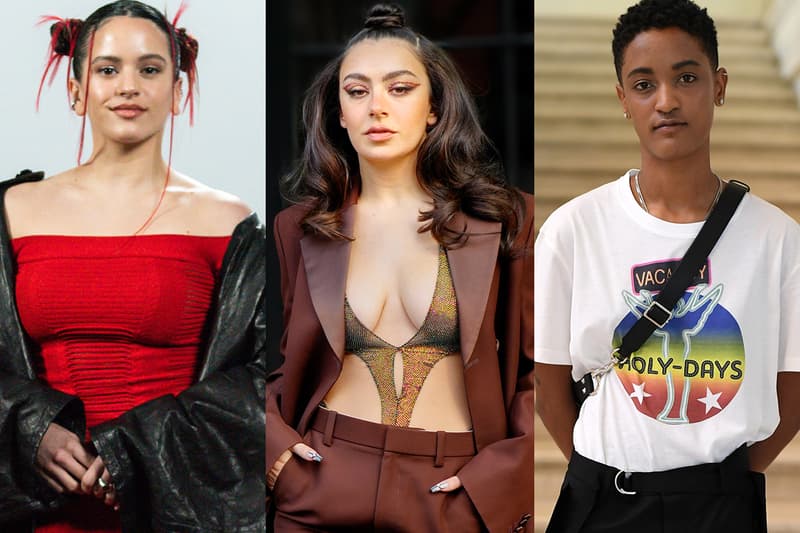 As the week in music comes to a close, HYPEBEAST has rounded up the best projects for the latest installment of Best New Tracks.
This week's list is led by releases from ROSALÍA, Charli XCX and Syd x Lucky Daye, who released MOTOMAMI, CRASH and "Can You Break A Heart" respectively. Also joining this selection are offerings from Tiana Major9, Brahny, Normani and Smiley, as well as collaborative efforts from Joyce Wrice and KAYTRANADA and Saba and Krayzie Bone.
ROSALÍA - MOTOMAMI
ROSALÍA is at her most vulnerable in her newest album, MOTOMAMI. Featuring guest appearances from The Weeknd on "LA FAMA" and Tokischa on "LA COMBI VERSACE" and collaborative efforts from the likes of Pharrell and Chad Hugo, James Blake, Frank Dukes and Cory Henry, the experimental 16-track album marks her first full-length solo effort since 2018.
Listen: Spotify | Apple Music
Charli XCX - CRASH
Charli XCX is kicking off a new era with CRASH, which features features guest appearances from Caroline Polachek, Christine and the Queens and Rina Sawayama, along with additional collaborative work from A. G. Cook, George Daniel, Deaton Chris Anthony, Lotus IV, Oscar Holter, Digital Farm Animals, Ian Kirkpatrik, Jason Evigan, Justin Raisen, Ariel Rechtshaid, Ilya, Oneohtrix Point Never, Jon Shave and Mike Wise.
Listen: Spotify | Apple Music
Syd x Lucky Daye – "Can You Break A Heart"
Syd announces her long-awaited sophomore effort Broken Hearts Club with the newest single "Can You Break A Heart," featuring Lucky Daye. "The album is about a relationship I had that ended in my first real broken heart. It almost felt like I joined a club because all of my friends went through similar experiences. It was like a rite of passage," Syd said of the record. "I started writing the album on the relationship when I was in love. You're really getting the whole journey from the beginning to the end. I want people to find it beautiful. It's super vulnerable, sentimental, and it's soft. There's touching moments and a couple of dark moments."
Listen: Spotify | Apple Music
Normani – "Fair"
Normani returns with the HARV-produced single, "Fair." Speaking about the new song, the artist shared, "This song really captures me in one of my most vulnerable moments. Sharing this record makes me uncomfortable because you have never really seen me in this light. Definitely aware that you might feel like you don't know much about me but that's only because it's what makes me feel protected. I am really forcing myself to let go here. This is huge for me and hopefully this piece of art resonates. Love is beautiful yet so soooo terrifying. I adore you guys to the moon and back."
Listen: Spotify | Apple Music
Joyce Wrice x KAYTRANADA – "Iced Tea"
Previous collaborators Joyce Wrice and KAYTRANADA are back with their newest joint, "Iced Tea." The single arrives shortly after Wrice debuted the theme song of the Proud Family reboot and a year following her debut album, Overgrown. "It's been exactly a year since the release of my debut album 'Overgrown' and I couldn't be more excited to share with the world another collaboration with KAYTRANADA! 'Iced Tea' is a fun dance record where I'm stepping into my divine feminine with the hopes to empower women to be free and stand their ground," she shared.
Listen: Spotify | Apple Music
Tiana Major9 - Fool Me Once
Tiana Major9 releases her latest EP Fool Me Once, arriving her single "Try Peace." The four-track project features one guest appearance from Smino on "2 Seater." She shared, "These are 4 tracks I love so much and couldn't wait to perform and share them with the world because It's been a minute. Fool Me Once will give you a good idea of what my album will feel like… I hope you love these songs as much as I do."
Listen: Spotify | Apple Music
Brahny - Siamese
Brahny is continuing his slew of releases with the EP Siamese, which he states is about sacrifice. "It explores the idea of pursuing achievement at the expense of personal character and fulfillment. Siamese attempts to examine the innocence, happiness, love, and personality that are lost in the attempt to conform to established social ideals."
Listen: Spotify | Apple Music
Saba x Krayzie Bone – "Come My Way"
Saba shares an accompanying music video for the Krayzie Bone-assisted Few Good Things cut, "Come My Way." "When I think back on first discovering Bone Thugs-N-Harmony as a child, it immediately stood out to me as unique," Saba recently said of the legendary group. "I started paying attention and really learning how to rap from listening to them and trying to recite it. It felt honest and completely true to themselves — authentic in a way that doesn't come around very often and in a way that will be impossible to recreate. Their mix of melody and rhythms that I had never heard is what connected with me in a way that other music just didn't. It inspired me to be more creative."
Watch: YouTube
Smiley – "Bill"
OVO signee Smiley announces his Buy or Bye 2 Deluxe Edition with the new single, "Bill." The infectious cut hears him celebrate his career with the lines, "My job is so awesome. My life is so awesome." Buy or Bye 2 Deluxe is set to drop March 25 with six new tracks.
Listen: Spotify | Apple Music