Reliving 50 Years of the Iconic Smiley Brand
HYPEBEAST sits down with CEO Nicolas Loufrani to discuss its most iconic moments.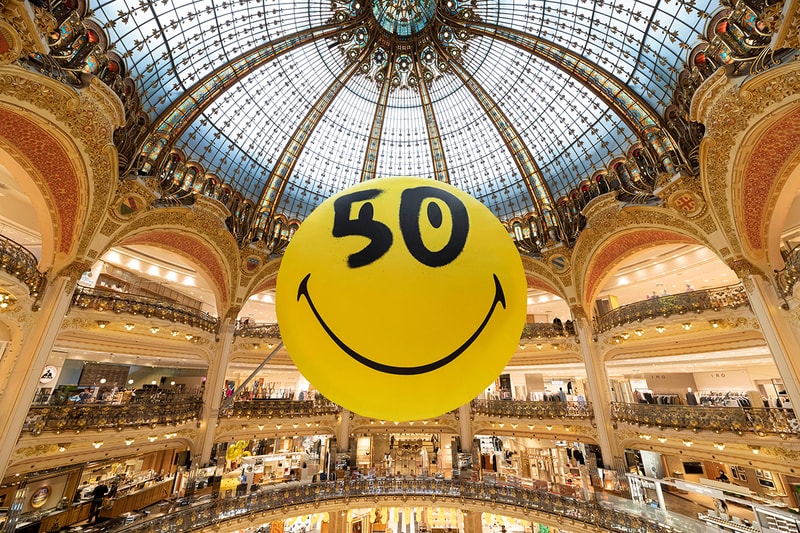 Whether viewed as a symbol of hope or used as an expressive emoji, Smiley's history is one of positivity and innovation. As well as being interwoven within culture and forming part of our everyday lexicon, it's a lifestyle brand that boasts over 400 global partners that has a presence in near enough every industry.
For its 50th anniversary, Smiley has teamed up with street artist André Saraiva to reimagine its ubiquitous logo as well as the accompanying "Take the Time to Smile" slogan. To celebrate this landmark milestone, colette's Sarah Andelman has helped curate 50 collaborations from various categories, enlisting the likes of New Era for its caps, Reebok for sneakers as well as an exclusive MA®KET ball plus many more.
"Smiley means happiness. It means connection because a smile is the first way to connect with anyone. It means positive thinking."
From being adopted by the house scene in the '80s to collaborating with luxury brands, HYPEBEAST delves into the 50-year history of the iconic Smiley and speaks to its CEO Nicolas Loufrani on the brand's most memorable moments.
1970s
First trademarked in 1971 by French journalist Franklin Loufrani, Nicolas' father, he used the original Smiley to spread positive news stories with the goal for it to become a global symbol of positivity. In no time, a marketing push around the logo began to catch wind, with the Smiley being used on a variety of products in partnership with a range of companies. Loufrani says, "It wasn't called smiley back then, it was just to make the logo famous across the world through merchandising and marketing campaigns."
1980s
By the '80s, the Smiley was adopted by an unexpected, underground subculture — electronic house music. It tore through the airwaves in Detriot and was soon picked up by British youths across the pond. In a period known as "The Second Summer of Love" the rave scene which popularized the sound, propelled the symbol to new heights. "This connection has really stood the test of time, and in some parts of the world Smiley is very much associated with music."
1990s
"The demise of Smiley came in the early '90s," Loufrani says. Having been enlisted by his father to find ways to re-establish the brand, Loufrani was thinking about how he'll be able to breathe new life into Smiley. "First I wanted to make it relevant, to transform its appeal and to put it back into a contemporary conversation," he explains.
Wanting to reinvent it as a symbol of the new millennium, at that time there was only one way to do that. "The internet in 2000 meant the future." Having created the first 3D Smiley, by 1999 Lourfrani had established the Smiley dictionary in a range of categories, the largest being emoticons.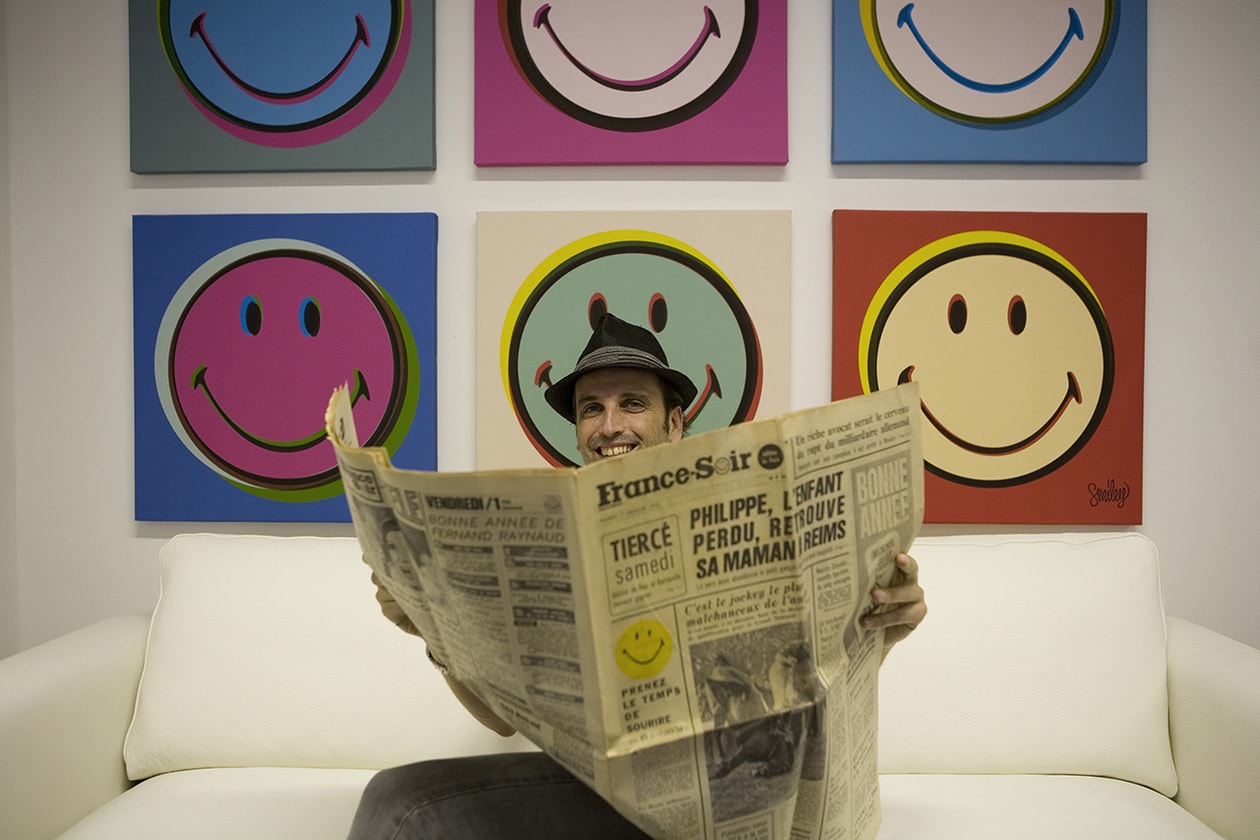 Early 2000s
At the turn of the millennium, technology was moving as fast as Nicolas Loufrani. In 2001 he built over 500 icons and by 2004 over 3,000 digital icons had been created. This was the start of a new universal language, all of which form the emojis popular today.
"If I was the son of Hugh Heffner and I took the Playboy bunny to go and create Bugs Bunny, it's like "Are you crazy?" [laughs] That's exactly what happened."
However, this move into the digital world didn't come without parental doubts. Speaking on Franklin's reluctance to evolve, Loufrani explains, "My father thought it was ridiculous and said I was mad to change his iconic logo to create character-like variations instead of focusing on our core asset." But despite innovating for the times, from a business perspective he insists that there were always risks attached. "You can say my approach was stupid. What I did was exactly what you learn NOT to do when you're in a business or marketing school."
Mid-2000s
Having partnered with Ozwald Boateng to launch the tailoring brand as well as attending runway shows of the biggest names in fashion in his formative years, he had reservations about taking over a brand that, at the time was, "dead, lousy, and old." For Loufrani to really enjoy his career path, he knew that he had to reposition Smiley as a fashion icon — returning to his calling.
The Smiley apparel collection debuted at Bread & Butter in Barcelona, simultaneously on the runway some of its first collaborations were with illustrious French designer Jean-Charles de Castelbajac in fashion as well as Ora-ïto for the packaging of its cosmetics range. Aiming to tap into all industries and span across all niches, Loufrani was growing an unstoppable marketing giant. "These products began being stocked in the biggest concept stores in the world…suddenly Smiley starts to be viewed differently."
"I've been building Smiley gradually, taking it from the flea market to Dover Street Market."
2010's
This strategy of taking over all aspects of culture continued well into the 2010s. With collaborators ranging across the board, redeveloping such a simple but iconic logo can sometimes be a tedious task. Loufrani's partnerships, however, need to come "from a place of innovation" and he ensures that every collaboration has to be unique for it to succeed.
From reimagining it adorned in Karl Lagerfeld's ponytail or adding a smile to the "R" for Raf Simons, the essence of Smiley's identity is present in every partnership with a new story told each time. "That's why we're hyper collaborative, it's because there is huge creativity here [points at head] that constantly wants to reinvent it," Loufrani explains.
One of the highlights for the CEO was seeing Smiley recognized at London's 2012 Olympics. Boasting its biggest scale performance in the brand's history, the icon was celebrated as a symbol of U.K. pop culture for its musical heritage. Taking center stage at the opening ceremony of one of the biggest sporting events in the world made the journey worthwhile for Loufrani. "1 billion people are watching it live and we were a part of it. That was something truly unforgettable. It's beyond anything I can hope I will ever do."
2022 and beyond
Returning back to Franklin Loufrani's original message of highlighting positivity with good news, Smiley is now more than just a brand of products but a force for delivering hope. Through its non-profit organization, Smiley Movement as well as the Smiley News Twitter feed, Nicolas says, "We want to highlight the stories of the change-makers from the charity sector." He continues, "We're here to support them by making the public aware of their causes to trigger more volunteering and more philanthropy," the movement is even set to host the Charity Film Awards Ceremony later this month.
With his Playboy reference used to describe his father's reaction when wanting to enter the digital world, and the heritage brand now creating its very own NFTs, Nicolas Loufrani is witnessing a full-circle moment. When speaking on the future of the Smiley brand he's keen to explore the new-age of digitalization, "I don't know where innovation is going to take me for the next 50 years, but if we talk about the next few years, at the least I would say we're going to enter the metaverse."
The Smiley 50th Anniversary collaborations are available to shop now in department stores across the world as well as the brand's website. You can also shop exclusive items at the brand's pop-ups located in select Nordstrom stores in North America for a limited time.