Ye's Antics Dominate This Week's Top Fashion News
Stay up to date on the latest industry headlines.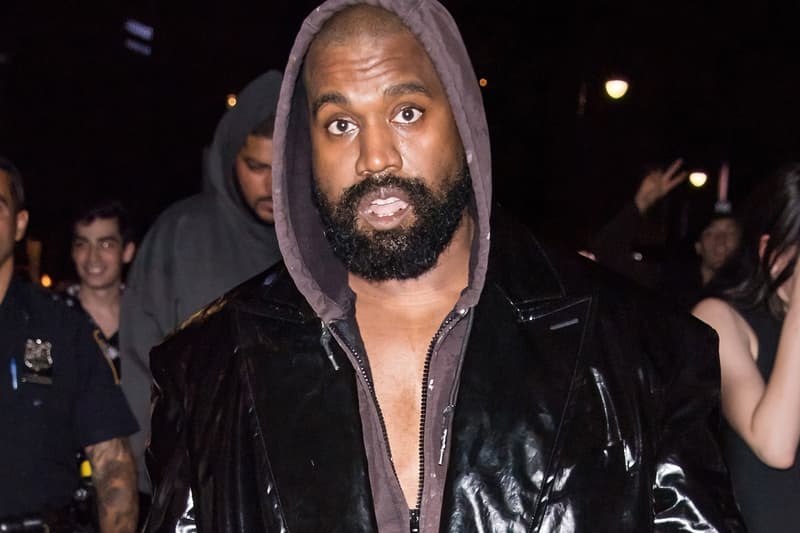 This week, the fashion world was faced with the good, the bad and the ugly. For starters, Ye staged an impromptu YZYSZN9 show that caused a rightful ruckus with T-shirts donning a harmful hate slogan (read further for more details); and adidas placed his YEEZY partnership "under review." Elsewhere, Paris Fashion Week came to a close, marking the end of the Spring/Summer 2023 runway shows; and several celebrities tuned into the fashion domain: Jared Leto announced he's making a movie about Karl Lagerfeld, Rosalía became the face of Acne Studios FW22 and Beyoncé starred in Tiffany & Co.'s latest "Lose Yourself in Love" campaign.
Below, Hypebeast has rounded up the top fashion stories of the week so you can stay up to date on trends in the industry.
Ye on Monday caused a massive uproar with his impromptu YZYSZN9 show during Paris Fashion Week. Taking place off-calendar, the show featured a T-shirt reading "White Lives Matter" on the rear with a picture of Pope John Paul II on the front next to text reading "Seguiremos tu ejemplo" (translating to "We will follow your example)," setting social media ablaze.
Several models were seen walking the runway wearing the T-shirt featuring the phrase, which the Anti-Defamation League has deemed to be a hate slogan, leading attendees to leave the presentation once it was shown. Following the backlash, Ye posted to his Instagram Stories: "BLACK LIVES MATTER WAS A SCAM/NOW ITS OVER/YOU'RE WELCOME."
Several public figures have since taken to social media to express their concerns, slamming Ye for his perpetuation of hate; and legions of fashion figures and publications have since published think-pieces on how Ye's actions have caused irrefutable harm. See how social media reacted to Ye's controversial "White Lives Matter" fashion statement, here, and read about the fashion industry's response to the situation, here.
On Thursday, adidas announced that it was placing the YEEZY partnership "under review." In a statement given to Hypebeast, the company said that "all [its] successful partnerships are rooted in mutual respect and shared values" and that "after repeated efforts to privately resolve the situation, we have taken the decision to place the partnership under review." Read the full statement from the brand below.
adidas has always been about creativity, innovation and supporting athletes and artists to achieve their vision. The adidas Yeezy partnership is one of the most successful collaborations in our industry's history. We are proud of our team that has worked tirelessly throughout our collaboration with Ye and the iconic products that were born from it. We also recognize that all successful partnerships are rooted in mutual respect and shared values. After repeated efforts to privately resolve the situation, we have taken the decision to place the partnership under review. We will continue to co-manage the current product during this period.
In September, Ye said that adidas had offered him a $1 billion USD buyout and later disclosed that he had plans to leave adidas once his current contract with the label, which is set to expire in 2026, ends. As previously mentioned, Ye received massive backlash for his controversial YZY SZN 9 fashion show, which may have played a role in adidas' decision to place its partnership under review.
Paris Fashion Week wrapped up its Spring/Summer 2023 runway presentations earlier this week, marking the conclusion of this season's fashion month. With over 50 shows, PFW had lots to offer and one trend bubbled to the surface: androgynous suiting.
Those that presented genderless takes on formalwear included Botter, which began the week with heart-shaped lapels on suits, and Mary-Kate and Ashley Olsen's The Row, which debuted boxy blazers and wide-legged trousers. Additionally, Valentino welcomed a number of relaxed-fit, tailored pairings; Vivienne Westwood and GmBH revealed punky, rebellious suiting that blended '80s rave culture with maximalism; and Thom Browne, of course, put men in signature pleated kilts.
For more on the subject, read Hypebeast's full deep dive into Paris Fashion Week's genderless suits here.
Jared Leto is slated to star in an upcoming film about the legendary fashion designer Karl Lagerfeld, according to WWD. Leto's production imprint with Emma Ludbrook, Paradox, will co-produce the project with Lagerfeld's House of Karl Lagerfeld.
The late Chanel visionary's close confidants — Pier Paolo Righi, Caroline Lebar and Sébastien Jondeau — are billed as executive producers on the film. A director is not yet tied to the project, as producers are currently in discussions with several filmmakers.
Plot details for the film are not available, though it is known that it will focus on Lagerfeld's close circle, showcased through a unique lens. Stay tuned for more information as it becomes available.
Y/Project's Fall 2022 runway collection — made in collaboration with Jean Paul Gaultier — finally released this week.
While the collection had already set social media ablaze on more than one occasion — see Joel Mcloughlin's (aka Gallucks) viral take on styling the suit — this week marked the first time that the range was available to the public. Among myriad statement pieces, standouts include the Body Morph blazer and matching pants, the Body Morph pajama shirt, long-sleeve shirts, subversive tank tops and Le Male T-shirts. There's also a slew of denim pieces with asymmetrical hems that are sure to garner some looks.
Shop the full Y/Project x Jean Paul Gaultier collection on Y/Project's website.
Toasting A.P.C.'s 35th anniversary, founder and creative director Jean Touitou opted to collaborate with himself in a collection titled "A.P.C. TOUITOU Interaction #17."
A.P.C., which stands for Atelier de Production et de Création, rarely produces statement pieces, so it was only natural that Touitou's latest delivery arrived fashioned in monochrome. Letting the tailoring and fabrications speak for themselves, the collection hosts a bevy of military-inspired P43 fatigues with velcro logo patches and detachable star pins, "Verdurin"-branded varsity jackets, washed indigo jeans and knitted Shetland sweaters.
"Fashion has become what jazz always was: 20% notes and 80% attitude, as Miles Davis likes to say. This means that you don't need a huge wardrobe to play well," writes Touitou of his creative approach to this range.
The "A.P.C. Touitou Interaction #17" collection will be available in stores and online from November 3.
Rosalía became the latest muse for Acne Studios on Friday, starring in the label's Fall/Winter 2022 campaign, shot by Dutch artist Paul Kooiker. The sartorial imagery dresses the Spanish singer in a multitude of key runway looks from creative director Jonny Johansson's FW22 range, spanning from a double-breasted maxi leather waistcoat to a sharply-tailored blazer rid of lapels and dramatic pockets.
In a fashion-meets-music moment, Rosalía's starring role in the campaign is a testament to the power of her own celebrity. Posing against an ethereal, otherworldly backdrop, the visuals not only celebrate Acne Studios' expert craftsmanship but also properly induct Rosalía into the Hose as its latest face.
Peruse Acne Studios' full FW22 campaign featuring Rosalía here.
Set to "Summer Renaissance," Beyoncé dropped off her latest Tiffany & Co "Lose Yourself In Love" campaign video. Notably, the visual arrives as the longest Renaissance-adjacent video to date, as Bey has not yet put out a full-length video for any of her recently-released record's tracks.
For Tiffany, Queen B calls on the intrigue of New York City's infamous disco nightclub, Studio 54. In the video, the Houston-bred artist enters the exclusive nightclub wearing a striking crystal dress and, of course, a bevy of Tiffany & Co. jewelry. Paying homage to her latest album, the video later sees Beyoncé seated atop the crystal horse that appears on the Renaissance cover.
Burberry Delivered an Explorative "Night Creatures" Campaign
Said to honor the "power of curiosity and exploration of the unknown," Burberry's "Night Creatures" campaign centers on three main characters, each of whom sees their night boldly interrupted by unreal creatures. The visual, which was crafted in partnership with MEGAFORCE, crosses the boundary between reality and its alternative, ensuring to spotlight the British luxury label's signature Check amid all of the chaos.
Dancing around a dark London, the characters sport the label's new "Night Check," which dons a "Dark Charcoal Blue" base and a bright white check pattern. The new pattern appears on puffer jackets, technical fleeces, shirts and knitwear throughout the video. Aside from the night-ready textile, the featured collection includes color-blocked nylon jackets, an oversized parka and a gabardine trench coat.