Why Thom Browne's Appointment at CFDA Will Shape the Future of Fashion
According to the trade association, Thom is the new Tom.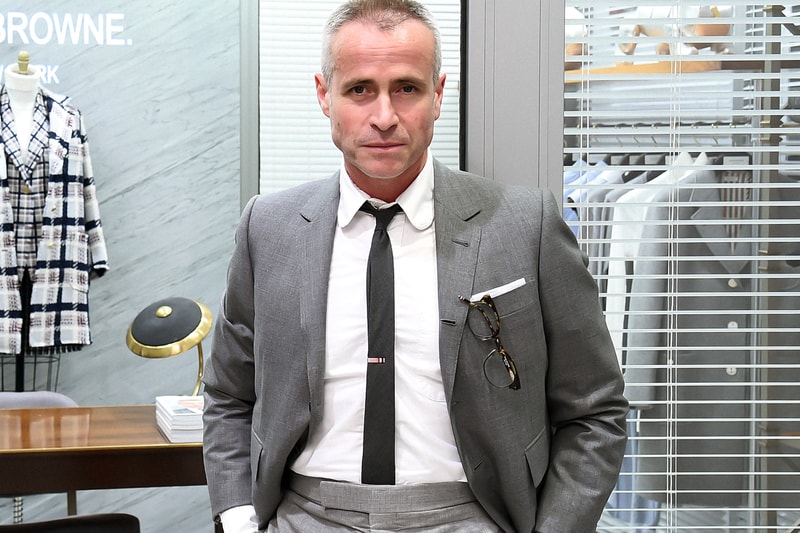 Thom Browne has officially been named the next chairman of the Council of Fashion Designers of America, succeeding Tom Ford, who served a three-year term at the helm of the organization. Entering a two-year term, Browne will be tasked with driving the trade association that counts over 470 designers as members and dedicates its efforts to propelling the growth of the American fashion industry, effective January 1.
During his term, Ford successfully expanded the board with a diverse set of voices, founded new programs centered on imperative pillars of diversity, equity and inclusion, brokered collaborations with brands to create hundreds of new positions, mentorships and job opportunities, launched the CFDA's "A Common Thread" initiative with Vogue — which raised and allocated more than $5 million USD in aid to fashion businesses suffering during the pandemic — and helped revive New York Fashion Week and the Met Gala in 2021 and 2022 in an effort to boost the American fashion world's sense of togetherness.
Browne enters the chairman position alongside an industry that's looking positively toward the future. To dissect what might come from Browne's tenure (and to assess whether he can match Ford's seemingly never-ending list of accomplishments), we must first review his own ascent as an American designer.
Browne launched his eponymous label in 2003 with a ready-to-wear collection consisting of just five gray suits, laying the groundwork for the signature sharply-tailored uniform he would coin in years to come. He worked out of his "by-appointment-only" storefront in New York's West Village, tailoring jackets and trousers with classic shrunken proportions, alongside gray cardigans, white Oxford shirts, gray ties and silver tie bars. In 2006, he relocated his shop to Hudson Street in Tribeca, where he was able to expand his portfolio to include full ready-to-wear collections for both men and women, the latter of which was introduced in 2011. In 2018, Ermenegildo Zegna purchased 85% of the company, valuing the brand at $500 million USD.
Today, Browne's designs are instantly recognized for their subversive proportions, muted gray colorways and signature (but subtle) red-white-and-blue stripe. Moreover, his larger-than-life runway shows never fail to articulate his fantastical imagination and almost always become season highlights. That was always his plan. In an interview with Vogue, he said, "For me, the most important designers over the last hundred years, when you think of them, you have a clear image in your head. When you create an image that people can always identify, it opens up so many things that you can do within that frame."
His work has been exhibited in some of the world's finest museums, including the Costume Institute at the Metropolitan Museum of Art, the Museum of Modern Art, the Victoria & Albert Museum, the Costume Museum at Bath and the Mode Museum Antwerpen. Browne operates 78 retail locations globally, in key cities including New York, London, Milan, Tokyo, Hong Kong, Beijing, Shanghai and Seoul, and he's projected to operate 100 locations by the end of 2023. Further, his label is carried in more than 300 department and boutique stores across 40 countries. Evidently, Browne has achieved both high-fashion notoriety and multinational corporate success, two difficult feats that he accredits to his core creativity.
"My most important message is that everyone should have the opportunity to thrive as a designer, but the core of this success has to start from pure creativity. It is our responsibility as designers to [ensure] the story [is] being told in an uncompromisingly creative way," said Browne.
Browne first became a member of the CFDA in 2005, when he was a runner-up for the CFDA/Vogue Fashion Fund. The following year, he won the organization's Menswear Designer of the Year award, which he received again in 2013 and again in 2016. He's once again nominated for the title this year, alongside Emily Bode Aujla for Bode (last year's winner), Jerry Lorenzo for Fear of God, Mike Amiri for Amiri and Willy Chavarria.
Aside from serving on the CFDA board, Browne is also a member of the selection committee for the CFDA/Vogue Fashion Fund, which was formed in 2003 to help emerging designers establish themselves in America's fashion industry. Having built a now-leading label of his own, Browne undoubtedly resides at the ideal vantage point to offer guidance to a new generation of visionaries — which, in his words, is what all designers should ultimately strive for.
"As designers, it is our responsibility to provoke, to educate, to entertain, to make laugh and to make cry, and most importantly, to make beautiful clothes and to succeed in nurturing the next generation of American design," he said.
In a statement regarding Browne's appointment, the CFDA's Chief Executive Officer Steven Kolb not only attributes the honor to the designer's artistic direction but also his business savviness. "Thom understands the steps that are required to build an American fashion business that is both successful and highly respected by the global fashion community," he said. "Thom firmly believes the craft of fashion is the foundation of success, and his commitment to creativity runs through everything that he touches. Our members at every level of the CFDA and the organization as a whole will benefit immensely from his thoughts, ideas and experience."
Browne's story is something of an American dream, and that alone aligns exactly with what the CFDA hopes to help facilitate for young designers. And as Kolb places emphasis on the designer's global commercial success, it's likely that Browne could establish additional funds, or perhaps mentorship programs, centered specifically on expanding small fashion businesses into larger corporations.
Of course, the CFDA already offers a bevy of annual scholarships, funds and awards, most of which, like the CFDA x Coach Dream It Real Circular Design Scholarship, Re: Generation Innovation Scholar Award and ​​Design for Impactful Future Scholar Award, focus on sustainable design processes and forward-thinking artistry. Looking at Browne's model for success as a reference point, he will likely continue to support and expand these types of future-focused awards with the intention of funding creativity through eco-minded (and oftentimes more expensive) fabrications and processes.
Ford diversified the CFDA's board and established several much-needed, inclusivity-oriented initiatives, and it's safe to say that Browne will continue to build upon Ford's framework. It's no secret that the fashion industry grants an easier entrance for those who come from privileged backgrounds, and it's a bare-minimum expectation that the CFDA champions marginalized creatives attempting to make names for themselves in the space. With that in mind, Browne will hopefully continue to support Ford's previously established programs and build out new methods for BIPOC designers to reach new heights.
While Ford's tenure, for the most part, took place during the worst of the COVID pandemic, Browne is taking over during a period in which the fashion industry has almost fully restored its usual affairs. As chairman, Browne will need to continue building out future New York Fashion Week calendars and lead upcoming Met Galas, so it's imperative that he does so in a manner that ingrains a meaningful feeling of camaraderie in an industry that, just like all others, has been apart for so long.
It's impossible to predict exactly what kind of impact Browne might make throughout his two-year term, though it's promising to know that he holds the next generation's success at the fore of his agenda. Reflecting on his appointment, he made his and the CFDA's priorities clear: "It is the mission of the CFDA to support and encourage new voices and new designers to parlay their creativity into a unique and singular level of success."