The Gen-Z Community Is Key to BOSS' Success
The label's new Creative Director and its SVP of Global Marketing and Brand Communications explain its social media reign.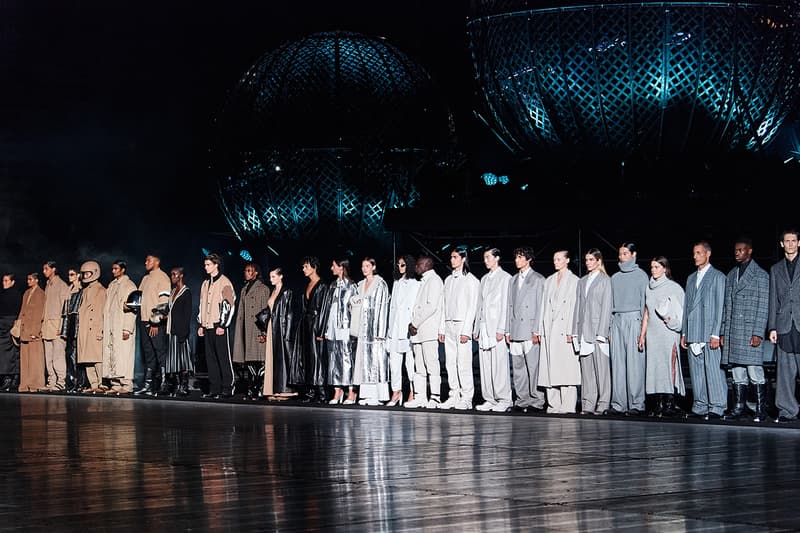 We live in a 15-second world. As you scroll through TikTok after TikTok, information is fired at you without space to breathe or consume. But some brands – notably BOSS – are using this to their advantage, tapping into Gen-Z consumers with content perfect for that cultural hashtag moment. 
It started with a new initiative – "Be Your Own Boss." Campaign videos starring Kendall Jenner, Hailey Bieber, Joan Smalls, Future, TikTok star Khaby Lame, Lee Min-ho, Anthony Joshua, Matteo Berrettini, and Alica Schmidt catapulted BOSS into the spotlight with a new logo, a new era, and a new message. With this, the brand has been able to both inspire a younger generation to own who they are, while also learning from the very people they're trying to attract – and it's working. 
Four billion impressions and one billion engagements later, Hugo Boss' SVP of Creative Direction Marco Falcioni took to the runway for Fall/Winter 2022 with Naomi Campbell opening the show, delivering a reinterpretation and modernization of the formidable power suit that immediately caught the eye of any scroll-happy watcher. Miah Sullivan, Hugo Boss' SVP of Global Marketing and Brand Communications knew she had the right tools on her hands, and run with it. 
Through this digital and social-first approach, BOSS' young customer base is up 50%. Why is that important? Hypebeast spoke with Falcioni and Sullivan to find out, discussing all things BOSS, social media, and how working alongside the community is the only way to survive in this saturated world. 
Hypebeast: What does "Be Your Own Boss" mean to you?
Marco Falcioni: I needed to buy into that claim myself. The point of "Be Your Own Boss" is redefining the word "boss," from something that previously had negative [connotations]. We want to talk about someone who would define themselves as a boss – someone who's able to live on their own terms and stand for their ideas. This is very much what I try to do with my life and my job. You can work for a company but you have to do it in your own way, trusting it and buying into it. 
Miah Sullivan: We launched "Be Your Own Boss" on January 26, and it's the perfect sentiment today [coming out of the darkest days of a pandemic]. People have redefined how they want to live their lives and what success means. "Be Your Own Boss" is the mantra for living life on your own terms. It became a cultural movement when we launched the campaign: consumers immediately played it back to us by leading a purpose-driven life. 
It also brings more inclusivity to the word "boss," and inclusivity was also a focus for BOSS' collection. Is this a big focus for you personally?
Sullivan: Inclusivity is very personal and is something that Marco and I are very passionate about. We see, especially through social media and younger audiences, that humanity is the new standard [alongside] authenticity. I'm so lucky to work with Marco because we share the same vision; for us, it's common sense to put humanity on the runway. We always strive to have an inclusive cast, but we start by looking for incredible human beings who live the "Be Your Own Boss" values. When we put these people on the runway – who'd never been on a runway before – we see it celebrated by consumers on [social media]. It's relevant to today's consumers to be inclusive from a vanity and beauty standard point of view. 
"A fashion show is a giant content production."
Falcioni: A lot of companies are capable of making beautiful clothes – sharp tailoring et cetera. But to make a collection for people with different body types, gender identities, and beliefs, was a joy. When we cast people from outside fashion, brought them in front of the mood board and asked them what they wanted to wear – a single breast, a double breast, knitwear, a coat – it was very much a conversation. We keep some aesthetic parameters, but we always involved them in the conversation; we're really interested in the people's stories. We got attached to this and we created a community, a family, and this is really beautiful. 
Was this refreshing?
Falcioni: Absolutely. I've been in the company for a few years now, but [in the last year] there has been a beautiful earthquake. We were able to flip and twist the company inside-out, the understanding of the brand, the way of thinking, the ways to work, the way to celebrate. This is so refreshing and motivating – people working [here] are so proud, they feel like they're a part of BOSS. They're proud to be BOSS because they recognize something in the brand, and this is the ultimate value. 
Likewise, how does this translate into consumerism?
Sullivan: In the last year and half, the marketing has turned a page. It's no secret that we are trying to attract a younger consumer; we have a really strong social-first strategy. We take these events like a fashion show – the primary purpose of the show is for the end consumer on TikTok, Twitter, Weibo, all of the platforms, which is why we have see-now-buy-now. A fashion show is a giant content production, and we have to bring that energy to fashion shows. That's also why we cast real people in the show because we see the biggest response from TikTok and Instagram when we bring people who haven't been associated with the fashion system onto the runway. Telling stories through social media is the secret to our marketing sauce, and that's helping us get so much traction. 
Why is it necessary to explore youth-centric social platforms? 
Sullivan: What gets me excited about social media is it's a platform where we can create brand energy, and that's where the magic happens. The reason it's so important for us – or any brand trying to attract younger consumers – is because that's where the attention is. TikTok is the primary search engine for Gen-Z. They want their search results in video, not text. In order to connect with the younger audience we have to be where they spend their time. 
"You open the show and you close the show – we opened with the power woman in the power suit. I wanted to change the narrative."
How do you translate this success, and the runway, into something the consumer can buy?
Falcioni: Part of the runway is see-now-buy-now. We also use TikTok to experiment with direct shopping links. But also, the runway works as a workshop, a platform, for us to evolve. I do not intend to create runways as trendy seasonal things, but rather claim what a "boss" is. Tailoring is our DNA and claim, but we learn from the talents, the people's reactions. I would love for my vision of the runways to be less volatile and more of a statement. 
And you're now the Creative Director of BOSS. With this in mind, how did it feel to debut your inaugural collection for the house?
Falcioni: Exciting! Let's be honest, it's a lot of work. I'm a jeans, T-shirt, and sneakers guy, so I might not fit the primary customer of a coat or a suit. However, I am really curious and I am fascinated by BOSS. I spent the last few years at BOSS behind the scenes. A lot of things are good and relevant, but now I've had the chance to edit and say [exactly what] represents BOSS. This is how I feel, I feel really blessed. This is what I love, I want to wake up, go to the office and make beautiful clothes. 
And you also drew inspiration from the archive, right?
Falcioni: I'm quite obsessed with the archive. It was all about changing the narrative, [encouraging] diversity and [introducing] womenswear. It's a powerful statement in menswear and [we had to] make it appeal to a different consumer, which is why we opened the show with Naomi Campbell in a power suit. You open the show and you close the show – we opened with the power woman in the power suit. I wanted to change the narrative. 
With that in mind, how do you translate Marco's artistry into great social moments? 
Sullivan: From a fashion point of view we are pioneering TikTok; Marco and I are very aligned on the vision of the brand and what it means to "Be Your Own Boss." It's such a beautiful proposition for social media because it's about authenticity, so we often find people who have their stories and we bring them into the clothes and we produce a tremendous amount of social content around them. We're building a relationship with these talents. We also give back to the talents and they give back to us. It's a special relationship that we build on the talent side that carries through in an authentic way to the communities on social. 
Does this way of working come full circle and influence design?
Falcioni: I'm really curious. It's fun to see a talent who says, "next time, I'd love to wear a double breast." This social interaction gives me information and challenges me. There are a lot of passionate people with a lot of ideas working behind me – from the chicest and sophisticated to the craziest and wild – and this is a social interaction like scrolling Instagram from morning to evening. I need [this], this is how I feed my creativity and add the social approach into the collection.