Xbox Designer Elliott Hsu Breaks Down the 'Space Jam: A New Legacy' x Nike x Xbox Collection
In an exclusive interview with HYPEBEAST, Hsu explains the process behind the groundbreaking footwear and controller bundle.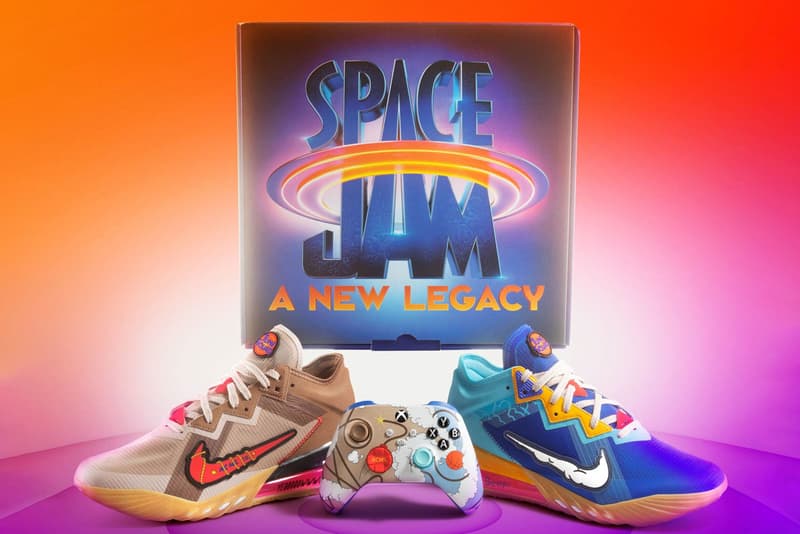 1 of 3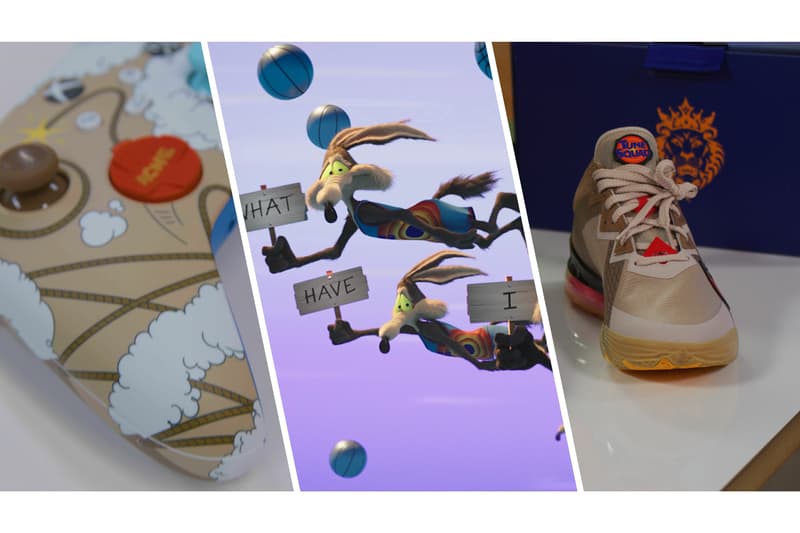 2 of 3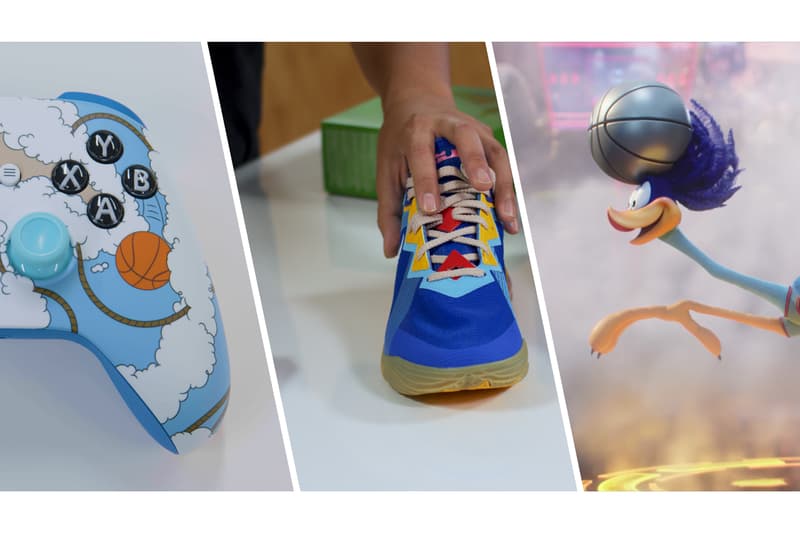 3 of 3
The three-headed monster (or should we say Monstar) of Space Jam: A New Legacy, Nike and Xbox have teamed up for a galaxy-shaking collaboration centered around Space Jam star LeBron James' LeBron 18 Low and Xbox's famed controller. A true pop culture convergence that draws parallels between movies, gaming and sport, the collection is inspired by the fierce rivalry between Looney Tunes characters Wile E. Coyote and the Road Runner. It also marks the first time that a gaming accessory will ever be made available for purchase on Nike SNKRS.
A result of the synergy between famed Nike designer Jason Petrie — the man responsible for every signature Nike LeBron shoe from the LeBron 7 to the LeBron 18 — and Xbox principal designer Elliott Hsu, the collection blends form, function and fun in equal measures. Shoes feature a yin and yang of designs with the right foot inspired by Wile E. Coyote and his endless arsenal of ACME traps while the left foot pulls from the frenetic speed of the Road Runner. Both are brought back together on the controller, which depicts the "aftermath," as Hsu puts it, of the famed cartoon rivalry with clever details like a still-lit fuse reaching down to a bomb-like D-pad with an ACME logo.
Just as interesting as the products themselves is the back-and-forth between Petrie and Hsu, two highly regarded designers in their fields whose worlds were brought together over the course of creating the collection. In an exclusive interview with HYPEBEAST, Hsu discussed everything from the similarities between footwear and hardware design to some of his favorite stories from the collaboration and how it's important to blend looks and performance — no matter if you're gaming or hooping.
See the full interview below, and expect the Space Jam: A New Legacy x Xbox x Nike LeBron 18 Low bundle to hit Nike SNKRS on July 15.
HYPEBEAST: The collection's footwear (and hardware) seem very detailed without being overpowering. How do you maximize an item's impact and storytelling without over-adorning it?
Elliott Hsu: With all our Special, Limited, and Exclusive Edition Xbox controllers, we want to ensure the design tells a story to the user while not being too literal and superficial. We pride ourselves in never expressing the lowest common denominator of a graphic. The LeBron 18 Lows provided great inspiration with Road Runner being the right shoe, Wile E Coyote the left shoe and all the little details that were integrated. We looked at the colorways of the characters and explored graphic elements that best represented them to then create the controller design.
By graphically depicting the "aftermath" of their rivalry, it lets fans become immersed in memories of the characters, or create and discover new stories of their own. You see the dust clouds of Road Runner settling as it speeds across the Xbox controller. The contraptions of Wile E Coyote have all failed with the broken and slack ropes. It's just pure chaos! The new circular d-pad on our Series X|S controller was the perfect place to integrate the iconic ACME logo. If you look closely, the wick above the d-pad is still lit … and as we know, Wile E. Coyote always somehow always gets caught in his own trap in the end.
Basketball shoes have to blend looks and performance, which can be quite challenging. Are there similar challenges in the hardware design world?
Much like a basketball shoe must perform for an elite level of play, we put the same emphasis of comfort and performance into the Xbox controller while still making the product aesthetically pleasing. Gamers want to get into their game and stay in it. From the product weight to how it fits into small and large hands, button layouts, tension of thumb sticks, and durability of button presses, the Xbox controller is designed with the science and data of our human factor scientists and ergonomists to make it the most natural input for modern gaming.
When science meets design there is always a push and pull of what is aesthetically cohesive and what data and metrics to follow. This is where the art of design comes into play to create a product that is both high-performing and beautiful. Without a product living up to its functionality, no amount of aesthetics will make it a better design. But when you hit both just right, a product becomes iconic.
When working with Jason Petrie, did you discover any similarities between footwear design and hardware design?
There definitely is synergy between footwear and hardware design. Both start with principles of designing for purpose and function. For example, a basketball shoe designed for LeBron can be purpose built for his game, just like we've put decades into the ergonomics and performance of the Xbox controller. When those design foundations are set and you have a product that performs, that is when expression and making cultural connections take products to the next level.
Tell me a cool story from the process of working with Petrie. How did you combine your expertise with his?
The collaboration on this controller was done through Microsoft Teams calls between Nike and Xbox, and was completely remote. We each had our own processes to ensure our products delivered on the design intention and quality, but we really depended on solid communication, open and detailed sharing of specifications, and a real trust between the designers and project teams to ensure it would come together as a cohesive product bundle. The toughest part was that we both work on physical products which are dependent on getting hands on with samples, prototypes, and product. This past year has opened up new ways for creatives to communicate, share ideas, and collaborate with remote tools.
Did LeBron himself have any say in the designs?
Although LeBron did not have input into the controllers directly, the "Wile E. Coyote vs Road Runner" was a direction being developed for the LeBron 18 Lows. Our challenge was bringing both characters to life on a single controller while adding to the story of the sneakers and bringing the collection over the top.
What parallels do you see in the world of sports, gaming and entertainment, and how does this collection draw on those?
It's all being inspired by culture, and in particular being able to have fun with it. This is really a massive collaboration of Space Jam: A New Legacy, Warner Bros. Pictures, Nike, and Xbox. There is so much crossover in all those brands and IPs, all of which culminates into culture and connections. Being able to express this in an authentic way that connects with fans was very important in our execution. I hope the fans see these products came from an authentic love for all the parallels this represents. It's also about not taking your brand so seriously that you're unable to have fun — I mean, it's the Tune Squad!
The true power of this collection is that as each team designed and created their product story to complement one another, not compete. After seeing each other's designs, we began to further riff and refine each individual product to better align with the other. That takes trust, poise, and a true creative partnership to make happen.
On a playful note, which Looney Tunes character represents you the best?
Oh boy … I think I'm a combination of a couple of them — Marvin the Martian and Foghorn Leghorn!