Freddie Gibbs Is Stepping Into His Next Phase
With a debut acting role premiering at Cannes, and a new album looming, the artist reflects on longevity and integrity.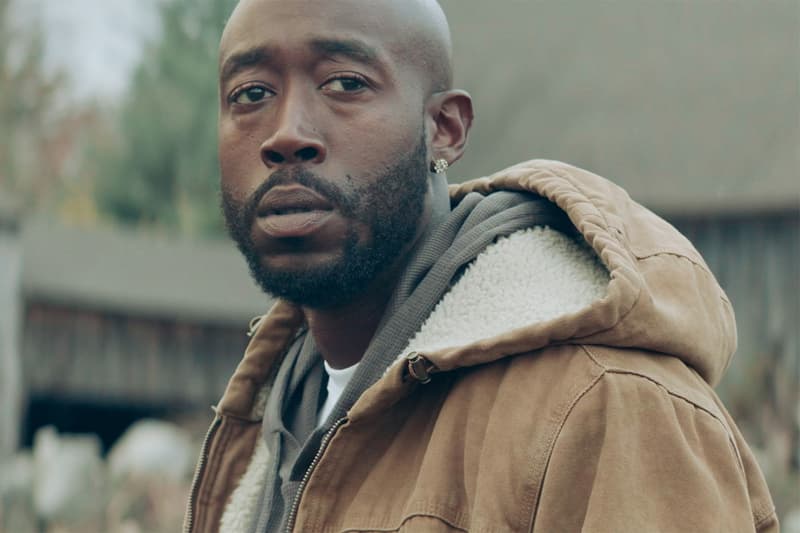 By the time we're able to catch Freddie Gibbs on the phone, he's already enjoying the breathtaking views of the French Riviera. The 39-year-old had just attended the 2021 Cannes Film Festival premiere of Diego Ongaro's Down With The King, a forthcoming drama that also happens to be Gibbs' first acting role. "It's a blessing to be involved in this, because nobody is knocking down my door to give me a lead role in a film," he says. "So for me to get my first lead role and get it up at Cannes, where everybody's receiving the film well, and I was able to help executive produce and write the music — it's a real experience for me. So hopefully people recognize my acting talent and my talents in the film world."
In Down With The King, Gibbs portrays Mercury "Money Merc" Maxwell, a rapper who has grown tired of the music industry. Gibbs is a fitting casting; both are veterans who are considered as one of the best in the game. But moreover, only a real-life rapper can fully understand and internalize the evils that lurk in the underbelly of the multi-billion dollar music industry. "I definitely put a lot of my pain, all of my joys into Merc," he says. Yet Gibbs was also keen to establish the differences between him and his character: he points out that Money Merc wears his heart on his sleeve just a little more than Gibbs does. And the rapping might sound similar, but Gibbs brought "a whole new flavor" with a selection of original music.
"The rap aspect that you hear, I've definitely added a couple elements that are pretty new. But as far as the human aspects of the character, I had to really grind that out," he says. "Bringing that is a challenge for sure because he was emotional — emotional about the girl leaving, emotional about the rap game, emotional about his mom. There were a lot of things that I had put this character through to make him shine."
Admittedly, Gibbs was skeptical of the role at first. A real-life rapper playing a fictional rapper? Arguably, it's played out. "I don't want people to be like, 'Oh, he's just playing himself.' What's the challenge in that?" he says, "I wanted to do something compelling, something more avant-garde. You know, more of a challenge. I can easily get a bunch of guys together and be gangster and shoot a gangster ass movie about selling drugs. Okay, cool. That's been done so many times." But when Gibbs saw what Merc was going through, he understood the gravity of the role, "I get it now. And I think this would be a good thing to help me transition into other roles. Diego is the best, he really made me comfortable on set. He walked me through everything. He basically taught me how to act on set. I had the experience of being fresh out of the frying pan and into the fire."
"The rap game can be draining. You produce, perform, and, you know, have to be on point at all times. It can be difficult and people are very, very critical."
After briefly relocating to The Berkshires with the intention of recording a new album, Money Merc ends up learning the ways of the farmland thanks to his neighbor, Bob (Bob Tarasuk). As the film progresses, he steadily begins to leave his life as a rapper behind — and while it may seem like he is contentedly rebuilding his identity and finding a new sense of purpose, Gibbs shares that Merc's longing for escapism could stem from something else. "Honestly, I feel like Merc was having a f*cking nervous breakdown," he reveals. "You got to think about everything he did, it was a total switch. Even the girl that he chose — some redhead in a hardware store. When you're Money Merc, you can f*ck a model, you can f*ck whoever you want. But I think that he was so broken down from the game and so tired of it that his mind just flipped the switch. So I equate this sh*t to a nervous breakdown because most motherf*ckers ain't about to runaway to no f*cking farm."
"I feel like he was having real mental health issues. And he was running away. It was damn near like he was on the lam, like he was f*cking on the run from the police or something like that. I feel like something traumatised Merc; something in the industry made him flip like that. He might have compromised his integrity, and we don't know that. But the beauty of that unknown is greatness. It's like, why is he going? I think that's what makes it interesting."
The involvement of social media also proves to be a vital factor in the rise and fall of Money Merc, and Gibbs' focus on that detail adds an even more realistic layer to the character. "The rap game can be draining. You produce, perform, and, you know, have to be on point at all times. It can be difficult and people are very, very critical," he explains. "I'm glad that we added the social media aspect so you can see how those things affect guys. A lot of these guys use social media all day and they either answer back to the people or they get in their feelings about what people say. Personally, I don't give a damn, I never give a f*ck. I joke back with people even on Twitter and it's all in good fun."
"Every project has to have a theme. I could give you a f*cking CD with 10 songs on it with no good art and no explanation, but where's the experience in that?"
Unlike Money Merc, though, Gibbs is here for the long run. While he believes that rappers can lose a part of themselves when they retire, it's possible to walk away and still remain happy. "There was a time when I didn't want to rap or didn't want to be a part of the rap game because of the politics," he reveals, "but I look at guys like JAY-Z. You know, he still raps. Not often, but he's still happy." He describes the stereotype of rap being a young man's game, but that notion doesn't bother him at all. Why? Because he's getting better every year. "I don't see myself stopping anytime soon. As long as you stay inspired, you can do your sh*t forever."
He does, however, add that there is a major problem in how the industry treats the rap game. Comparing rappers to country singers and R&B artists, he notes that the careers of the latter live longer; a rapper's career can be over in six months. "Rap is so f*cking disposable right now. I feel like we gave up, that's our fault," he says. "As a community, we gave it to the labels and we're paying [people] that don't even know sh*t about music. Then they turn our product into a disposable product. In the streaming era, there's no more artist development. So as an artist, I feel like I have a duty to always keep this sh*t creative and innovative."
And that's exactly what he plans to do with his next album, Soul Sold Separately. It marks his first project under a major label, Warner Music, and Gibbs and Ben "Lambo" Lambert, his creative partner, are in the midst of getting the art and theme together, "Every project has to have a theme. I could give you a f*cking CD with 10 songs on it with no good art and no explanation, but where's the experience in that?" He promises that his upcoming album will feature the biggest names, including but not limited to Pusha T, Lil Baby, Rick Ross, Pharrell, the Neptunes, Puff Daddy and Hit-Boi. It's bound to be his best body of work yet following the GRAMMY-nominated Alfredo with The Alchemist, and he doesn't see anybody standing in his way… except for maybe Tyler, the Creator, who thoroughly impressed Gibbs with his latest album CALL ME IF YOU GET LOST. "Shout out to Tyler," he says, "but other than that, I feel like everything else is like, 'Okay, cool.' The game is real bland right now, man. I think that when I got nominated for the GRAMMY, they put me up there with guys that I should have been standing up to anyway. I feel like I'm definitely one of the best rappers in the game pound for pound. So I gotta keep proving that."
As a veteran in the industry, Gibbs almost treats SSS like a victory lap, "Triple S, album of the f*cking year, man. That's all I gotta say." He listens to it everyday and it serves as a testament of how far he's come. "You're definitely gonna love it," he tells me, "Me and Lambo, man, we really stuck it out. And now I can stand at the mountaintop of this. I feel like I've been so underrated and overlooked and underappreciated in the rap game. I feel like I'm just now starting to get my flowers, and I'm gonna take them motherf*ckers. If they wasn't gonna give them to me, I was gonna take that sh*t."
Leaving rap for a rural life isn't in the books for Gibbs ("Farm life is way too f*cking hard, man"), but he's already got his sights set on his next empire: "I'm about to start me a restaurant," he reveals, "BRB. Bunny Rabbit Burgers. I'm about to get that cracking." He and Lambo have seen success with their merchandise popups and they were motivated by their collaboration with BURGERS 99 last March, so going into food felt like a natural step forward. "Shoutout BURGERS 99, they really inspired me to go hard and really get into the restaurant thing. I'm gonna do the pop up restaurant at Lollapalooza."
The proper recognition for Gibbs may be long overdue, but he's already transcended it anyway. "I'm in a very good mental state, and I'm in a very good space as a human and as a father. My family is good, and everybody's being taken care of," he says, and despite the fact that he almost sounds like he's in disbelief of all the good things coming his way, the success is a long time coming. "I'm eventually becoming an executive in the music and film industries now. I'm already an executive producer for a film at Cannes. The album is the icing on the cake, man. I got this film, this album, I'm in two new series.
God is good, man. F*ck, I'm happy."