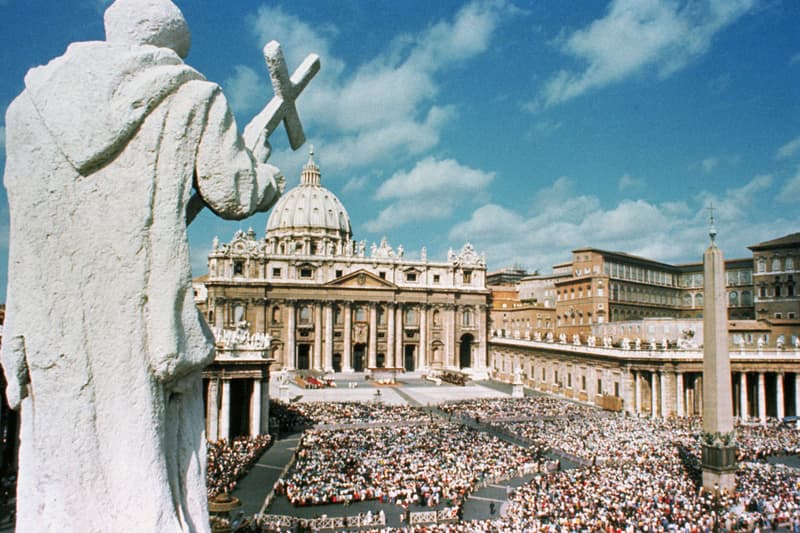 A Street Artist Is Suing the Vatican for Allegedly Stealing Her Artwork
The artist told 'Associated Press' that she thought it was a joke.
---
A street artist named Alessia Babrow sued the Vatican after she discovered that the religious body apparently used a reproduction of her artwork in its 2020 Easter postage stamp.
According to Associated Press, Babrow filed a lawsuit last month against the Vatican's telecommunications office in a Rome for allegedly using her image without consent. The artist is seeking nearly €130,000 EUR ($160,000 USD) in damages.
"I couldn't believe it. I honestly thought it was a joke," she told AP in an interview published Tuesday. "The real shock was that you don't expect certain things from certain organizations."
Babrow told the outlet that she has attempted to negotiate a settlement with the Vatican, though she says the religious body has not yet officially responded to her request.
The artwork in question features Babrow's signature heart iconography with the words "JUST USE IT" written across Jesus' chest. The piece is part of Babrow's "Just Use It"series, which plastered the heart image and phrase across renderings of various religious figures.
View this post on Instagram
Babrow told AP that the concept of the project is to "promote the intelligence and the brain of the heart." She created the Christ image on February 19, 2019, and glued it on a wall near the Vatican.
The lawsuit states that the Vatican printed at least 80,000 stamps featuring the contested imagery, selling them for €1.15 euros ($1.40 USD) apiece, AP reported.
The Vatican has not yet officially responded to news of the lawsuit.
Last year, Callaway Arts and Entertainment, in partnership with Vatican Museums, released an English edition of The Sistine Chapel, a book that features extremely accurate images of Michelangelo's renowned frescoes. The limited-edition copies of the book were sold for $22,000 USD each.