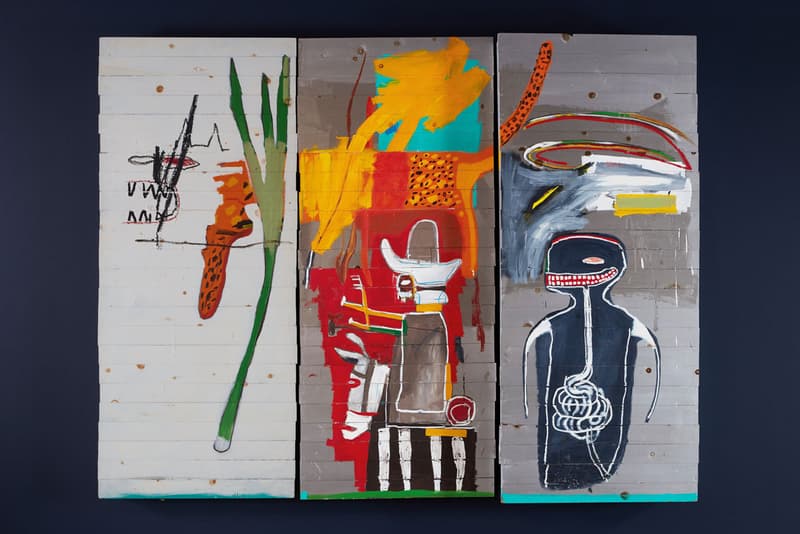 Jean-Michel Basquiat's 'Untitled' (1985) Could Sell for $45 Million USD at Sotheby's Hong Kong Auction
The artwork appeared in the background of Basquiat's 'New York Times Magazine' February cover.
---
Sotheby's will open its inaugural "Contemporary Curated: Asia" series in Hong Kong on June 18, in collaboration with Taiwanese singer and avid art collector Jay Chou.
The highly-anticipated auction offers up some of fine art's most esteemed pieces, though there is one impactful work that is set to command the attention of potential buyers: Jean-Michel Basquiat's influential 1985 triptych, Untitled.
The masterwork, which features acrylic and oilstick on wood in three parts, leads the event with a HKD 350 million ($45 million USD) high price estimate.
The 1985 artwork holds sentimental value for its appearance in the background of Basquiat's New York Times Magazine February cover in its seminal year. Additionally, Sotheby's is also selling the originals chairs from the artist's studio that appeared in the cover shoot as a separate entity.
"I have always believed in the power of art—a medium of expression that sees no boundary or limitation," Chou said of the curation in a statement. "My dream is that this collaboration [with Sotheby's] will leave audiences with different ways of understanding and appreciating the art that surrounds us every day."
Elsewhere in the sale, Pablo Picasso's Buste d'Homme (1969) is listed at a HKD 93 million ($12 million USD) low estimate, alongside Richard Prince's Runway Nurse (2005-2006), which is offered at an estimate of HKD 75 million ($9.6 million USD), just below the record $9.7 million USD that it sold for at Christie's in 2016.
Frank Stella's electric acrylic painting, Untitled (1978), is seated at a HKD 32 million ($4.1 million USD) low estimate while Andy Warhol's renowned Cambell's Soup I (1968), which arrives in a set of 10, is market at a low estimate of HDK 4 million ($520,000 USD), among several other works.
Each work will be on display at Hong Kong's K11 Atelier and K11 Musea from June 12 to June 18.
In other art news, Tokyo art gallery NANZUKA, which includes the works of artists Hajime Sorayama and Harumi Yamaguchi, will open a new flagship in Shibuya. Take a look at the specs of the new space.