Studio Ghibli and Pixar Send Internet Into a Frenzy With Potential Collaboration Teaser Image
Taking to Twitter to deliver a cryptic message.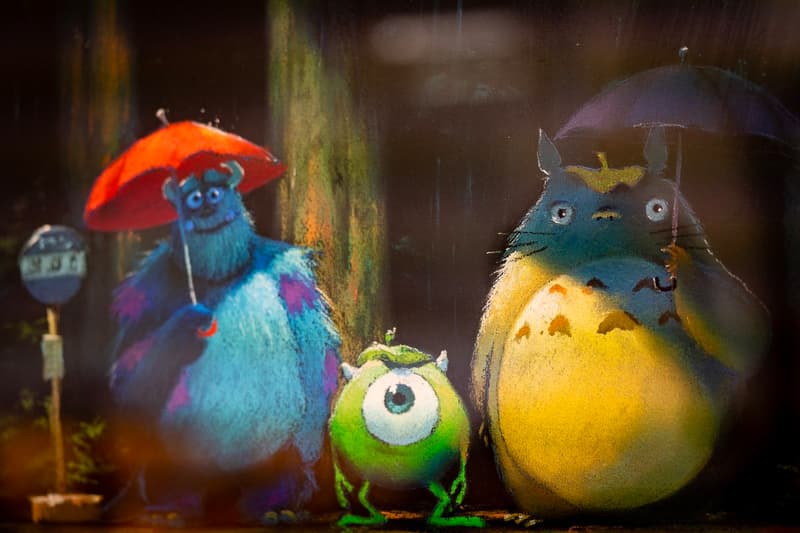 Studio Ghibli recently took to Twitter to post a drawing that depicts a famous scene from the animation company's 1988 hit classic, My Neighbour Totoro, with additional characters from the Pixar realm.
The tweet featured the friendly giant Totoro standing under an umbrella in the rain, appearing to wait by a bus stop in the forest. The beloved scene has been featured on promotional posters for the film for many years and is easily recognizable by fans worldwide. Fans may remember that the original poster saw sisters Mei and Satsuki next to Totoro, however, this time around the new drawing showcases Michael "Mike" Wazowski and James P. "Sulley" Sullivan from 2001 Pixar-produced CGI film, Monsters, Inc..
Studio Ghibli shared the image on their official Twitter account with no caption accompanying it, causing fans to wonder if there might be a possible collaboration between the two major animation powerhouses. Fans were quick to point out that this would not be the first time both worlds of Ghibli and Pixar collide; Totoro also appeared in Pixar's 2010 film, Toy Story 3. Directors Hayao Miyazaki and John Lasseter have been vocal about their mutual respect for each other, with their relationship dating all the way back to the 1980s.
Though the artist of the crossover image has yet to be confirmed, the drawing was previously seen hanging at the offices of Studio Ghibli in Tokyo. The picture was seen in an anime industry documentary previously broadcasted in Japan on NHK in December 2019.
Check out the drawing that has sent the animation world in frenzy below.
— スタジオジブリ STUDIO GHIBLI (@JP_GHIBLI) May 13, 2021
In other entertainment news, John Boyega is reprising his role of Moses in Attack the Block sequel.