What the Tech? Satisfy's Justice™ Performance Fabric
How the running brand uses fabric innovation to bring "comfort" to the sport.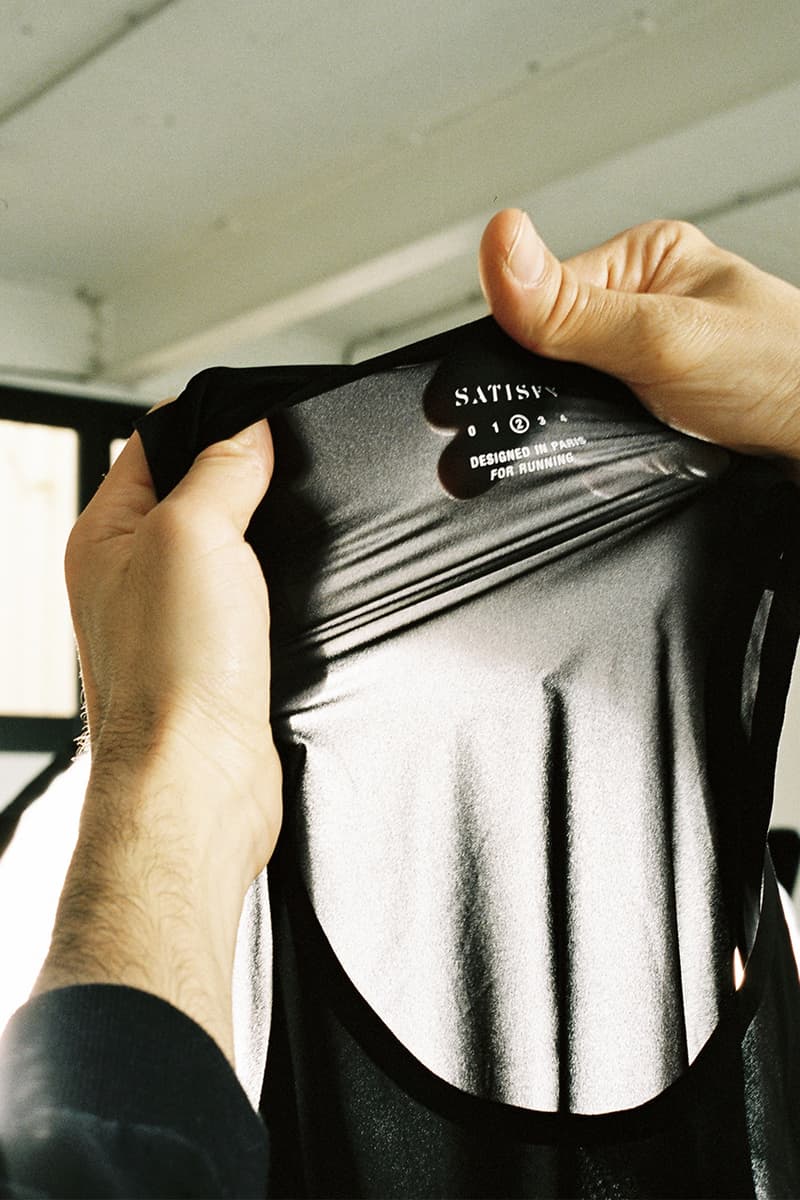 What the Tech? Satisfy's Justice™ Performance Fabric
How the running brand uses fabric innovation to bring "comfort" to the sport.
For many running brands, the end-game of innovation is to make athletes faster, above all else. But for others like — Brice Partouche and his Parisian label, Satisfy — the need for comfort and peace far surpasses the performance aspect.
Founded in 2015, Partouche and Satisfy have nurtured a community of people who aren't focused exclusively on times. This relaxed approach to an often super-fuelled sport has seen the brand become renowned for its products, creating a feeling that allows runners to reach an elusive "runner's high".
"If you want to reach 'the high', you want to feel like you aren't wearing any products," explained Partouche in an interview with HYPEBEAST last year. "You need the best fabrics. Running has to be a tactile experience and not only visual, the fabrics need to be the best too."
Described by Partouche as a "low-key technology running brand", Satisfy has garnered a reputation for its eye-catching designs and alternative ventilation techniques (see its Moth-Eaten T-Shirts), but upon closer inspection, it's the fabrics used that really sets them apart, most notably: Justice™.
A silk-like fabric that sits at the heart of some of Satisfy's most popular products, Justice™ has been used by the brand since its inception in 2015. To find out more about this little-explored fabric, HYPEBEAST sat down with Partouche to discover what it is, how it's different and how it helps its wearers take one step closer to reaching the "runner's high".
The What, Why, and How
So, what exactly is Satisfy's Justice™ fabric?
Brice Partouche: In France we used to have a lot of silk makers, but when the industry began to move to Asia these companies had to pivot into something new because they were fast losing business. The guys we work with came up with this idea of adapting their knowledge towards medical fabrics and bandage technology. At its core, Justice™ is a compression bandage that we've then engineered into what we want it to be. It's a super light and very resilient fabric. It started out as a lining for our shorts, but we've since expanded it to T-Shirts, jackets and accessories. The company we work with had never made apparel before, so we combined our knowledge in our respective fields and began creating something performance focused. We were then able to create a unique fabric that was the weight we wanted and had the compression we wanted too.
How does it differ from the fabrics other activewear brands are using?
It's woven, which is unique in the sports industry because most fabrics are knitted. The difference between the two is that the woven fabric is both lighter and more breathable and because of this it manages moisture more effectively. It weighs around 35% less than usual and dries 65% faster than traditional running fabrics. It weighs about 40g per square metre, and this lightweight breathability essentially means the garment will stay clean and odour-free.
"I wanted a brand that didn't necessarily scream technology, but it doesn't mean that it doesn't have it. While our designs might be loud, the tech is low-key and that's what I like."
A runner heavily considers their shoes when it comes to performance. But how important is a runner's choice of clothing?
Of course the shoes are super important, but for us the shorts are almost as important too. On longer runs especially you're going to be carrying things like your phone, keys and maybe some nutrition. Before Satisfy there weren't any shorts that would let you do this comfortably and to really get the most from running you have to be comfortable. We also believe that if you want to reach the "runner's high", you have to be wearing the right clothing made from the right fabrics. It's common especially on wet days for you to get friction or irritations on your shoulders, armpits, nipples and loads of other places, but with the right clothing that shouldn't happen.
The History of Satisfy's Justice™ Fabric
How and why did Satisfy's Justice fabric come about?
One of the reasons I founded Satisfy was because I wanted a brand that didn't necessarily scream technology, but it doesn't mean that it doesn't have it. While our designs might be loud, the tech is low-key and that's what I like. It's kind of like an iPhone, when you buy one you know what it does and you know there's tech there, it's more about the design and what you can make with it; that's the same with Satisfy.
For a running company especially, the fabrics are so important, and at Satisfy all our innovations come under an umbrella we like to call "Peace and Silence Technology". When you run, you want to be at peace with yourself and to do that you need silence with the garments you're wearing. So we reached out to a particular silk maker who had knowledge in producing these medical silks and compressive materials to work with them to create our Justice™ fabric.
How does the current Justice™ fabric compare to the original design, if it's changed at all?
The elasticity is the main thing we've tweaked a lot, which means the weight has fluctuated slightly too. But in recent years we've even started to treat the fabric on certain garments to make it water-repellent, and even mixed it with other fabrics like merino wool. We like to think of Justice™ as a canvas that we can add bits to and always tweak.
How important is this fabric to Satisfy's unique approach to running?
We like to think that every Satisfy product is recognisable by its hand feel with a soft and silky touch. This comfort, we believe, will not only help runners to enjoy the flow of his or her run, but we think that if you feel that you look better, you'll run better too.
The price of Satisfy products has often deterred potential consumers. Is this something that affects you?
When you buy something from Satisfy, you aren't just buying a product, but you're buying into a brand doing things sustainably. The way we produce and source our products makes our carbon footprint very low, and even when we get a certain fabric from Japan, for example, we'd then produce the entire product in that country too rather than having it all shipped to France. Of course sustainability has a price, as does research and development.
When you compare to premium luxury brands selling swimming trunks for €250 that have no technology, people don't say anything. I don't think we're expensive, I think price is a feeling that has nothing tangible. It's the cost of the fabric and the cost of making the product that costs what it does.
To give you a bit of comparison, our fabrics usually cost between €15-€20 per metre, where most activewear brands will be paying €5 per metre instead. I think we're doing things right. It could be cheaper, but it won't be a Satisfy product.
The Future
What next for Satisfy and Justice™?
We've already been playing with our Justice fabric by adding membranes and other layers to create our 3-Layer garments. As I said, I like to think of Justice as a canvas for us to play and always create other pieces. After a lot of development and testing too, we're planning to release our first tie-dye Justice™ fabrics in the next few months.
We're also in the process of developing a new fabric in Japan currently made entirely from plants. I can't speak more about it at the moment, but it's going to be a wonderful nylon which will replace one of our current fabrics.