Is Vetements About to Rebrand?
The divisive label may be switching up its name or at least filing for a new sub-label.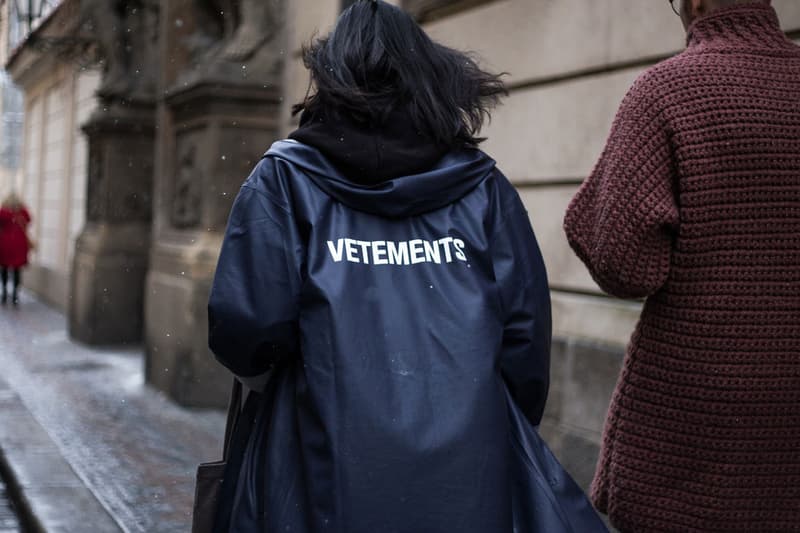 Vetements may be planning to switch up its branding, as evidenced by trademark filings first spied by the ever-adroit Fashion Law. The divisive Zurich-based brand could instead be toying with a diffusion line or sub-label, though it has unsurprisingly remained mum on future plans.
Though its name was intentionally chosen to reflect an unassuming approach to garment design, the term "Vetements" has become inexorably intertwined with the fashion label — at least outside of French-speaking countries ("Vetements" simply means "Clothes" in French).
As such, its name has been given pride of place atop sneakers, outerwear and T-shirts, though it often obscures its name with scribbled text or densely collaged imagery. Of course, those statement prints have been parodied at length by satirical brand Vetememes but that only speaks to the instant recognizability of Vetements' branding.
From April 2020 to February of this year, Vetements has filed trademark applications for the term "VTMNTS" and a specific, bolded typeface in regions that include America, the European Union and its native Switzerland, seeking protection for use of the logo atop apparel and accessories like jewelry and eyewear, among other things.
There are a variety of reasons that Vetements may have submitted the applications but, crucially, the firebrand company may be merely seeking defense for its logo-laden designs and could be weighing a rebranding to remedy the situation.
There have been several major roadblocks in Vetements' path to trademarking its name with vowels intact. For instance, America's Patent and Trademark Office has deemed its name (and the English translation thereof) to be "merely descriptive" of the goods that it produces. These kinds of rejected trademarks are defined as describing "an ingredient, quality, characteristic, function, feature, purpose, or use of the specified goods or services."
Thus, Vetements is struggling to procure protection for its vetements because its brand name is too literal.
Currently, the label is positioning itself for a big year, with an enormous clothing collection rolling out throughout all of 2021 by way of monthly drops at select retailers. Purely from a speculative angle, it's possible that this outsize offering consists of a backlog of Vetements stock that's being pushed out to make way for future VTMNTS wares but, of course, nothing concrete backs up that consideration.
Still, Vetements recently hinted at "BIG ANNOUNCEMENTS COMING SOON" in a recent Instagram post. "We always look for alternative ways to do things," CEO Guram Gvasalia told WWD earlier this month when discussing the Vetements Burger. "There are more exciting launches in different countries coming this year, and not only food."
HYPEBEAST has reached out to Vetements about the VTMNTS trademark filings, which were granted a Notice of Allowance in America in February and a registration for online retail services in March.
Vetements is currently launching new goods from its immense Fall/Winter 2021 collection.