Best New Tracks: The Weeknd x Ariana Grande, Little Simz and More
Revisit the week's 10 best music projects.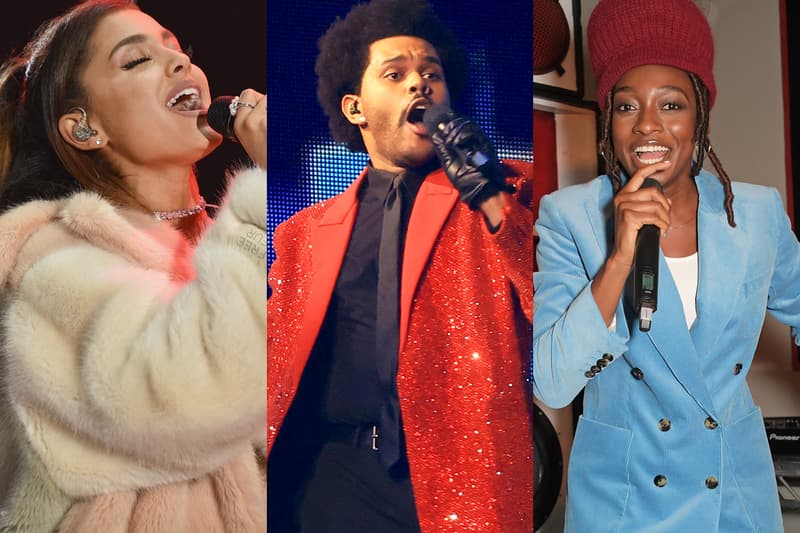 As the week in music comes to a close, HYPEBEAST has rounded up the 10 best projects for the latest installment of Best New Tracks.
This week's list is led by The Weeknd and Ariana Grande who have teamed up once again to deliver a remix of "Save Your Tears." Little Simz and Wiki x NAH announced their new projects, entitled Sometimes I Might Be Introvert and Telephonebooth respectively, with singles "Introvert" and "HIP HOP," while Deb Never, Q and KOTA The Friend all share their new releases. Finally, rounding out this selection are collaborations from Juan Wauters and HOMESHAKE, Dough-Boy and Joe Flizzow, Giggs and PS Hitsquad and RINI and EARTHGANG.
The Weeknd x Ariana Grande – "Save Your Tears (Remix)"
The Weeknd and Ariana Grande have reunited for a remix of the After Hours single "Save Your Tears." First teased by the XO Records head earlier in the week, the new rendition marks the pair's third overall collaboration, following Grande's positions cut "off the table" in 2020 the My Everything track "Love Me Harder" in 2014.
Little Simz - "Introvert"
Little Simz is set to release her new album Sometimes I Might Be Introvert on September 3 and the British rapper is giving fans a first listen to the record with "Introvert." The powerful track hears her touch on her pride as a Black woman, rapping, "Project with intention straight from my lungs / I'm a black woman and I'm proud one / We walk in blind faith not knowing the outcome / But as long as we unified then we've already won." In addition to the new album, Simz will also be returning for the third season of Top Boy.
Listen: Spotify | Apple Music
KOTA The Friend  - "Outside"
Independent Brooklyn MC KOTA The Friend dropped off his newest cut "Outside," which is billed as the lead single off his upcoming third solo album and the sequel to his critically acclaimed debut album FOTO. Equipped with steel drums and his son Lil KOTA on the track, "Outside" is a refreshing reminder to trust your own process and pay no mind to those who try to belittle you.
Listen: Spotify | Apple Music
Deb Never – "Sorry"
Deb Never, one of HYPEBEAST's New Gen: Spring 2021 entries, has released her "Someone Else" followup, "Sorry." The beautifully haunting track is honest and raw, and hears the artist reflect on the trauma that has impacted her in many ways. She goes as far as admitting that she's no different from the person who dealt all this damage and while she harbors feelings of resentment towards this person, Never also tries her best to move forward from the situation.
Listen: Spotify | Apple Music
Wiki x NAH – "HIP HOP"
Wiki and NAH have teamed up for "HIP HOP," a cut from their new collaborative project Telephonebooth. The forthcoming record 14-track record was a year in the making and marks Wiki's first release since 2019's Oofie.
Listen: YouTube
RINI x EARTHGANG – "Out of the Blue"
RINI has tagged EARTHGANG for a remix of "Out of the Blue." Announcing the then-secret track on Instagram, the Australian-born artist shared a behind-the-scenes video and thanked his fans for the support. "Back in Encino haus, when we cooked up Out of the Blue, I honestly can't believe it's been almost 2 years ago. But I just wanna say THANK YOU SO VERY MUCH to all my beautiful fans and listeners for being with me in this journey and continuing to support me even though I'm taking a bit longer to put out nu music," he wrote. "Y'all are the Best Best … I promise more music coming out soon."
Listen: Spotify | Apple Music
Giggs x PS Hitsquad – "Black"
Giggs and PS Hitsquad have delivered their collaborative track, "Black." The release marks the Zone 2 staple's second single of the year following "Petrol Station" with Kweng Face," while Giggs has been a lot busier with the likes of "Games" with RAY BLK, "Bad Man" with Bizarre and "Crud" with Ghetts.
Listen: Spotify | Apple Music
Q – "If You Care"
Shortly after his performance on A COLORS SHOW, rising Florida multi-instrumentalist and another New Gen: Spring 2021 member Q officially released his newest single "If You Care." The track follows his latest EP The Shave Experiment, which he dropped in December 2020. "My music now has no resemblance to Forest Green or even Thoughts," he said in a statement, adding that he only has one message to send: "Evolve, change and give hope, nothing more and nothing less."
Listen: Spotify | Apple Music
Juan Wauters x HOMESHAKE – "Monsoon"
Ahead of the release of his upcoming album Real Life Situations, Juan Wauters tagged HOMESHAKE (Peter Sagar) for the cut "Monsoon." The Uruguay-born artist's record, which drops April 30, is also set to features appearances from the likes of Mac DeMarco, Nick Hakim and Benamin, Tall Juan, Air Waves and more.
Listen: Spotify | Apple Music
Dough-Boy x Joe Flizzow – "Zoo"
Fresh from the release of his third studio album POWER, Dough-Boy joined forces with his childhood hip-hop hero Joe Flizzow for the single "Zoo." The cross-cultural collab marks an important moment for both artists, with Dough-Boy calling Flizzow "a huge influence for an entire generation of kids." He added, "Rapping in English and also our native language, collaborating with artists outside of our cities, These are things he's done for nearly 2 decades. I'm just trying to do something similar." Meanwhile, Flizzow shared that he and Dough-Boy met in Kuala Lumpur while filming Yo! MTV Raps. "Prior to that, I had already heard of Dough-Boy through a friend and mentor Calvin Wong. I'm glad we have worked on a track, I've always been a fan of Hong Kong culture since the days of LMF. So it's an honor to work with an established artist like Dough-Boy.
Listen: Spotify | Apple Music