Daniel Ricciardo Reaches "Highest of Highs" in First Year at McLaren Racing
The 'Honey Badger' reflects on his first season at Woking.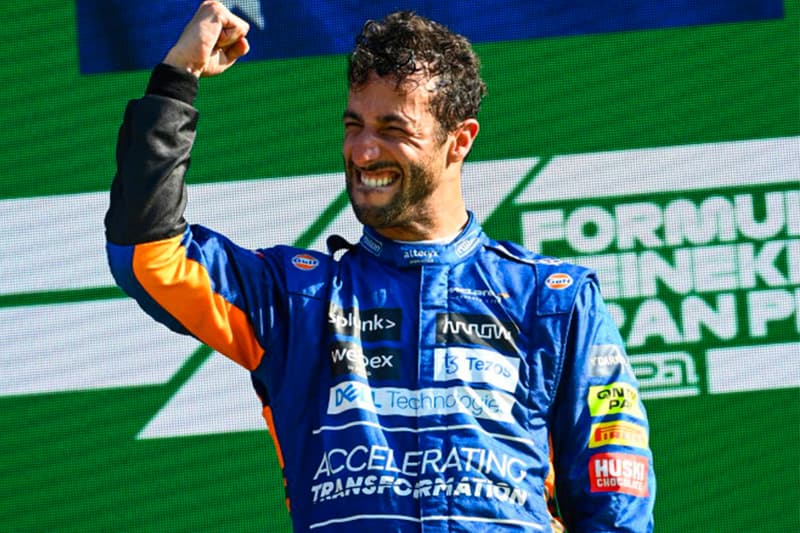 The 2021 season for Formula 1 has been one of the most exciting years in recent history for fans of the high-octane sport. Between Max Verstappen and Lewis Hamilton's intense title fight and a host of drivers at new teams — including a few fresh faces coming up from Formula 2 — there's been plenty of action all throughout the grid.
But behind the spectacle of 2021 is a lot of hard work, dedication, and mental fortitude hidden behind the walls of the paddock, which many fans might not see. For McLaren's new driver Daniel Ricciardo, the first year at Woking has truly been a rollercoaster ride. A turbulent start had placed doubt with commentators and even some of his own supporters, especially when his teammate Lando Norris pushed the MCL35M to the podium multiple times.
Despite this setback early on, the Australian driver never lost faith in his ability to lead and win races, and with the help of a short summer break in the middle of the season, he began to drive back up to the top of the grid, both during qualifying and on Sundays. Finally, his moment arrived at Monza, when the Honey Badger and Norris gave McLaren the first 1-2 finish the team has seen in 11 years, celebrating the victory with a shoey on the top step of the Italian Grand Prix's podium and giving CEO Zak Brown a tattoo he'll never forget.
Having joined us at HYPEBEAST before the season started, Ricciardo has now linked up with us once again to discuss how far he's come during his first season at McLaren, how things have changed for him over the course of the last 17 races, his elation during Monza, and more.
HYPEBEAST: This first half of the season has been somewhat of a rollercoaster ride for you, especially at the beginning as you got acquainted with a new car, but you've really rallied over the races to the point of producing consistent results both on Saturdays and Sundays. How has the learning curve been with McLaren and what was the toughest aspect for you to adapt to with your first season at Woking?
Daniel Ricciardo: Naturally, adapting to a new team is always tricky. There's always the challenge of personally trying to get used to the car, and trying to get used to the team and people around me. You've really got to build a relationship quite quickly and it's not as extreme as an arranged marriage, but you've just got to get to it. I also think that some of the challenge is the pressure I've put on myself, coming into this team and having an expectation of what I think I'm capable of doing. If I'm not performing at that level, I'm really fighting against myself.
That said, there's only 20 people in the world doing this – 20 F1 drivers on the grid. It's no surprise that it's not easy, so when I'm not able to meet my expectations, I can understand and appreciate that there are reasons why. If it was easy, there'd be more than just 20 of us.
How did you keep yourself focused and motivated during that beginning period, especially when the media or even social media can be quite harsh?
I'm pretty good with that stuff. Obviously I use social media, and I control my own Instagram account, but I've always treated it as fairly one-way. I don't really read comments or anything because you might get a thousand good comments but one bad comment is enough to piss you off. I know inevitably that not everyone is going to love me so that's OK. It's also about having good people around you, that's really the core. I speak to the people that know me and really care about me, like my family and friends. They're the ones I leaned on when I was not doing particularly well with the results, and they're the people who helped get me out of the rut that I was in. I think I'm a fairly strong person so to speak, but you do need help from others, that's for sure.
That said, 2021 as a whole has been a fantastic year for the team, and there's no doubt the highlight has been Monza with the team's first 1-2 finish in 11 years and your first race win at McLaren. How does it feel to have a shoey on the top step of the podium again?
It really meant everything to me. One of the things I wrote after that was that it was worth every bad day and more. Sometimes it takes days like that to realize how cool the sport is and how much it means. All the lows I had this year, that win made up for and more. It was really cool personally to come through it and be able to score a victory. I'm sure given how the start of the season was, people would never have expected me to do that. I know there are people out there who know me and believe in me but to the majority, I'm sure no one expected that, so to be able to show that strength, will and desire to make it happen was amazing. And of course I was happy to break the drought. It's been a while since McLaren has won, and obviously Lando [Norris] has had a few podiums this year, but I'm really happy to have gotten the win. That meant a lot to me.
You had an amazing race start and took the lead from turn one. What was going through your mind at that point? Did you think you'd win from there?
I tried to not think too far ahead. As the first few laps went by, I saw that Max [Verstappen] was quick, but I saw he was getting close to me but not close enough. So every lap after that, as more laps went by, I started to think that I could really win this. I also just loved it. I loved being the target and having everyone trying to chase me down. I loved leading again, it was such a nice feeling. The most encouraging thing for me in that position was that it felt good and I was calm and confident. It didn't feel foreign or like a forgotten feeling, and that was very important to me. I was driving with a smile on my face and I really enjoyed every minute, though of course I was also very relieved to see the checkered flag.
Of course, Zak and Lando also joined you for the shoeys during celebrations. Was it a spur of the moment thing or had you guys discussed this beforehand? Was it hard convincing them to participate in your little tradition?
I would've grabbed them. I would've gotten aggressive if I needed to. There was no way they were going to pull out, absolutely no way. Fortunately, they were happy with the invitation and they played ball. It was cool, and I think it's also a cool story for them. It's not every day you drink out of another person's shoe on a podium on an F1 stage, so it's my moment but it's also pretty cool to share it with others.
On that note, we asked this earlier in the year but I'm sure fans are still very intrigued: how is your relationship with Lando going and how has it developed over the season? We know there were some tough calls during the Italian GP when he felt he had more pace to give, but you also proved that you still had more in the tank and he ultimately seemed genuinely happy for both you and the team for the amazing result. Have you guys gotten closer because of that?
I do think Monza was good for our relationship as teammates and respectful competitors. There was some genuine happiness and respect between the both of us and it was so cool to both be on the podium. We don't need to be best friends but we got along well, and we were so happy for the team. That was the ultimate reward. We're personally happy to be there, but to know that the team earned this 1-2 and it was a combined effort from everyone. I've only been at McLaren for not even a year and Lando has been around for three years, but there are people who've been with the team for 15 or 20 years so the joy that we brought for them was very meaningful. We both acknowledged that and that created a very feel-good atmosphere.
There's still six races to go, but looking back at the season as a whole for now, how does it compare with your expectations when you first joined McLaren?
It's crazy. I've had both ends of the spectrum, I've had more lows than I anticipated but then I also had a win which was a higher high than I expected. It's been a whirlwind of a year but if the season ended today I would've walked away with the highest of highs so I'll take it with a smile and encouragement. I really like the team and the people and that's a massive part of it, and moving forward there are some encouraging signs of what we can achieve together, so there's so much to look forward to.
Of course, through the lows I've also managed to learn more about myself. Some days I just wanted to say "Screw this, I'm done," but being able to come out of that with a result like Monza made me dig deep and reminded me how much I really do like this sport and how much I want to be great at it.
The season is slowly coming to a close, and looking forward to next year, have you had the chance to try out the 2022 car on the simulator?
I've had just a few laps. We just did some basic testing to make sure the numbers were right and nothing felt odd, but I haven't done enough to properly get a feel for it or have any real expectation of what it's going to be like.
I remember we spoke about the Australian Grand Prix being postponed and ultimately canceled this year back in March, but with the new race schedule out for 2022, Melbourne is back on the table. How excited are you to get back out on the track for your home Grand Prix in front of the fans after being away for two years?
I'm very excited, it's been a long time. Personally I'm just looking forward to going back to Australia, period, but Melbourne's a great city and I've really missed it. I always enjoyed the race there and being so close to making it happen in 2020 was a bit of a tease, so I really can't wait to get back out there.