KFC Japan's Latest Sandwich is A Heap of Fried Chicken and Menchi-Katsu
Oozing with special mayo sauce and ground mustard.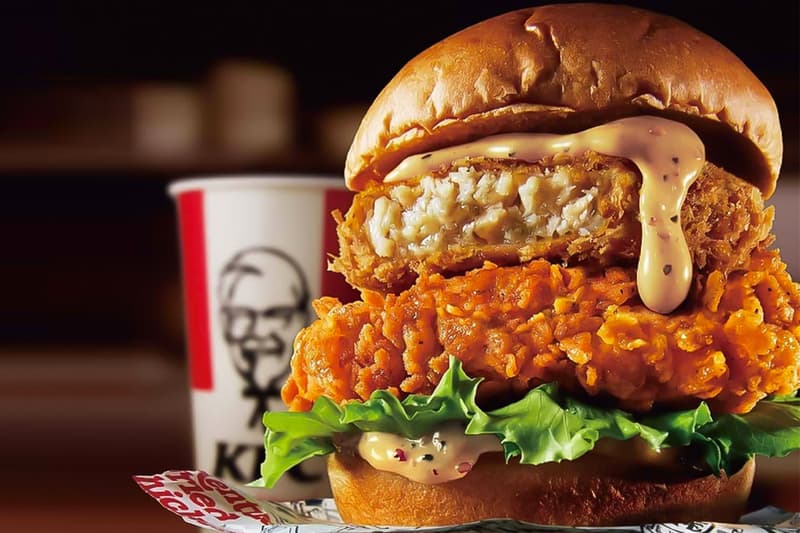 While we gear up for the holidays with KFC's finger-lickin' chicken mitten bucket hugger, over in Japan, the fast-food chain whipped up a new Chicken Fillet and Menchikatsu Sandwich.
It's no surprise to combine two different types of fried chicken together with the brand's reputation for its lean protein. This latest offering is a sizeable bite that fuses together a classic American style fried chicken and a Japanese style rendition which stands for "minced meat cutlet."
Piled in between two soft burger buns is a fried chicken fillet seasoned with 11 different herbs and spices along with a slab of menchi-katsu — a ground chicken patty deep-fried with a coat of breading — over a bed of lettuce and topped with special mayo sauce, ground mustard, pepper and garlic.
The Chicken Fillet and Menchikatsu Sandwich will be available at participating KFC locations across Japan until supplies last starting on November 17. An ala-carte meal retails for ¥490 JPY (approximately $4.30 USD) while a combo meal with fries and a drink runs for ¥790 JPY (approximately $6.93 USD).
For more food-related news, Burger King is bringing back its fan-favorite Italian Original Chicken Sandwich.