Bad Boy Chiller Crew Brings 'Full Whack' Bassline to the Masses
From viral comedy videos to bassline hits, the Bradford trio steers U.K. music in a bold new direction.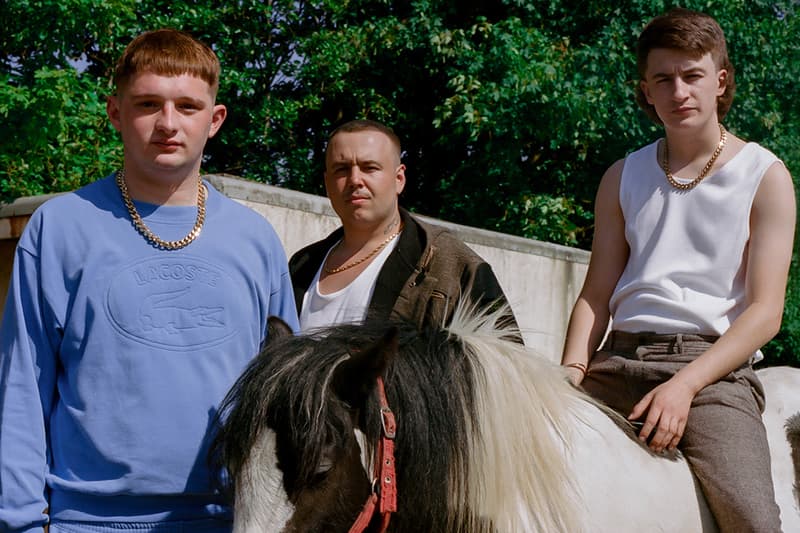 It begins with three lads on dirt bikes and quad bikes, dripping in sportswear as they speed around a rural English location. What follows is the video for the high octane single "450," with its stories of regional nightclubs, suburban drug dealing and car chases in a "big boy Merc." For many people, this was their introduction to the world of Bad Boy Chiller Crew, Bradford's local heroes and unexpected breakout stars of 2020.
Bad Boy Chiller Crew (BBCC) is a trio of lifelong friends, GK, Clive and Kane, who have become an internet sensation since they released their first video, "Pablo," last year. That video has since racked up over 1.5 million views, while the band has gone on to sign with London-based label House Anxiety, feature in a Vice documentary and release the singles "450" and, more recently, "Gun's Up."
The music itself is a mix of what the group grew up listening to, with Kane describing it as a blend of organic house and bassline with the trio MCing over the top. "It's what we've been brought up on," explains GK. "Bradford has never moved on to a different type of music, it's always been bassline. We're so adapted to that type of music because we remember our mums blasting it, lads who were older than us blasting it from cars. It's never gone away."
Although music is now what BBCC is best known for, the members originally started making comedy videos on YouTube and Facebook. "It started off as the comedy and having a pure laugh," says GK, "I used to DJ at the local nightclub and organize events so I'd get the guys on. Over time we started doing more videos, more comedy sketches and then it led to music." The comedy sketches, which show an exaggerated look at the group's real lives, turned them into local celebrities. As they moved into music, this helped. Their early releases were packaged as bootleg CDs that were sold under-the-counter at a local Bradford vape shop.
The comedy is still an important part of what BBCC do, with regular Facebook videos uploaded alongside the music videos. Recent entries include the boys "going mental in Minsk," as well as drinking beer through a traffic cone and playing "turbo beer pong." For BBCC, the videos are an important part of what they do and an important factor in their success. "We don't take ourselves too seriously," says Kane, "we have a laugh and people like that." GK agrees with this, putting the surprise crossover appeal down to "how daft we act, it puts things into perspective. We're smashing it without even meaning to."
"When you put the radio on, it's all a bit dull. Imagine if you've had a bad day then one of our tracks comes on. That picks you up."
BBCC's success is a mix of pre-internet and extremely online. While the group's presence is partly built on their YouTube and viral videos, their music has its origins in Bradford's underground CD swapping scene. This gives the music a powerful regional identity — Kane says its exclusive to the Bradford, Sheffield and Leeds area — which contrasts with the homogenized sound of a lot of artists who emulate U.S. production styles or South London drill no matter where in the world they are.
Kane also sees this in both the Bradford and wider U.K. music scenes. "Most of our following isn't from round here, so the sound is a breath of fresh air, it's new, no one's heard it before," he adds. "The music we're doing is totally different to what everyone else is doing in Bradford. Everyone is trying to do London-type music, but we're the only people doing this." The group is bringing organ house into the mainstream in a way that has never happened before. "You'd get a bit of slow house or a slow jam with a bit of organ in it, but it's never been full whack like us," says GK. "When you put the radio on, it's all a bit dull. Imagine if you've had a bad day then one of our tracks comes on. That picks you up."
If the music is relatively unheard of outside of Yorkshire, the lyrical themes are universal. "We mention a lot of our past and present," says GK, "motorbikes, car chases, general stuff that's gone on over time and what's happening now. It's not false, it's as real and as true as you get." Although the lyrics come from regional everyday life — new cars, nights out, short-lived relationships — they also tell a different story from a lot of U.K. rap and hip hop. "This is who we are, it's where we're from," says Kane. "We're different from down south, that's where all the music comes from. We're not like that, and we're showing that we're not like that. We do things differently here."
Front and center of the group's local lyrics is the word "charva," which features prominently in almost every song they've ever released and every video they've produced. The term has created confusion as BBCC's popularity has gone international, with a lot of people thinking it's an insult derived from the word chav. As Clive says, it's more a term of endearment than a negative statement. "It's what you call your pals," he says, "it's like saying 'mate,' like 'alright, charva.'"
"This is who we are, it's where we're from. We're not like down south, and we're showing that we're not like that. We do things differently here."
As GK and Kane both say, their lyrics are about nights out and their music gets people going. This has made the last six months difficult. Just as the group was building its fan base and success, the U.K. announced a full lockdown due to COVID-19. At the time, BBCC were just about to begin a tour and all three members had quit their day jobs to focus on the music full time. "It's been stressful, it's been a bit of a head blag," says Kane. "We're doing all this but we're still where we're at, we're still living where we're living. We haven't been able to take it to the next level."
A small, and unexpected, positive to come from this situation is the opportunity to work on new music. Kane estimates that the trio have worked on "10 or 15" new tunes since lockdown began — songs they've been able to record now that measures are easing across the country. "We don't have the same resources as everyone else. We don't have a studio," says Kane. "When we go to the studio, we have to make sure everything is written, it's a budget thing. Because of what's going on, we can't do as much music as we want to. Lockdown has played a part, we aren't doing no shows, we can't go anywhere, we haven't been doing no deals."
As well as the lockdown songs, BBCC are also preparing to launch their debut mixtape, Full Wack No Breaks. The new project is described by the brand's label as "something of a Greatest Hits selection of their first chapter," featuring remastered and remixed versions of much-loved previous releases including "450" and "Gun's Up."
With Full Wack No Breaks drawing BBCC's first chapter to a close, the trio have succeeded in taking their quintessentially-Bradford sound to the rest of the country. "I think that in a year's time there will be a lot of people doing this type of music," says Kane, "they'll see us doing well of it, and MCs from down south will start MCing over it." He's also aware of the role that BBCC have played in moving the genre on from vape shop exclusives to a bigger audience. "We're proud. We've got a good sound and we buzz off it, and people buzz off us for doing it, for taking the sound and going mainstream with it." Despite these lofty ambitions, the rest of the group have other plans for the future, as GK explains, "we'll hopefully retire to Barbados in about three years."