Stream Pharrell and JAY-Z's New Collab "Entrepreneur" (UPDATE)
The track premieres with Pharrell's "The New American Revolution" TIME cover.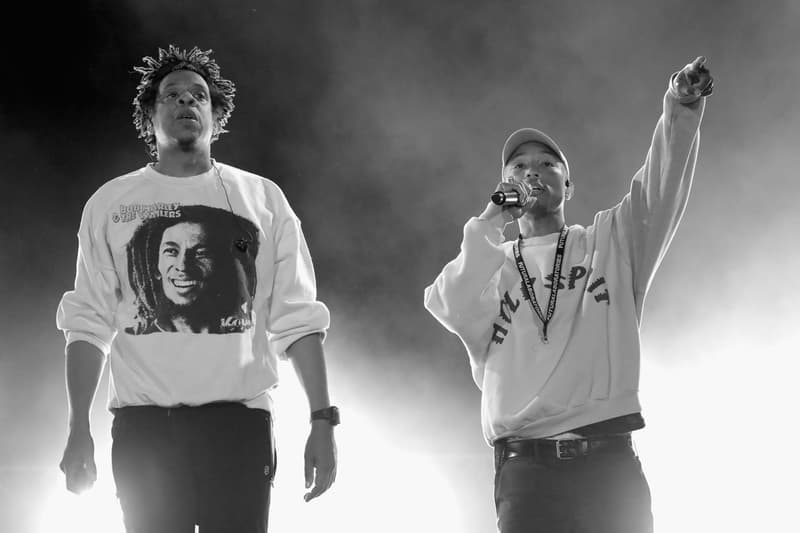 UPDATE (August 21, 2020):  Pharrell and JAY-Z's latest collaborative single "Entrepreneur" is here. Produced by Pharrell and Chad Hugo as The Neptunes, the soul-tinged joint lays out the hardships of entrepreneurial people of color and doesn't hold back on delivering lines that directly address the problems in the system. From Pharrell's whispered offering of "In this position with no choice/A system imprison young black boys" to Hov's "Lies told to you, through you, 'Tubes and Hulus/Shows with no hues that look like you do," the single urges people to understand that any kind of change can only begin within the system, and that now is the time to call for it.
Stream Pharrell and JAY-Z's "Entrepreneur" on Spotify and Apple Music.
---
ORIGINAL STORY (August 20, 2020): Pharrell and JAY-Z have a new collaborative single on the way. The song, titled "Entrepreneur", will release as part of Pharrell and TIME's "The New American Revoultion," a special projected curated by Pharrell "examining America's oppressive past and the potential for an equitable future."
Pharrell detailed the upcoming collaboration in a recent preliminary interview about his work with TIME. "The intention for a song was all about how tough it is to be an entrepreneur in our country to begin with. Especially as someone of color, there's a lot of systemic disadvantages and purposeful blockages. How can you get a fire started, or even the hope of an ember to start a fire, when you're starting at disadvantages with regards to health care, education, and representation?"
The song follows a number of recent activism initiatives from the super-producer. He worked with Virginia Governor Ralph Northam to recognize Juneteenth as a paid state holiday. He's now in talks with Netflix and Kenya Barris to create a Juneteenth musical special with the streaming giant. Meanwhile, JAY-Z continues to be a vocal supporter of the Black Lives Matter movement and, through his and Meek Mill's REFORM Alliance, donated 10 million masks to U.S. prisons to help combat the spread of the coronavirus.
TIME hinted that the song will confront a number of social justice issues currently at the center of the 2020 political climate. "When you have successful beehive-type communities where you can circulate money within your community, it makes a huge difference," Pharrell said. "They keep saying the American Dream is about the house and picket fence, the wife and two kids. Come on… let's be honest. It's always boiled down to money and an opportunity." You can read the full feature, written by Pharrell and Michael Harriot, here.
In more music updates, HYPEBEAST reassesses the importance of a celebrity's co-sign or criticism during the most polarizing presidential election in U.S. history in the new feature: "Taylor Swift and Kanye West's Divergent Political Paths Show How Self-Serving Activism Can Be."
I couldn't be more grateful to curate "The Next American Revolution"—a special issue of @TIME Magazine that envisions a Black Future in an America where all people are actually created equal.https://t.co/nLYgIOU7xo pic.twitter.com/AkL8NioD5f

— Pharrell Williams (@Pharrell) August 20, 2020