Neil Young Sues Donald Trump Over Unauthorized Use of "Rockin' In The Free World"
The President has been using Young's songs since announcing his candidacy five years ago.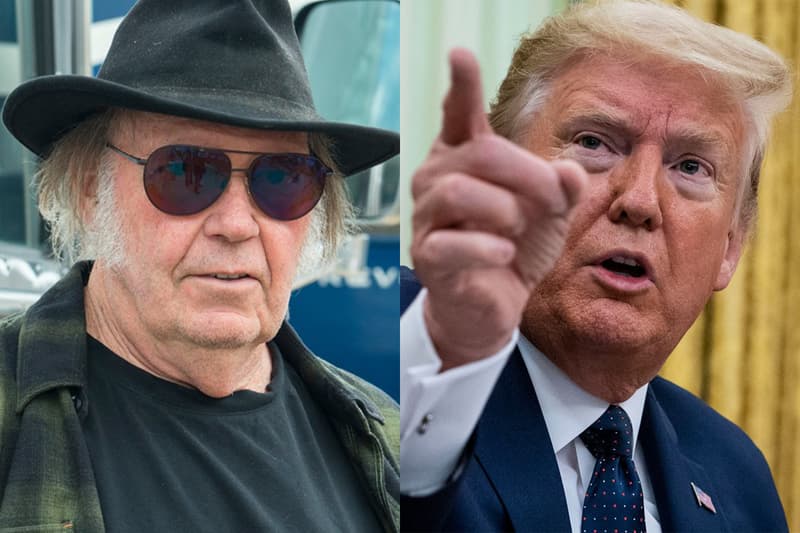 Neil Young doesn't want Donald Trump using his songs to support his presidency, whether that be at his campaign rallies or anywhere else. Today he has filed a copyright infringement lawsuit against Trump's campaign after toying with the idea publicly for years.
The current United States President has been using Young's classic 1989 song "Rockin' In The Free World" since he announced his candidacy nearly a half-decade ago. A number of other artists have publicly condemned the use of their work in relation to Donald Trump's presidency with the likes of Aerosmith, Adele, R.E.M. and House of Pain all voicing their strong opposition. But Neil Young and Trump have a complicated history and a back-and-forth of insults and threats going on five years now. The 74-year-old singer-songwriter has posted a legal complaint on his website.
The document, which reads "Action Against the Trump Campaign Begins" alleges that Trump lacked the proper license to play both "Rockin' In The Free World" and "Devil's Sidewalk," each used at recent campaign rallies in Tulsa, Oklahoma and Mount Rushmore National Memorial. "I am changing my mind about suing Donald Trump. Reconsidering," Young said after those two campaign rallies. "I am looking at it again. There is a long history to consider and I originally considered it, deciding not to pursue. But then President Trump ordered thugs in uniform into our streets. His idea. He ordered this himself. This is all DJT. He told them to wear camouflage, use unmarked vehicles to take people away, innocent people peacefully protesting — their constitutional right as US citizens."
Back in 2015, the Trump camp did release their own reply to the situation, saying that they filed the proper paperwork with ASCAP and BMI in order to use the song legally. "We've done everything legal and by the book… The Trump Campaign for President wrote two checks, which were cashed, and signed two contracts: One was with ASCAP and the other was with BMI. We have two legally binding contracts in place that allow us to go to their repertoire of music and use those [songs] legally." They did promise that they would stop using it though.
"This complaint is not intended to disrespect the rights and opinions of American citizens, who are free to support the candidate of their choosing," the recently filed New York federal court complaint read. "However, Plaintiff in good conscience cannot allow his music to be used as a 'theme song' for a divisive, un-American campaign of ignorance and hate."
Stay tuned for more details.
.@Neilyoung A few months ago Neil Young came to my office looking for $$ on an audio deal & called me last week to go to his concert. Wow!

— Donald J. Trump (@realDonaldTrump) June 24, 2015
For the nonbeliever, here is a photo of @Neilyoung in my office and his $$ request—total hypocrite. pic.twitter.com/Xm4BJvetIa

— Donald J. Trump (@realDonaldTrump) June 24, 2015
.@Neilyoung's song, "Rockin' In The Free World" was just one of 10 songs used as background music. Didn't love it anyway.

— Donald J. Trump (@realDonaldTrump) June 24, 2015