8 Drops You Don't Want to Miss This Week
Featuring Palace, Off-White™, ASSC, Daniel Arsham and more.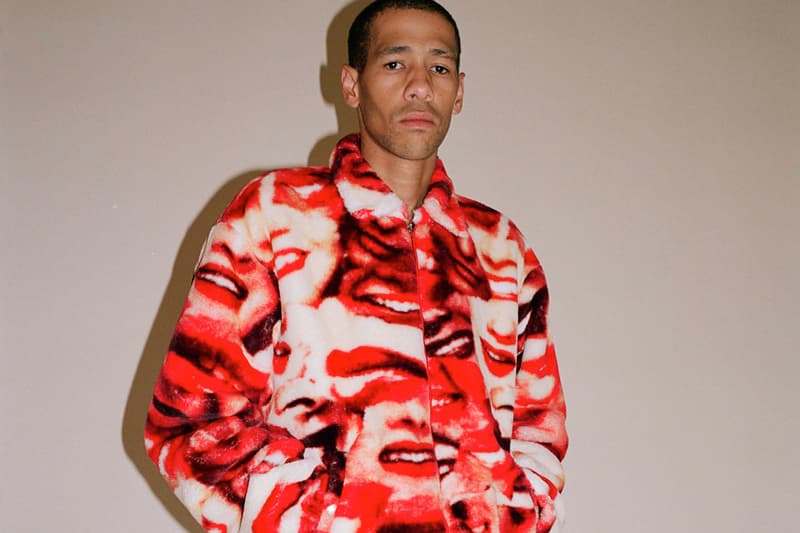 With another week upon us, we have yet another installment of our product drops series. Leading the list is the inaugural release of Palace's Fall 2020 collection.
This week we also see philanthropic releases in the form of the first drop from Off-White™️'s "I Support Young Black Businesses" program and a collaboration between Public School and the Gordon Parks Foundation.
Other notable collaborations include Anti Social Social Club's surprise collaborations with Cactus Plant Flea Market and UNDEFEATED and the continuation of Daniel Arsham's "The House By Daniel Arsham" Project with Selfridges and Porsche. Also, AKILA came together with 40s & Shorties on an eyewear range and Brain Dead teamed up with Prince on a concise retro-inspired capsule. Rounding up this week's drops is the release of doublet's eclectic FW20 collection.
doublet Fall/Winter 2020 Collection
doublet recently released its expansive offering of "family restaurant" inspired wares for FW20.
Leading the FW20 collection is a new take on its Chaos Embroidery Tracksuits with a new suede tooling and intricate stitching that explores ethnic graphic styles. Another reimagination comes in the form of the Thank You Fringe Embroidery Hoodies and T-shirts in different languages like Korean, Thai, Hindi and of course Japanese. Rounding up the FW20 deliver are accessories like the uniquely oversized Square Flame Sunglasses, Souvenir High Socks, Time 2 Layered Socks, Matryoshka Socks, Mask Knit caps and Omamori necklaces.
When: Now
Where: /017
Off-White™ "Support Young Black Businesses" Release
Continuing to push towards change, Off-White™️ has launched a new program intended to consistently support socially-conscious causes.
Leading "I Support Young Black Businesses" features a hoodie and T-shirt marked with the verbiage in a bold, all-caps red. The monochrome tops also feature Off-White™️'s revised logo at the rear. Proceeds from the T-shirt and hoodie will benefit Chicago CRED (Create Real Economic Destiny), an organization that aims to reduce local gun violence by creating opportunities in the fashion industry for underserved communities.
When: Now
Where: FarFetch
Prince x Brain Dead 2020 Capsule
Adding to its growing archive of collaborations, Brain Dead has teamed up with Prince on a concise capsule filled with vibrant pop-colors and retro-inspired prints.
The special range features a light zip-up jacket, long-sleeve polo and T-shirt, alongside accessories like a bucket hat, five-panel cap, tennis racket and a tennis ball. The jacket expresses the retro-style design of bold contrasting color-blocks of teal, brown, blue and black, accented with small hits of orange and beige. The standout racket continues the color scheme with a large "P" logo emblazoned across the string bed, while black tape around the handle finalizes the design.
When: Now
Where: Brain Dead
Porsche x Daniel Arsham Capsule
Showing no signs of showing down, Daniel Arsham is continuing his "The House By Daniel Arsham" Project with Selfridges.
Teaming up with Porsche, the three-piece capsule features a T-shirt, long-sleeved T-shirt and a hoodie. The limited-edition range in neutral magnolia colorway and features a graphic print on the chest that reads "Time Travel Isn't Just For the Movies," alongside an illustration of a classic Porsche car.
When: Now
Where: Selfridges
Gordon Parks Foundation x Public School Collection
Offering its stance on the current movement in the United States, Public School looked back on some of the great Civil Rights Movement leaders and their peers for a new charitable effort.
The brief collection of T-shirts is centered around rare imagery sourced from the archives of the Gordon Parks Foundation in honor of the highly influential photographer. Malcolm X and members of the Black Panther Party, Parks' self-portrait and a quote that the artist uttered back in 1968: "What I want, what I am, what you force me to be is what you are" are emblazoned on Version Tomorrow blanks. The sustainable bases are crafted of a 60/40 blend of recycled and organic cotton, to create a completely biodegradable and recyclable piece of clothing, softening the strain that fashion places upon the planet.
When: August 5
Where: Public School
40s & Shorties x AKILA Sunglasses Capsule
Keeping the collaborations coming, AKILA came together with 40s & Shorties on an eyewear range that reflects both brands' Los Angeles background and juxtaposes both the current and classic.
Available in tortoise, black and volt/neon yellow, the sunglasses feature a rectangular shape with thick temples. Decorating the nostalgic eyewear design is contrasting branding and numbering for the special frame.
When: August 6
Where: AKILA & 40s & Shorties
Palace Skateboards Fall 2020 Collection
Fully unveiling its Fall 2020 collection, Palace is now preparing the inaugural release of its latest seasonal collection. As per usual, the range features cheekily-altered menswear staples, technical outerwear and streetwear essential dressed in a variety of ways with the signature Tri-Ferg logo.
Leading the collection is a continuation of Palace's collaborative relationship with Avirex in the form of a '90s-esque leather jacket marked with a bold snake motif and a faux fur coat, hoodie, top, jeans and bucket hat set featuring the Lips print by John and Molly. Other standouts include the Euro friendly Ich bun Sweatshirt, striking full print Tour du Force Cycling Top, Grave Digger monster truck-inspired Rave Digger Top and Denim Patchwork Print Jacket and Jeans.
When: August 7, 11 a.m. PST & Japan/China Release August 7, 11 a.m. PST/CST
Where: Palace
Cactus Plant Flea Market, UNDEFEATED x Anti Social Social Club Capsules
After unveiling its FW20 collection, Anti Social Social Club has now returned with two surprise collaborations with Cactus Plant Flea Market and UNDEFEATED.
The UNDEFEATED is centered around wavy co-branding and neon accents, while the Cactus Plant Flea Market features a vast assortment of stylized items that blend the distinct aesthetics between the two labels. Accompanying the major collaborations are a host of must-have accessories from the FW20 collection. Standouts include an ice tray, branded boxers, gel sandals, pink apron and ASSC bike lock.
When: August 8, 8 a.m. PST
Where: Anti Social Social Club