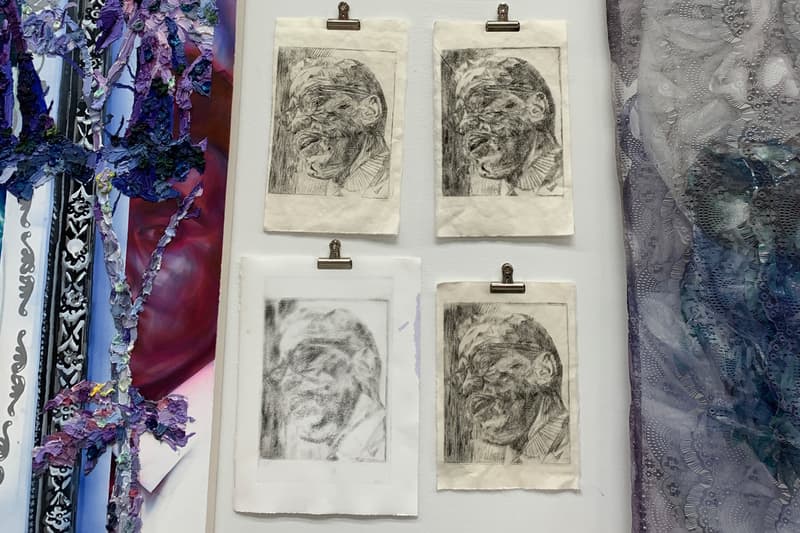 Learn How to Make a Drypoint Etching With Nikkolos Mohammed's Expert Methods
The LA-based artist and Dreamhaus LA co-founder shares his creative process.
---
Whether you're tie-dying a pair of Nike socks or perfecting your hand-lettering skills, art can be a beneficial tool for stress relief in the time of coronavirus. For Nikkolos Mohammed, the LA-based artist and Dreamhaus LA co-founder finds creating drypoint etchings as a useful outlet to decompress during the trying times we're currently living in.
Drypoint etching is considered to be one of the oldest printmaking methods dating back to the 15th century. In the process, artists and printmakers carve or scrape images into a plate with a hard-pointed needle. One of the advantages of drypoint etching is that it's safer than other processes such as traditional engraving and aquatint that requires the use of acid. For HYPEBEAST's latest How To video, Mohammed shows us his drypoint etching techniques.
First he uses scotch tape to attach an image, a portrait of Malcolm X in this case, onto a plexiglass medium. Then he uses an etching needle to trace the visual. From time to time, he inserts a piece of fabric in between the plexiglass to see the results of his etching. He also etches hatch marks onto certain areas of the composition to determine their depth. Once he's finished with the etching, he scrapes ink onto the plexiglass and then applies tarlatan and telephone pages to remove the ink from the surface of the plexiglass where there aren't any reliefs. Finally, he uses a handheld printing press to roll and transfer the ink onto a piece of paper.
Check out Mohammed's drypoint etching process above. In HYPEBEAST's previous tutorial video, Rebecca Mateydes shows us how to spice up your hairstyle without leaving the house.