AS Roma's 2020/21 Home Kit Pays Tribute to Its 1980 Italian Cup Win
Inspired by the iconic "ghiacciolo" design.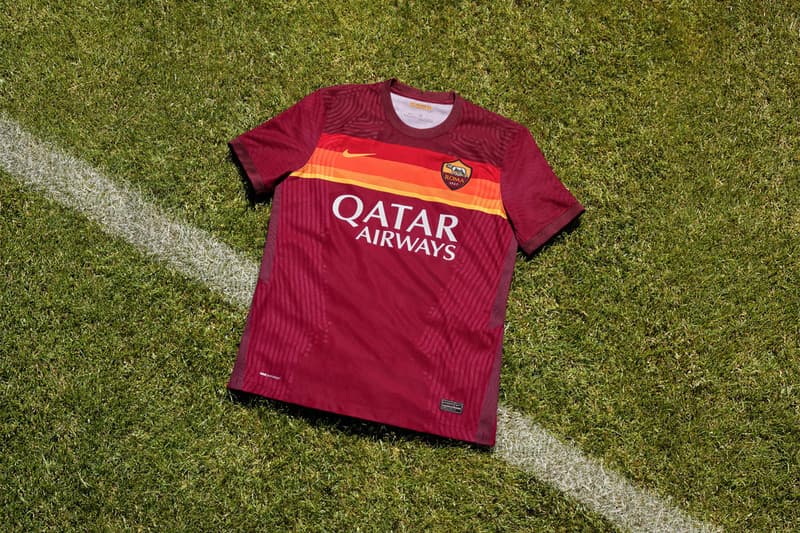 Shortly after unveiling Inter Milan's post-modernist home jersey for the 2020/21 season, Nike has now also debuted the home kit for AS Roma, dialing the clocks back to 1980 with its gradient design.
2020 marks the 40th anniversary of the Giallorossi's victory during the 1980 Italian cup competition, and so the sportswear giant hopes to celebrate the momentous achievement by drawing on the distinctive gradient kit — known as the "ghiacciolo," or ice pop — worn during the two years around the tournament, which was designed originally be the late Piero Gratton, the man behind the Lupetto badge. The new kit is constructed with a dark red panel running across from shoulder to shoulder, featuring a crew neck collar, followed by a gradient yellow emblazoned on the chest. The rest of the shirt is composed of the same dark red, with subtle stripes running down the sides of the torso.
"It's nice to see a shirt that features Roma's iconic colors in such an original design," said the club's midfielder Lorenzo Pellegrini. "To wear a shirt inspired by such a famous kit from the club's past will be special for both the team and the supporters."
"This is a modern interpretation of one of Roma's most famous and unconventional kits ever," said Scott Munson, VP Nike Football Apparel. "We've taken a linear gradient striped design, using a very traditional club color palette, to create a kit that we hope the team and supporters will wear with great pride."
The new AS Roma 2020/21 home kit will be available via Nike's website soon, going for $90 USD.
Elsewhere in sports, the Ballon d'Or award has been cancelled for the first time in history.