Kellogg's Gets Experimental With Green Onion Flavored Chex Cereal
16 years in the making.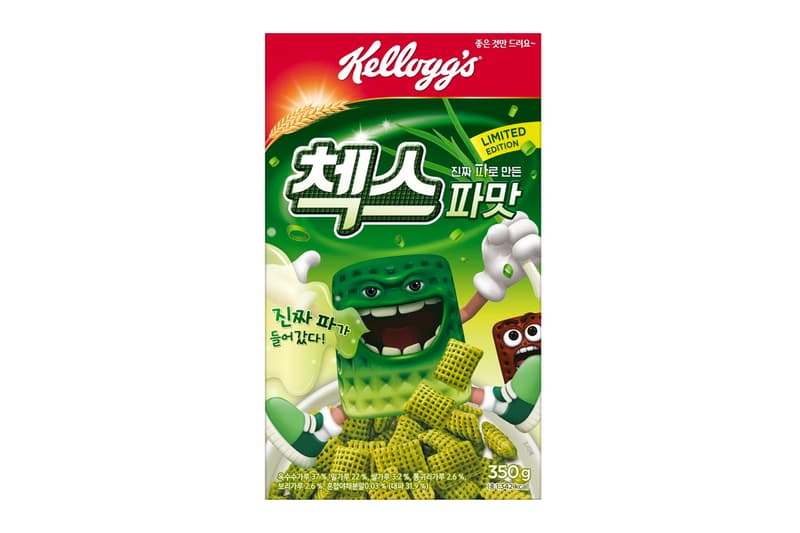 First introduced in 1937, Kellogg's Chex has been a breakfast staple all over the world for more than eight decades but recently the cereal received an experimental revamp in South Korea.
Skipping the usual honey nut and cinnamon flavor options, Kellogg's Korea gave the crunchy corn pillow an interesting green onion flavor. Apparently, the release took 16 years to come to fruition and sees the distinct Chex cereal take on a sharp allium flavor accompanied by a bright green tone.
Back in 2004, Kellogg's Korea launched a "President Election Event" to promote the chocolate Chex cereal. In the promotional campaign were two candidates, chocolate Chex cereal characters "Cheki" and "Chaka." Cheki's campaign promoted a deeper and smoother milk chocolate taste, while Cheki pushed for a green onion cereal. For one month, the South Korean public voted for who would become the President of the Chex Choco World. Despite Chaka having more votes, Cheki won in the end as Kellogg's Korea noted that there were abnormalities with Chaka's votes.
Following the campaign, netizens voiced that the election was not fair and that they wanted green onion cereal to be released. After 16 long years, netizens received their with Kellogg's Korea releasing the Green Onion Cereal with the slogan "The Flavour That You've Been Waiting for 16 Years Is Here."
Priced at 5,980 KRW (approximately $4.98 USD), Kellogg's Green Onion Chex Cereal is available now exclusively in South Korea and is apparently to be enjoyed with milk or on its own as a snack. Those curious about the taste can lookout for stateside imports.
For more food and beverage news, Kellogg's Mashups Cereal mixes Frosted Flakes with Froot Loops.