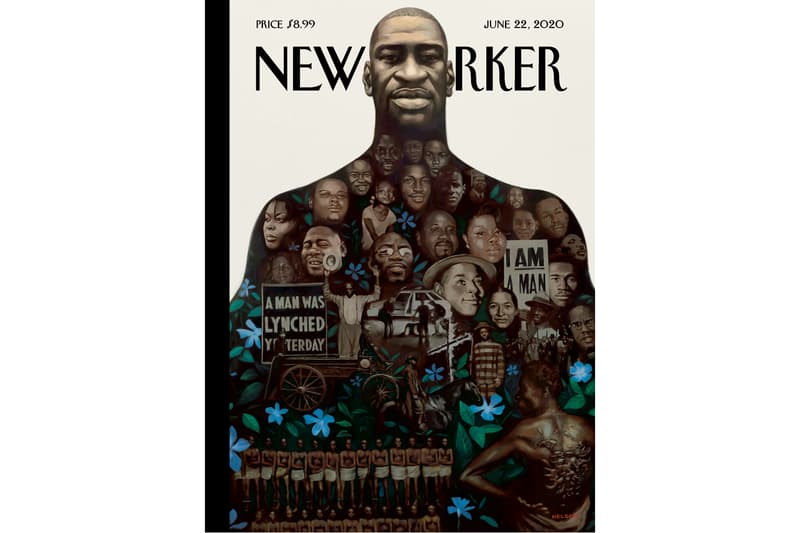 Kadir Nelson Creates Powerful Portrait of George Floyd For 'The New Yorker'
A work that "embodies the history of violence inflicted upon Black people in America."
---
The New Yorker recently released its June issue that features a stirring illustration of George Floyd by seminal artist, Kadir Nelson. Titled Say Their Names, the detailed piece shows Floyd's body embellished with images of activists including Martin Luther King Jr. and Malcom X; Black victims of police violence such as seven-year-old Aiyana Stanley-Jones and 22-year-old Stephon Clark who were both killed in their own homes in the last decade; historical placards; and pertinent scenes from history like the March from Selma and the Tulsa Race Massacre.
Nelson's cover art is also interactive and can be explored on The New Yorker's website, which describes the work as a "closeup examination of the artist's latest cover, in which the murder of George Floyd embodies the history of violence inflicted upon black people in America." As you click through the site, you find out the individual stories of the Black Americans featured in the artist's piece.
Nelson is celebrated for his work that largely spotlights African-American history and culture. Apart from being a longstanding collaborator for The New Yorker, he has also worked with National Geographic, Ebony and Marvel to name a few. He is one of many artists speaking up against racism and police brutality in the U.S. following the murder of Floyd by Minneapolis police officers on May 25.