'The Simpsons' Animators Create Zoom Backgrounds for Mashable
Three different options for you to choose from.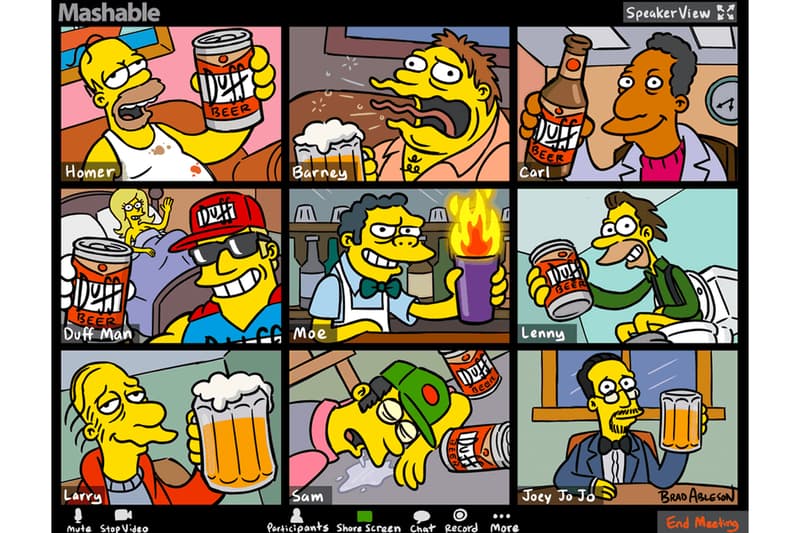 The Simpsons will now join you on your next video call.
With the ongoing coronavirus pandemic keeping everyone at home and away from social gatherings, Zoom has gradually taken over, becoming the de facto program for friends, families, and colleagues to join up for discussions and conference calls. To keep things creative, various artists have released custom backgrounds for your sessions, including the famous Studio Ghibli, which currently offers 12 different backgrounds based on its iconic films. Following through, media outlet Mashable has invited three of The Simpsons' animators and artists to design video call backgrounds based on the beloved series.
Each creating one custom background, the three — which include former Simpsons animator Brad Ableson, current animator Mike Atniel, and current layout artist Ryan Rivette — came up with one unique option each. The first background resembles a Zoom call itself, featuring nine of your favorite characters, including a disheveled Homer, a burping Barney, and Duff Man, while the second variation features a black and white classic remix of Homer and Disney's 1928 film Steamboat Willie. Finally, the third option comes in the form of a storyboard for an episode, with a touch of raw artistic flair.
To check out or download the three Simpsons backgrounds, head over to Mashable.
Elsewhere in entertainment, Timothy Olyphant wears Boba Fett's armor in The Mandalorian season two.