10 Pieces to Step Up Your Workout Fit
From MISBHV and Off-White™ to UNIQLO.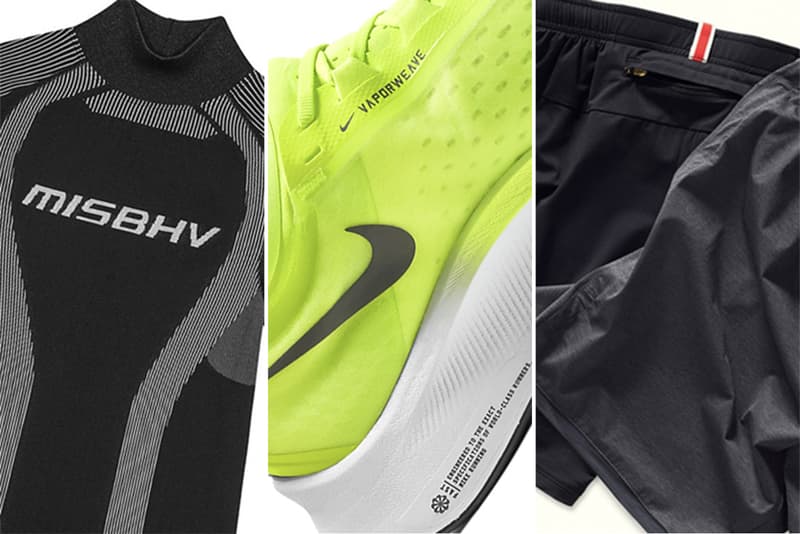 Being isolated makes us reevaluate our choices. Although there are difficulties to negotiate regarding social distancing measures, activities such as running, cycling and yoga have become a popular pastime for many in quarantine, as they can be done inside or outdoors — at a safe distance from others of course. 
Something HYPEBEAST feels should never be eschewed is a love for fashion. Whether that's with cozy loungewear or a pair of all-purpose house shoes, there's no need to ignore a good wardrobe while working from home. The same goes for our workout fits. There are plenty of bold and bright options to select from — though a staple grey sweatpant look is always a good call. It's also a good idea to pick up a few universal pieces that can be worn while working out (and for the walk home after your impromptu 5K challenge). 
HYPEBEAST has compiled a list of 10 fashion-ready, fitness-focused products for you to consider adding into both your daily look and your workout routine. Read on to find out how fabrics from UNIQLO and Tracksmith are here to wick away your worries, how Ahluwalia can solve all your track pant problems and why Nike's socks and sneakers will introduce you to new levels of comfort. 
Running
MISBHV The Classic Logo Active T-Shirt
Natalia Maczek's ever-growing streetwear line MISBHV recently ventured into active sportswear. This T-shirt is made from the brand's signature engineered activewear fabric that combines 60 percent recycled yarns with standard materials such as polyamide, polyester and elastane — making for not just a great piece of workout gear, but for a sustainable garment too. 
Tracksmith Session Shorts 7"
Independent running brand Tracksmith champions tradition, and nothing says vintage more than its seven-inch Session shorts. This pair is much like its five-inch offering, but offers a more contemporary fit and feel thanks to the added length that sits around mid-thigh. Tracksmith prides itself on its signature Italian-made Veloce fabric, which not only wicks away moisture to stop the shorts from clinging to your legs, but also maintains its original shape even after many wears. 
Ahluwalia Patchwork Track Pants
For those who can't choose between jersey sweatpants and track pants, there's Ahluwalia's patchwork offering. The pair features a variety of reclaimed materials in jersey weaves, detailing all of the components with contrasting piping throughout. A toggle-fastening elastic waistband and slip pockets round out this unique pair. 
Nike Zoom Fly 3
There are many Nike running shoes on the market, but its Zoom Fly 3 is a tried-and-tested hero. The pair is comfort-focused, utilizing a carbon fiber plate that changes the number of fiber layers at hand to maintain foot flexibility. They've also been engineered to benefit runners as much as possible, with features such as arch bands, heel tapers and React midsole cushioning just a few examples of its comfort-inducing capabilities. 
Brain Dead x Roa Multicolored Neal Hiking Sneakers
If walking is more in your lane, pick up a pair of Brain Dead x Roa Neal hiking sneakers. Roa has an appealingly rugged aesthetic to begin with, which has only been elevated by Brain Dead's bold color palette and signature motifs. Looks aside, the pair offers hardwearing Vibram soles, breathable technical mesh uppers, a speed lacing system and shock resistant, military-grade aramid fiber components all around. 
Nike Everyday Max Cushion No-Show Socks (3 Pack)
Socks are essential. Socks for running? Even more so. Do things right and pick up Nike's cushioned no-show socks, perfect for all kinds of training environments both indoors and out. Cushioning in the soles make it easier when performing footdrills or weightlifting, while high-friction yarns in the footbed reduce slippage. An arch compression band offers further support, while Nike's Dri-Fit technology makes sure your feet stay as dry as possible. 
Yoga
UNIQLO AIRism Crew Neck T-Shirt
A good T-shirt is an essential part of any workout routine. UNIQLO's AIRism tee features comfort conditioning technology that allows the top to wick away sweat and release heat, all while combating natural smells with its odor-eliminating technology. Its stretchy silk-like fabric ensures an even more comfortable fit. 
HOMME PLISSÉ Issey Miyake Pleated Track Pants
Quarantine won't last forever, so it's worth purchasing transitional or multifunctional pieces such as these HOMME PLISSÉ Issey Miyake pleated track pants. They're light and breezy, slightly baggy and sport an elasticated waistband, making them comfortable enough to practice yoga in. Yet they're also a fashion mainstay, and an easy option for the warmer summer months. 
Cycling
Futura x Off-White™ Cycling Shirt
Futura and Off-White™ brought many standout pieces this season, and its cycling shirt is no exception. Virgil Abloh's label once again combines form with function, but Futura's signature graffiti-like approach elevates this shirt into something of an art piece. It's finished with a rubber logo patch on the front and a quarter zip in true cycling fashion — and there's no reason why you shouldn't wear this on regular occasions, too. 
District Vision Black Speed Tight Shorts
District Vision produces activewear that looks good. These minimalistic black speed tight shorts aren't as garish as many other options around, instead opting for a small pop of color on its elasticated waistband drawstring. Clean branding features on both sides of the thigh, while a mid-rise cut nods once more to the fuss-free aesthetic.