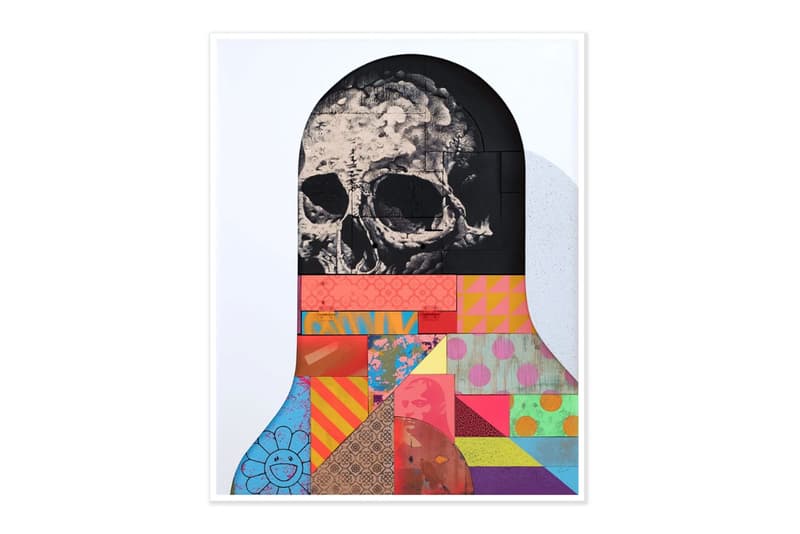 Michael Reeder Combines Skull Motif & Geometric Patterns in 'Beef Teef' Print
Available for a limited time only.
---
After joining Print Them All last year for its first-ever "Lithographs on Stone" series, Los Angeles-based artist Michael Reeder has unveiled his newest print titled Beef Teef. Produced on Italian watercolor cold-press paper, a collage-like skull design fills the 16 inch by 20 inch print.
Reed reinterprets his signature capsule-half-head for Beef Teef, blending a realistic depiction of a skull with geometric motifs in vivid tones. Vibrant polka dots, stripes, paint splatters and even Takashi Murakami's flower motif are arranged together, contrasting with the somber, dark-hued skull. In addition to the main edition, there will be two versions of limited edition, hand-embellished prints available for purchase.
Beef Teef will launch on Michael Reeder's website, as well as on Hashimoto Contemporary and Spoke Art's webstores, at 1 p.m. EDT on April 23 until midnight on April 25. The main edition print will retail for $75 USD, while the hand-embellished prints — available only via Hashimoto Contemporary — will be sold for $500 USD each.
In other news, Wolfgang Tillmans is selling posters featuring his original photographs to support night clubs, music venues and art spaces impacted by COVID-19.