How Issa Rae Built the Best Soundtrack on Television
The Emmy nominee opens up about the new season of 'Insecure,' her record label and more.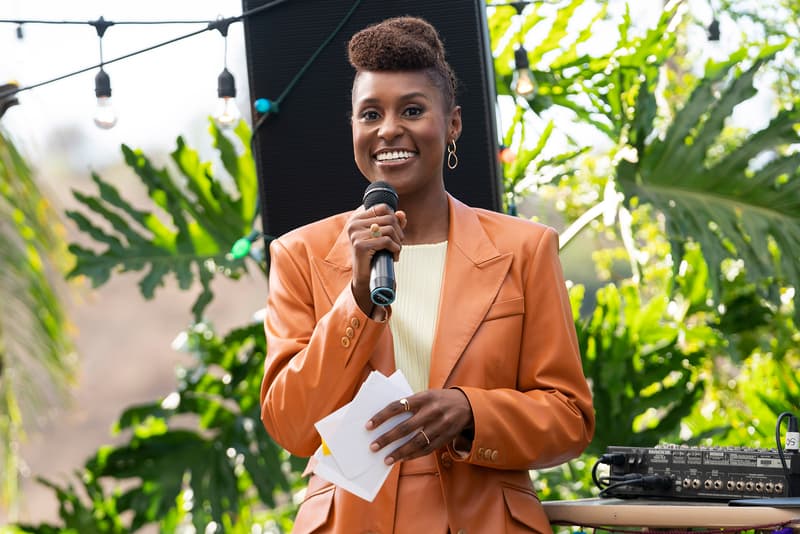 The first episode of Insecure's fourth season, titled "Lowkey Feelin' Myself," opens up to Tyler, The Creator's "A BOY IS A GUN*". Ominous shots of Issa's dark and empty Market Street block party track across the screen. Issa Dee (played by Issa Rae) then reveals something surprising for those who have been waiting a year and half for the series to return: "Honestly, I don't f*ck with Molly anymore."
Tyler, the Creator's IGOR track is yet another song carefully curated to complete the picture, fitting into its scene like the last puzzle piece found in the box. The music of Insecure creates a singular ambience in the world of music and television. Take the opening Tyler track. The soulful Ponderosa Twins sample not only creates a memorable vibe through the vintage synths and keys, but the refrain, "no, don't shoot me down" mirrors Issa's anxiety to get her community block party off the ground with the numerous hurdles this season is set to provide.
While Tyler, The Creator's star power has long-since been solidified, Issa Rae has focused on introducing up and coming voices through Insecure's music choices since the show's debut in 2016. The fourth season's premiere taps rising acts like Cautious Clay, St. Panther and Yung Baby Tate. Rae attributes the soundtrack's diversity to her staff's willingness to collaborate and her close relationship with music supervisor Kier Lehman.
In October Issa announced her own Raedio music label through a new partnership with Atlantic Records, followed by a publishing deal with Kobalt Music Group. Her label is focused on cultivating new and exciting talent, prioritizing the empowerment of independent, Black and female artists. Those in Raedio's orbit have been paired with film and television projects in an effort to be an "audio everywhere company." The venture kicked off with TeaMarrr's "Kinda Love" and followed with supervision services on HBO's A Black Lady Sketch Show.
"It's really satisfying to see other creators share the spotlight — because it can be lonely," Rae told HYPEBEAST. "There's a lot of pressure and expectation if you're the only voice out there and it shouldn't be that way."
With Insecure's fourth season underway on HBO, Issa Rae joined HYPEBEAST to talk about her goals with her new Raedio record label, the music curation in each episode and the importance of community to creatives.
HYPEBEAST: How are you finding your music these days?
Issa Rae: The same way I always have — just through recommendations, through working, through various playlists. My music supervisor for Insecure, Kier Lehman, has been great for years about putting me on to new stuff. Every season, he'll send me a new drop of things that I'll like whether it's 30 or 60 tracks, and then I'll leave a note about what songs would fit or what vibes I'm feeling — so I get a lot of music discovery there, too.
You and Kier have been working together for quite some time now. How has your collaborative process grown?
I love working with Kier because right away in season one he asked me what kind of vibe I was looking for in the show and I told him I wanted female energy, I wanted LA energy and I wanted to support independent artists. I wanted to use good music. And since then he's been feeding that. It's a combination of music that I'm already excited about and new artists that he'll bring my way.
I'm super particular about the music and I'll place a lot of the music in scenes, and I'm lucky that our editors have great taste. Sometimes when I'll get a cut back of an episode, they'll be pulling from a lot of the music that Kier provides and in some cases some of the song placements will be great, and in some cases I'll be like, "Ooh, alright I can't even watch this so try this song, or this song." I'm very, very hands on.
When you're writing or even conceptualizing a scene, are you doing so with a particular song in mind?
Not for this show, but I think for some of my other projects I would play music to inform the writing process, but for Insecure it's the opposite. So much of it is conversational in the room and it's not until I see that scene on the page or even if I know that we're going to end up doing this particular scene, then a song will cut the lines — then that way I'll know what the song will be before we start shooting.
Even for Ravyn Lenae ["Sticky"] that opened last season, I knew I wanted that song to open, just as soon as we figured out what the opening of the show was going to be. So there are various moments like that but otherwise it's just a fun process. I usually make a playlist of songs that I know that, at all costs, fit thematically.
Freestyling has played a pretty intricate part in the show so far. How'd you start rapping?
I started freestyling with my friends back in college. We just started doing ridiculous raps and I just always thought that was fun. It was our way of kind of relieving ourselves, and when I did my web series I always thought about that as a humorous element. By the time Insecure came around I was like, "I don't wanna make Awkward Black Girl again." But I really liked rapping as a way for a passive aggressive character to get her aggression out. So it became a storytelling device.
The freestyles also perfectly balance Issa's sense of humor and self-awareness with her fears and anxiety. What can we expect from those bathroom mirror freestyles in season four?
With Insecure, it's more about Issa's fears than it is about her freestyles, where in Awkward Black Girl it was about her freestyles. So we wanted to vary it up a little this season, specifically with her rift in her relationship with Molly, her best friend and the person who she confesses to the most. And this season Issa turns to the mirror a bit more to get answers and to get guidance, so you'll see the mirror playing that kind of role this time around in addition to some of the rapping.
"This season Issa turns to the mirror a bit more to get answers and to get guidance."
You open up this season with three up-and-coming artists who are incredibly diverse — Cautious Clay, St. Panther and Yung Baby Tate. What made you want to feature them the soundtrack?
Last season we featured Cautious Clay ["Cold War"] in the first episode as well and I just love his voice and his sound. He's continued to be diverse. ["Reaching"] kind of just came our way and continued to show he has a lot of great taste.
I've been following [Yung] Baby Tate's career for a little bit and I just loved what she was doing. When it came time to get music for the trailer, I just felt like the music that was being presented to me gave the right exciting energy so I picked a couple of her tracks and HBO seemed to really like them. And one of them, "Never Lonely" was created in our Insecure writing camp. This was the first season that we did a songwriting camp for artists.
St. Panther was another artist introduction from Kier and I found out that she was also LA based. Her music was the perfect marriage of my tastes.
You launched your Raedio label with Atlantic as a way to help nurture new musical talent and provide music supervision to other projects. How'd that opportunity come about?
The opportunity came about just by us deciding that it was something we wanted to pursue. The president of my label, Benoni [Tagoe] had a vision for the company to be an audio everywhere company so that in addition to being a label, he could get into audio publishing, build a library and get into podcasting and things like that.
When did working with up-and-coming talent become a priority?
It's been happening for a while now. Since I started. It's important to find a community because there aren't a lot of black creatives in this space and when, during my web series, we found each other, we just wanted to support one another so it started there. As my platform got bigger, it became about using it to elevate other people's work that I really liked.
Again, fostering a community. So it's about being able to support the content that I want to see. Because at the end of the day it's already so hard to break into the industry. It's really satisfying to see other creators share the spotlight — because it can be lonely. There's a lot of pressure and expectation if you're the only voice out there and it shouldn't be that way. For me that passion translated to the studio and film side and now has transitioned to the music side.
"I wanted female energy, I wanted LA energy and I wanted to support independent artists. I wanted to use good music."
What are your main goals for Raedio's first year?
We want to launch our music library and make that accessible for shows to tap into. We want to sign a couple more artists. We still want to be a very small, curated label. Those are the plans right now and we're pretty much on track.
What were the television shows and films early on that showed you the importance of a soundtrack?
New York Undercover. The songs were always fire, they always fit. Growing up, movie soundtracks in general always seemed so incredible. I think about The Bodyguard soundtrack, Soul Food, all these pivotal Black movies to me. Sometimes the soundtrack was better than the movie. Other times, I wouldn't get a chance to see the movie because it was rated-R but I'd be bumping the soundtrack. That was always important to me. The nostalgia that invokes, it makes me think about important times in my life. I want Insecure to not only do that, in the context of the story, but to be a part of people's lives.