How 'Animal Crossing: New Horizons' Became the Ultimate Fashion Outlet
The creator of the Animal Crossing Fashion Archive Instagram on why the game has taken off in the era of social distancing.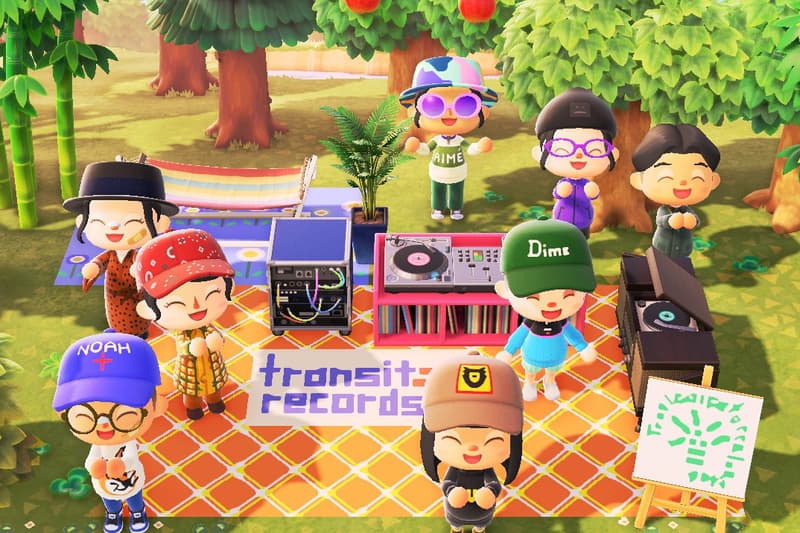 With social distancing in full effect for many around the globe, the outside world remains on hold for the foreseeable future. Thankfully, the release of Animal Crossing: New Horizons for the Nintendo Switch this month offered a new escape for players isolated at home to not only create their own world, but also remain connected with friends and family.
The game has no goal, no time constraints, no simulated violence, and no real stressors at all. Players can hunt, fish, pick fruit, build furniture, visit other islands and even design their own outfits using Animal Crossing's Pro Designs feature.
It's that last capability that inspired the Animal Crossing Fashion Archive. Created by musician and visual artist Kara Chung, the Instagram page lets players submit their designs in the hopes of being showcased on the feed. From outfits based on streetwear brands such as Supreme, Cactus Plant Flea Market and visvim to high fashion labels like Louis Vuitton, Dior and Chanel, players' creations have shown how the seemingly simple game can provide a new outlet to show off personality and creativity. This has become fashion in a social distancing era.
HYPEBEAST reached out to Chung to ask her to create custom designs and setups on Animal Crossing featuring many of her friends and fellow creatives. Read on below about her inspiration behind the account, and why Animal Crossing is such a hit in the era of social distancing.
When did you first get into video games? How would you describe your creative style as an artist?
My first experience creating art came as a result of strict piano lessons in my early childhood. I didn't have much freedom to listen to popular tunes trending at the time — my dad insisted that I only listen to classical music, which didn't resonate with me.
It all changed when I fell in love with Japanese RPG's, particularly the Final Fantasy series, Legend of Dragoon, The Legend of Zelda, Seiken Densetsu and Dragon Warrior. The world design of the games woven with the work of composers such as Nobuo Uematsu and Yoko Shimamura defined my audio-visual vocabulary.
One of my main influences is Final Fantasy X, which tells a story about parallel dimensions — its story delves into the role of the unseen, oscillating between worlds real and imagined.
Why do you think Animal Crossing has been such an immediate hit in the gaming community? What about the game is so conducive to the current situation with so many people self-isolating?
'90s video games of my childhood started out with characters and music distilled into a pixelated, fundamental form. We've played video games condensed into the simplest recognizable structures, and into elaborate additions to their franchises. The Final Fantasy 7 remake will be an exciting moment for a lot of people my age, who grew up playing the original.
The role of clothing, in worlds intangible and real, has been to reveal identity through the intentional layers we own. The truth is that through the ups and downs of daily life, your favorite jacket can feel like legendary armor.
"We are a couple steps closer to our actual lives when we customize our identity in-game."
And fashion is armor, according Ran Jaden Cao, a friend who formerly worked at PlayStation. On a recent phone call, he mused that we are a couple steps closer to our actual lives when we customize our identity in-game. Which is why gaming in real time, with the ability to create clothes from scratch, is so empowering.
During this pandemic we've done this in reverse: from going outside and having the freedom to reveal ourselves — wearing our personal "armor," so to speak — to being at home in isolation. Video games give us this freedom. Instead of merely using a "default" character, we have the chance to integrate with an avatar who is free to roam and interact with others, untethered to current events.
How has the coronavirus pandemic impacted your work both creatively and financially?
For the past few years I've been based in Hong Kong, however during this period I chose to come back to the Philippines to be with loved ones during this time. In the process I've had to pause my ongoing projects and pack up what I could so I could leave within short notice.
Artists have started experimenting with translating their work into a digital space.Here in Manila, music groups such as Transit Records and UNKNWN have started streaming live DJ and music performance sets. The gallery Tarzeer Pictures alongside Offshoot have started an online collaborative gallery.
When did you decide to create the Animal Crossing Fashion Archive page?
I thought it would be fun to replicate my day job as a photographer within the game — as if I were assembling a magazine feature. It just so happened that Animal Crossing's release coincided with a city-wide lockdown.
In what I can only describe as a Black Mirror moment, it all came full circle when I got to shoot the HYPEBEAST in-game fashion editorial.
I used my avatar to frame and position a group of other avatars. I tagged seven people — a mix of people working in fashion, music, media and design — to create a few looks for some group pictures. The result was an ironic and loving recreation of every shoot I've planned in person.
Can you describe some of the looks players have made for your IG page?
A shared longing to return to a calmer space has let people remember the routines we left behind,simulating their real occupations using the in-game items. To name a few:
Isai Araneta, art director of Fortune W.W.D., made true-to-life representations of her inaugural collection in an online trade-show amid fashion week schedule disruptions.
Contemporary designer Carl Jan Cruz, with photographer Renzo Navarro and director Simon Te, recreated his Paris showroom complete with a virtual campaign video featuring his pieces.
Nicole Concepcion, illustrator and fan of TOQA, recreated the brand's vibrant sport resort pieces.
Selina De Guzman of Serious Studio, whose launch party for their in-house magazine The Serious Review got canceled amid the lockdown, simulated their actual office and print cover.
How have you found AC's mechanics to differ from other video games you play?
My best friend Jason and I are avid gamers, and have watched the way our interactions shift across the different games we play online.
For a year now we've been playing battle royale-style first-person shooter Apex Legends. Per match, 50 players drop onto a map, fighting with whatever resources they find to be the last group standing. This game is exhilarating, with players constantly on guard against other teams.
It is a far cry from Animal Crossing, which has no sense of urgency at all. Which is probably what people need in a world where the pressure of real events hangs in the air.
What role do you think video games in general play right now with so many people around the world confined to their homes?
Last year, Hideo Kojima released Death Stranding, a mixed single and multiplayer experience about post-apocalyptic delivery man Sam Porter-Bridges. Its mechanics are eerily similar to the plight of delivery men during this period of social isolation, transporting in-game items in good condition to different characters in the game while bypassing enemies and obstacles.
Beyond its Errolson Hugh-designed tech wear and stunning graphics based on Iceland, what makes the game truly special are the welcome pathways, helpful items and signs of encouragement left by others who are playing the game. Storywise it perfectly encompasses the nature of current events, separation in a world deemed unsafe, and the relationships we have with our loved ones and belongings.
"These video games with real-time online ecosystems celebrate how technology can fill gaps despite the need for physical isolation."
Red Bull Music Academy alum Jorge Wieneke wove this theme into his project Club Matryoshka long, long before the pandemic started. The Minecraft platform holds elaborately coded virtual live performances with real artists and their avatars. Using the world-building capabilities of Minecraft, he constructs digital homes for people to attend parties from their own computers. Bianca Carague's project Bump Galaxy, also built on Minecraft, is a virtual theme park for collaborative mental, emotional and spiritual care with a landscape and resource economy based on collective healing/wellbeing.
All in all, these video games with real-time online ecosystems celebrate how technology can fill gaps despite the need for physical isolation.
Do you think this current situation might change your future approach to releasing music and photos? How else would you advise artists to find new creative outlets or inspiration while staying home?

I've started funnelling my music through a "Sound Sketch" project via Instagram and YouTube where I post a one-minute song every day. In the long-term, I've been meditating on how to best work on a live music setup from my home through producing my own videos.
While staying in touch with loved ones, getting some good rest and using this time to check in on everybody's mental and physical health comes first during this time, this hiatus is a good space to explore how we can translate our work into the digital realm. Lines between private and the public spaces are getting blurred. Walls have been removed with people often broadcasting from their personal spaces. It is a good time to create platforms that celebrate connection.