Nike Running's 2020 Olympic Footwear Is a Master Class in Innovation
Spearheaded by the long-awaited Air Zoom Alphafly NEXT%.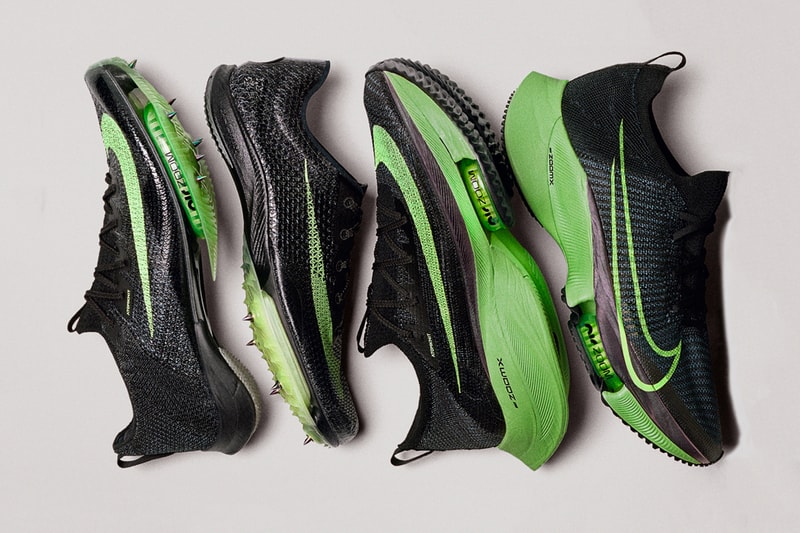 Every four years, the world's greatest athletes gather at the Olympic Games to perform amazing feats of skill, inspiring millions. Memories are made, legacies are established, and gold medals are draped around deserving necks, immortalizing these champions of sport in the annals of history.
The Olympics also serve as a global stage for brands to debut their latest and greatest innovations. Much like Olympics past, Nike is set to do that in spades during the 2020 Games in Tokyo — and nowhere is this push towards the future of performance more noticeable than with Nike Running's offerings.
Consisting of four silhouettes split between two running shoes (the long-awaited Air Zoom Alphafly NEXT% and the Air Zoom Tempo NEXT%) and two track spikes (the Air Zoom Viperfly and Air Zoom Victory), these designs are dressed in black and neon green, rife with futuristic materials and backed by scientific studies conducted at Nike's famed Sport Research Lab. Unique in construction and potent in performance, this fearsome foursome marks a new chapter in performance running footwear, and is ready to jump off the line when the starting gun fires.
The apple of many dedicated runner and performance design geeks' eye, ever since it was first spotted on the feet of the great Eliud Kipchoge during his amazing sub-2 hour marathon, the record-shattering Air Zoom Alphafly NEXT% is Nike's fastest distance shoe to date. Centered around a feather-light upper and a carbon fiber plate and Zoom Air-based midsole system, it's designed to provide increased running economy and exemplary cushioning.
Thick ZoomX foam midsoles boast an ultra-high 39.5mm-45mm stack height, up to a full 8mm higher than the already-towering ZoomX Vaporfly NEXT%. This encases a full-foot carbon fiber plate that ensures stability and a smooth transition, all while increasing forefoot stiffness to help runners snap off their strides with a feeling of enhanced propulsion. A duo of Zoom Air pucks are also loaded in the forefoot, and their exposed design allows them to expand and contract in all directions, maximizing responsiveness.
Finally, uppers are constructed of a new Atomknit yarn. An evolution of ever-popular Flyknit, Atomknnit was designed specifically for racing and offers a contoured fit with less stretch for greater support. Its breathable, non sweat-absorbing design that stays light and snug is also a response to the heat wave expected at the Tokyo Games.
The Nike Air Zoom Alphafly NEXT% will be made available to Nike members on February 29 before a full release in the spring. A retail price has yet to be announced
For those who don't need the marathon-tuned performance of the Air Zoom Alphafly NEXT% but are enthralled by its advanced setup, there's also the more accessible Air Zoom Tempo NEXT%. Distilling the Alphafly's speedy ethos into an everyday style that's reinforced for training, testing shows that the Tempo has replaced the Pegasus Turbo line as Nike's most efficient everyday athletic sneaker.
Although there is a support plate set in the midsole, it's made of a composite material instead of carbon. This is less stiff, and therefore more adaptable for daily use. The same Zoom pucks as the Alphafly are present in the forefoot, but the foam setup has been altered: ZoomX foam is used in the forefoot and midfoot, but the heel switches to React foam for more impact protection. Uppers are constructed of Flyknit with a supportive fit band, and outsoles also add more rubber to enhance mileage.
The Air Zoom Tempo NEXT% will release in normal and FlyEase variations via the Nike webstore this fall, and is priced at $200 USD.
While distance running is covered by the aforementioned models, sprinting bolts off the blocks with two ultra-light track spikes: the Air Zoom Viperfly and the Air Zoom Victory. Touted as Nike's speediest and most efficient track spikes ever, each uses lessons learned from the Alphafly to help the world's fastest runners hit a new gear.
The Air Zoom Viperfly is made specifically for the 100m, and offers a giant Zoom Air bag directly under the forefoot with just a small dose of foam in the microscopic heel. This is by design — most sprinters hardly touch the track with their heel during a race. A carbon fiber plate is placed under this Zoom bag, and a form-fitting Atomknit upper is flexible in the forefoot and dense in the heel to increase breathability and lockdown alike.
Meanwhile, the Air Zoom Victory is geared towards slightly longer distances. A thin layer of ZoomX foam is laid under its carbon fiber plate, and the welded Zoom Air bag is lifted slightly off the ground. Inverse of the Viperfly, the Atomknit upper is adaptive in the heel and more snug in the forefoot, enhancing containment.
Both spikes will release as part of Nike Running's summer 2020 track offerings, and you can catch them on the feet of Nike athletes during the Tokyo Games as well.
Nike's endless pursuit of innovation is also front and center in our What to Expect from Sneakers in 2020 trendspotting editorial.