adidas, Jonah Hill, D-Rose, Pusha T and More Host the "World's Best Career Day"
adidas launched its Legacy Program in Chicago, introducing underserved student-athletes to a plethora of professions.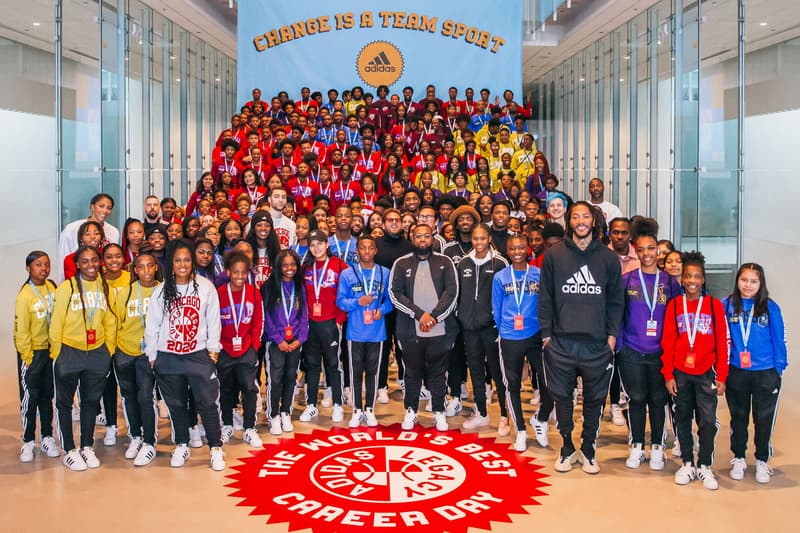 1 of 10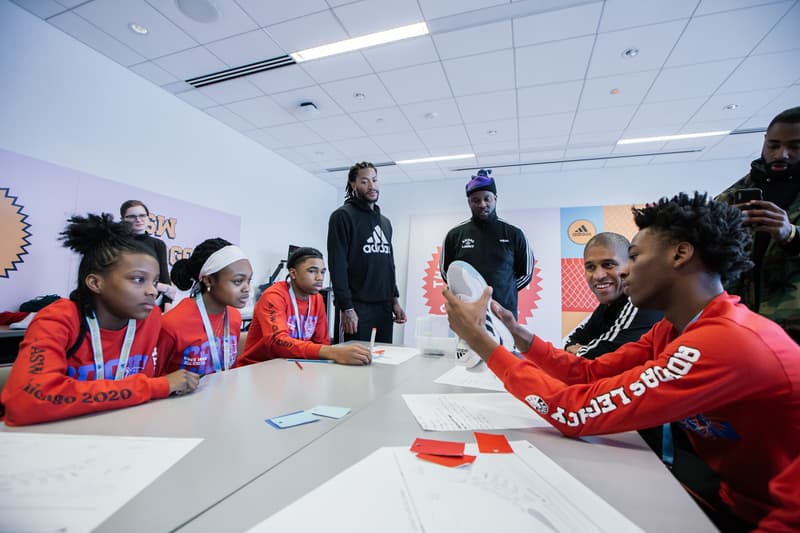 2 of 10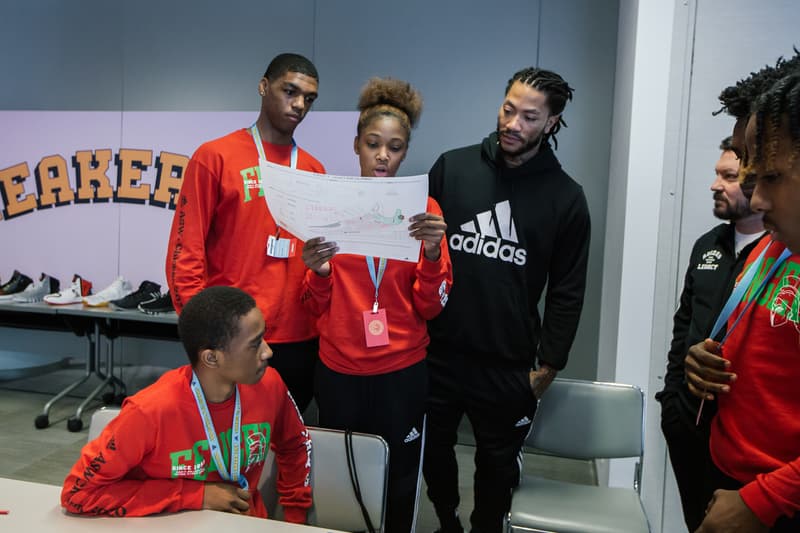 3 of 10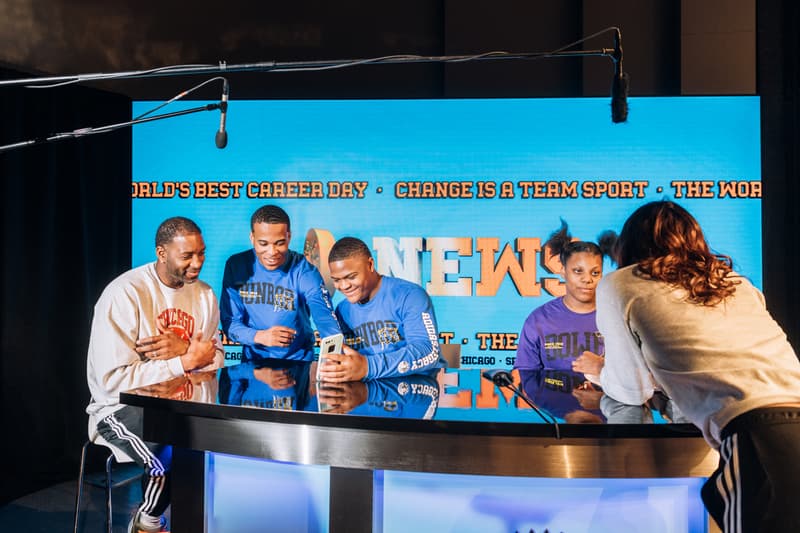 4 of 10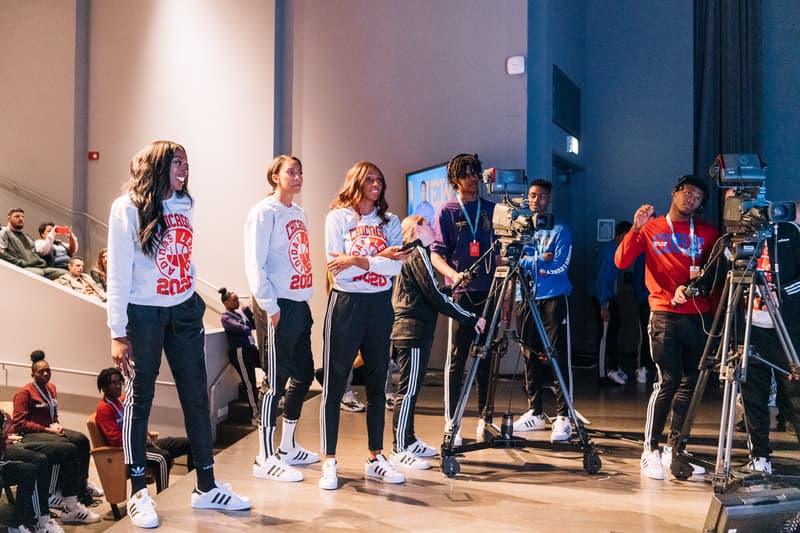 5 of 10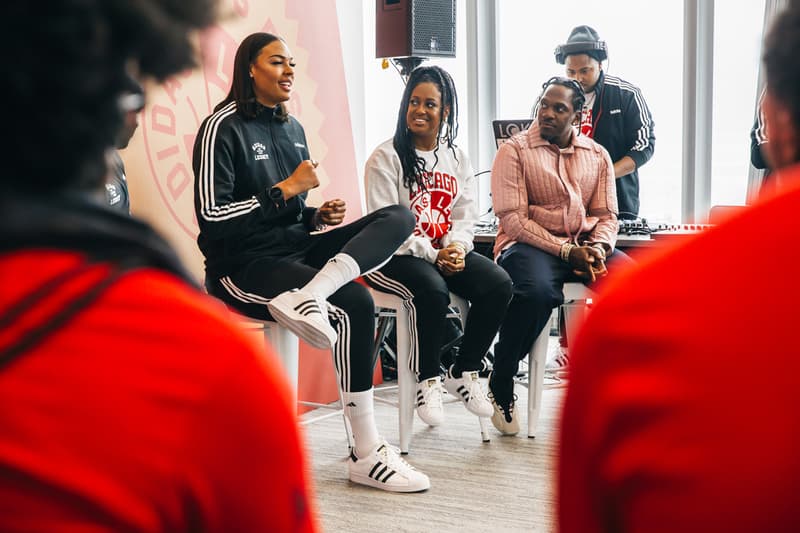 6 of 10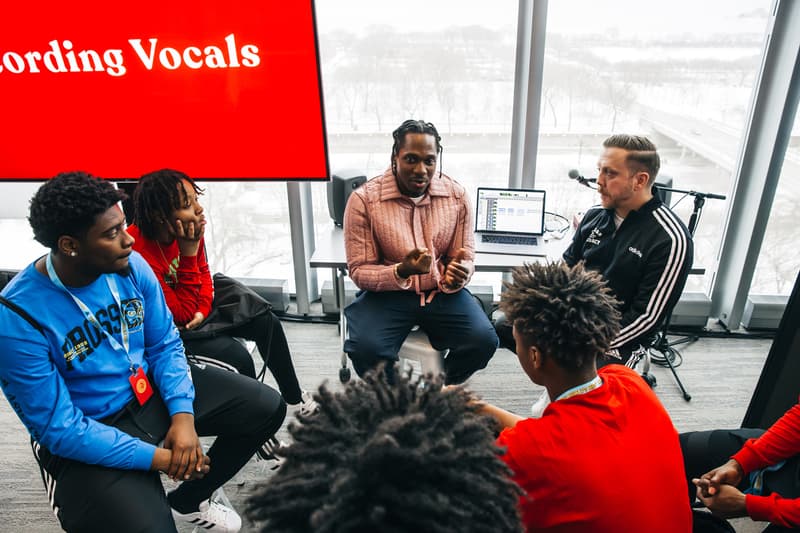 7 of 10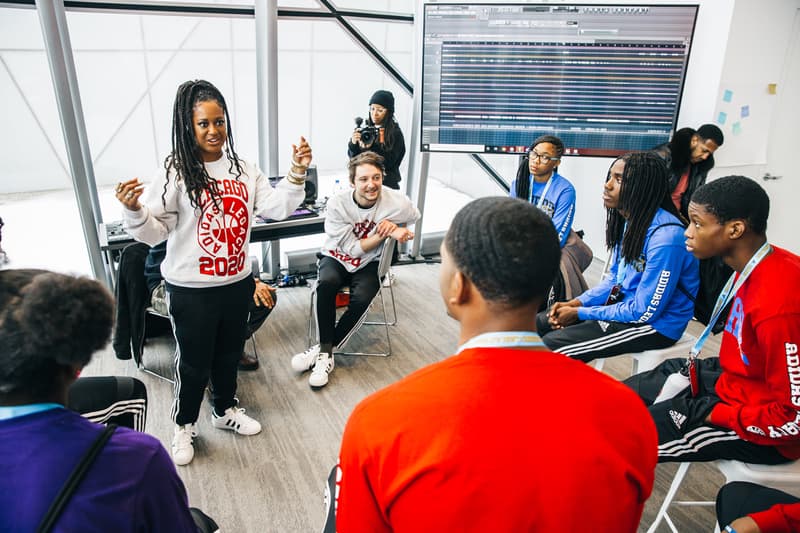 8 of 10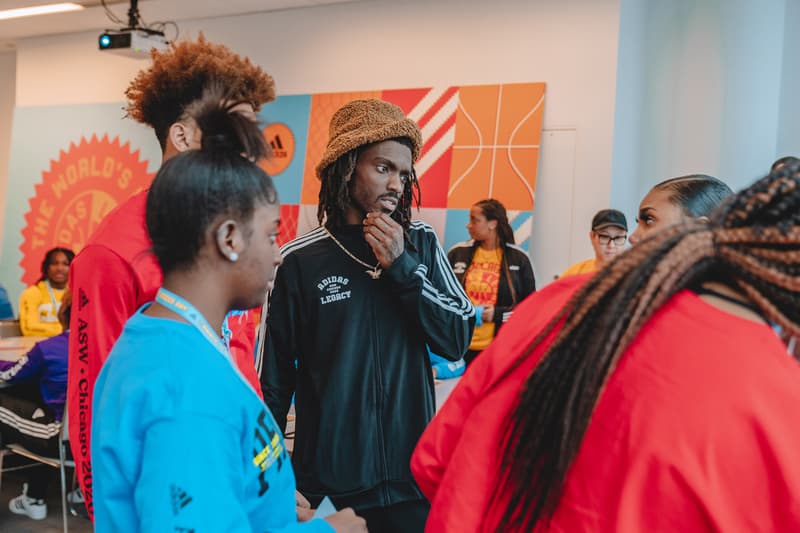 9 of 10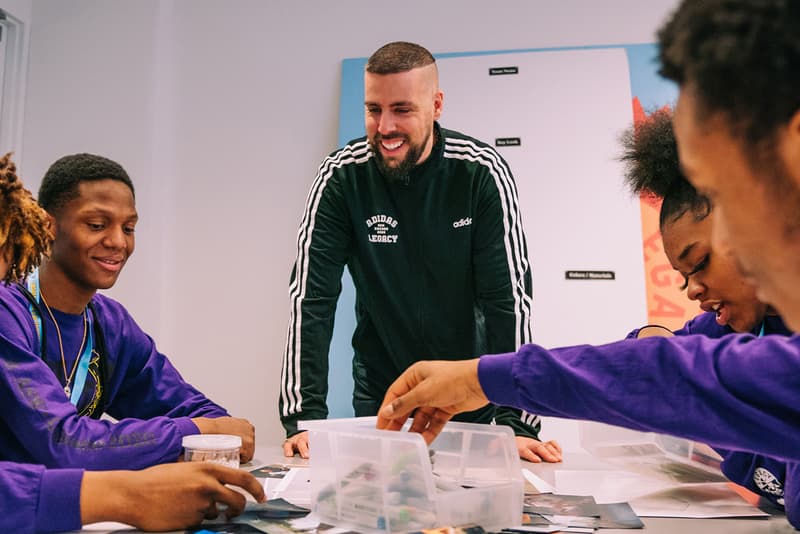 10 of 10
NBA All-Star Weekend is among the biggest annual tentpole events for footwear, sportswear and sports altogether. Brands from a number of industries all over the globe pull up to the corresponding host city with celebrity-filled activations and exclusive product drops with hopes of stealing the spotlight from their competitors across town, even if just for a brief viral moment.
Consumers however, more informed than ever, have grown to see through these advertising ploys and wary of the tall corporations that plan to skip town once Monday arrives. Which is why some companies are working with local creatives, activists and entrepreneurs to embed themselves within the local community. Yet still, you wouldn't be wrong to wonder if these socially impactful campaigns are more to the benefit of the community, or rather the brand.
During this past Saturday's NBA All-Star Weekend in Chicago, adidas Basketball took full advantage of having many of its premiere ambassadors in the Windy City to bring its Legacy Program to the midwest metropolis.
The Legacy Program aims to "unite, empower and inspire" teenagers from underprivileged communities, unlocking their creative and artistic passions with hopes of "reimagining their futures." It launched in Los Angeles in 2017 with 11 schools and 330 students, then in New York in 2018 with 9 schools and 270 students — all playing on their respective school's hoops team.
"We're trying to flip that narrative to say basketball is for you, it just may not be on the court. There's a thousand different ways to be a part of the profession."
Lofty marketing jargon aside, the stripped down version of the Legacy Program's founding mission is to show kids that playing basketball is not the only way in which one can have a career in the sport.
"It's discouraging to meet a star athlete that's 10 feet taller than you, who can jump higher than you; it can make you say 'basketball may not be for me,'" says Brandon Walker, Senior Manager of adidas Basketball. "We're trying to flip that narrative to say basketball is for you, it just may not be on the court. There's a thousand different ways to be a part of the profession."
The Legacy Program first started as a "look behind the curtain," in which young hoopers at underserved high schools were giving a chance to see how products are made and by who. They were given access to adidas's resources, both its design facilities and its employees, to try their hand at the various professions within the brand's basketball division. "We were able to say to kids, 'The shoes you're wearing were designed by her, and colored by him, and the marketing was done by her,' and you can see their eyes light up," says Walker, "reimagining their future and seeing themselves in a different light."
Chicago's launch took the program to new heights, by not only exposing kids to careers in apparel and footwear design, but also music, filmmaking, broadcasting, gaming and entrepreneurship. At Chicago's Columbia College and its sprawling Career Center across from the famous Grant Park, 240 student-athletes from eight high schools around the city took part in what adidas dubbed the "World's Greatest Career Day." There were seven different workshops across 10 different floors, ranging from a Derrick Rose-led Sneaker Lab where teenagers learned the ins-and-outs of performance basketball shoe design, to Jonah Hill's Filmmaking Lab, teaching children how to write, direct, shoot and star in their very own film.
"If you're from Chicago, you probably don't know anyone who makes movies, because the industry is not out here," says Jonah Hill. "I want to give these kids what I wish a filmmaker I liked would have come and done when I was in high school, because for me, whenever someone came to an assembly or something, it was always something you didn't really want to know about it."
Jonah was joined by his Mid90s and "Change Is A Team Sport" director of photography Chris Blauvelt, as well as wardrobe stylist Rahel Berihu and WNBA champion Alexis Jones. For over an hour, a group of wide-eyed students worked in teams to create their very own adidas ad. The directors met with Jonah to write and led the production; cinematographers took cues from Chris, and the student-directors of course, on how to shoot the treatment; a group of student-stylists picked out wardrobe with Rahel's guidance; and the actors took advice from Alexis on how to perform in front of a camera. James Harden even made a surprise appearance after his Apparel Lab with collaborator Daniel Patrick concluded down the hall, jumping in mid-take to dance with the kids.
Elsewhere, WNBA stars Candace Parker and Chiney Ogwumike, ESPN analyst Maria Taylor and retired NBA superstar Tracy McGrady hosted the Broadcasting Lab, teaching students the many jobs that help bring a show like ESPN's The Jump to life. On the top floor, Pusha T, Rapsody and WNBA's Liz Cambage led the Sound Lab, while Ninja, Sugar Gamers and Zach LaVine taught at the Gaming Lab. Last, but certainly not least, Chicago's very own Fat Tiger presented the Creative Business Lab, exposing teenagers to the many freedoms, and hardships, of owning a creative business.
Career Day was a success for everyone involved: adidas and its employees, adidas ambassadors, and of course the student-athletes that attended and participated in the various workshops. Everyone walked away a little more inspired, some even left with a celebrity follow on Instagram or a signed pair of kicks. However, Saturday is only the beginning. It's one thing to expose children from impoverished communities to careers and professions they wouldn't otherwise know existed, let alone see and experience firsthand. It's another thing to help cultivate these interests and passions with consistent funding, resource allocation and mentorship. Thankfully adidas, despite being in Chicago first and foremost to sell products, is genuinely aware of this need to be present and build community.
"We're not leaving Chicago. We're completely committed to these schools. We'll be here tomorrow, the next day and hopefully for years to come."
"Career Day was today," says Walker, "it was amazing. And now everyone's going to go home, but not us, we're going to be here, we're not leaving Chicago. We're completely committed to these schools. We'll be here tomorrow, the next day and hopefully for years to come."
This is why adidas not only brought in its heavy-hitter ambassadors, but also local Chicagoans to show that these career paths are very much attainable, and that the resources and mentors are already here.
"They brought us in to be an anchor for the kids," expressed Rello of Fat Tiger. "We're constantly hosting workshops for the local youth at our store and even letting some intern with us while going through high school and college. So what we're trying to do is let adidas use us as a vessel, so we can provide whatever we can, but the bus doesn't stop or begin with Fat Tiger, we're a piece to a bigger puzzle."
"Our doors are always open," continues Rello, "they may not be able to come to another career day like this, but they can always come to the Tiger."
Local artist Brian Herrera expressed similar concerns with adidas and the other apparel brands present in Chicago during All Star Weekend, including Nike and PUMA. Are they here to push products or to actually uplift the underrepresented communities within the city? "Household brands tend to involve themselves in the community when big events come to certain cities. But a lot of local artists got to be a part of this, which was super dope to see, and to be given that opportunity."
Herrera was commissioned by adidas to help design graphics and lead a T-shirt customization workshop at the brand's Water Tower store. There he realized that adidas was in fact authentic in its approach. "I definitely feel like I made a relationship and not just a client. It was an experience where I felt like my time was valued."
Nevertheless, Herrera understands that it's up to him, Fat Tiger and all of Chicago's artisans to achieve what the Legacy Program help start with its Career Day. "Activism and community organizing has always been grassroots, so we shouldn't be reliant on brands to bring forth change."
"We have to educate the youth that they shouldn't rely on the brands they wear. It's very attractive to be sponsored by a brand, but it's not going to take you to where you want to be."
In looking at Los Angeles and New York, where the Legacy Program has already launched, we've begun to see the follow through, from creative design workshops and training sessions, to providing school supplies and bikes for kids in the two cities. At Career Day, Rapsody mentioned that she's working on an after school program with the brand that will likely launch later this year in Los Angeles. Jonah Hill even told us that he too wants to work more with the Legacy students where he lives in Los Angeles and New York.
"adidas Legacy is so important to our brand, we're constantly in the boardroom figuring out how to extend this program and bring it to life." Walker tells us. "I can't share all of those details yet, but just know there's conversations that we're having and it's something that's truly important to us."