LaMelo Ball Officially Joins PUMA Hoops
The youngest Ball brother and likely lottery pick in the 2020 NBA Draft is the newest member of PUMA's ever-expanding basketball roster.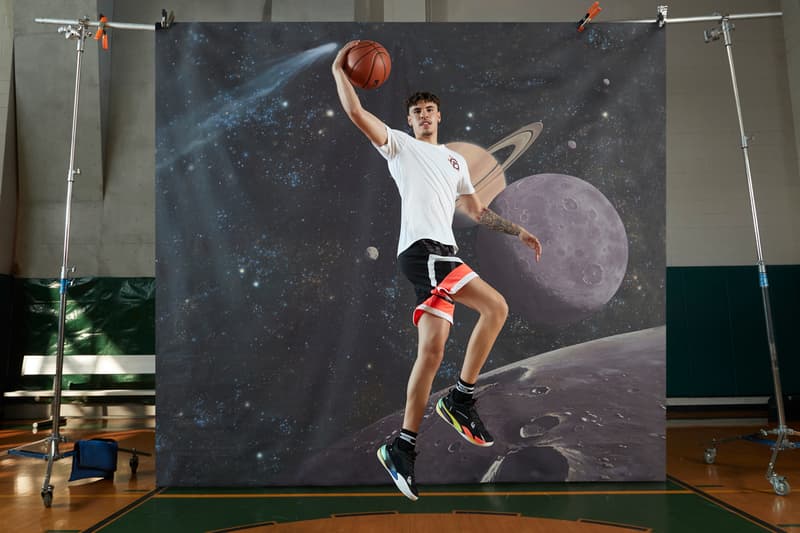 LaMelo Ball has officially signed with PUMA Hoops. After months of rumors and speculation, the youngest Ball brother and likely NBA Draft lottery pick has become the newest member of PUMA's ever-expanding basketball family, joining athletes and entertainers like Kyle Kuzma, J. Cole and more.
Ball and PUMA will kick off their partnership in earnest on November 18 — the day of the 2020 NBA Draft — with a special T-shirt and hoodie centered around a "Not From Here" concept, created by Ball himself to spotlight his "one of one" attitude. "I don't know what normal is. I personally chose a different path to achieve my success because that defines who I am," said Ball. "I know some people think I am mysterious or 'not from here,' and I might have to agree. I am someone who likes to be different and consider myself to be one of one."
Info on any PE-style footwear makeups or signature PUMA silhouettes for Ball has yet to be revealed. Prior to signing with PUMA, Ball — much like his brothers Lonzo Ball and LiAngelo Ball — wore high-priced footwear of dubious quality from Lavar Ball's Big Baller Brand and even had his own signature model, the LaMelo 1.
"I am really excited to be joining the PUMA family," quipped Ball. "I believe the brand is the perfect partner for me because PUMA will allow me to just be myself. I want to be 100-percent authentic whether that's playing basketball or showing off my personal style."
As mentioned above, expect Ball and PUMA's t-shirt and hoodie to hit the PUMA webstore November 18. Retail prices have yet to be announced.
For more footwear news, get your best look yet at Louis Vuitton's Virgil Abloh-designed skate shoe.