Meet The Berlin Photographer Using Instagram to Tell Provocative Stories
Marius Sperlich has built a platform addressing contemporary issues on the social media platform.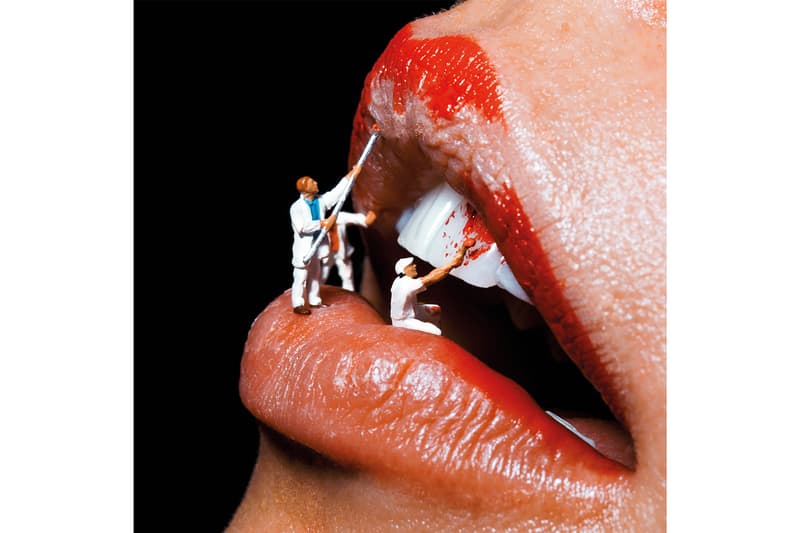 Berlin photographer Marius Sperlich's Instagram account is known to his 500,000 and counting followers as an artist lover's haven showcasing NSFW portraits. Walking a fine line between Instagram censorship and provocativeness, he uses the human figure as a canvas to style tiny props that tell a larger story. For the 28-year-old artist, nakedness shouldn't be inherently sexual if the subject matter is not about the body itself. "I am using body parts in my work, but the stories I am telling are not about the body itself. The stories are about what is happening on and around it," he told Playboy in 2018 after he styled and photographed their first artistic cover commission in 19 years.
Shooting for Playboy, though, was never something Sperlich could have dreamed of. Even with his growing popularity, he doesn't believe that one's value should be measured in Instagram followers or likes. "When I walk into a room or someone else walks into a room, it shouldn't matter how people treat others because of their following or social media status," he says. As part of his "Modern Drugs" series displayed at CONTEXT Art Miami this year, he installed an interactive portrait, Likes=Money, which was priced based off how many likes the post received on Instagram over 24 hours. IRL, the virtual price tag soared past $100k as close to 110,000 likes rolled in.
Beyond social media issues like censorship and validation, Sperlich's platform aims to address buzzy topics like climate change, mental health and more. One of his latest pieces shows a smiling woman with the words "I'm sad" and "I'm not okay even when I smile" written across her face, depicting the contemporary pressure to maintain a happy front. Equally thought-provoking is his piece of a polar bear drifting away on melting ice with a breakdown of how people can do their part to stop global warming. His portrait of Boys Tears urges men to overcome toxic masculinity, while Land of The Free addresses social injustice.
Even with these serious topics, his feed also boasts ironic portraits that play on designer brands, food and figurines. Currently, he's working on a life-like Statue of Liberty turned Kim Kardashian sculpture with Joachim Bosse. Read more about Marius Sperlich's inspiration and conceptual photography, below.
"I just wanted one picture that tells one story."
How did you get your start in photography?
I always wanted to do something in film; I wanted to be a director when I was younger. But film school didn't like my work and I had a rough start. I almost gave up on my dream to do something creative. But then I did party photography for a friend of mine where celebrities attended. I started to pick up the camera again because it's so pure. You have about 25 images per second with film — but with pictures, just one is enough for me. I just wanted one picture that tells one story. It took a long time to make it happen.
When I was nine, my dad gave me a VHS camera and then I started to film friends on skateboards. I was skating a lot and this whole aesthetic of skateboarding really shaped my work. From there, I had to tediously transfer one hour of film. I picked up a camera and said one picture is enough. My whole brand evolved through Instagram because I started posting my work online and people reacted to it. I created art on body parts and saw that it caused a lot of attention because you usually don't see a big image with one little person figurine on it.
What are the modern issues behind your art?
I wanted to create an online platform that grabs people's attention but also gives them something in return. This is why I address those topics like mental health and body positivity. It's weird for me to think that I just wrote "I'm sad" on someone's face and then 80,000 people reacted to it. This is why I put close-up photos with messages because I always want to address broader problems.
Since censorship on Instagram is a big topic, I address that too by photographing women's bodies. I'm a man who can somehow do whatever I want, but my makeup artist, who's a woman, cannot. Another topic I've worked on is "Boys Don't Cry" which depicts toxic masculinity. In the end, women are taking the brunt of it and end up with a big child baby because the men in their lives never talked about their feelings.
"I wanted to create an online platform that grabs people's attention but also gives them something in return."
Why do you create art on female bodies?
The female body is just a landscape I'm using, so I don't view it as something to objectify. I'm seeing the body as a space where you can create something. But there are guidelines on Instagram to adhere to. Sometimes it's difficult because you don't want to send the wrong message, too. Everything I do is intentional and to provoke emotion.
When did you truly "make it" as an artist, in your opinion?
I would say last year when I went to Hollywood and then to Miami for CONTEXT. I always admired America and their aesthetic. I shot a Playboy cover in L.A and thought, "This is what it's all about." I sold out of all of my pictures in one night. I didn't tell my mom or dad this but I went with nothing in the bank.
Where do you see your artwork displayed this coming year?
I don't know if I'll work with galleries in the future, I just want to be more interactive with my art. I think art shouldn't be so exclusive the way it is in now by purchasing high priced tickets to see art. I like that people online are able to enjoy art even if they're not getting into the exclusive galleries.