The Best Lunar New Year "Red Pockets" From Your Favorite Brands
How Gucci, Fendi and more are ringing in the Year of the Rat.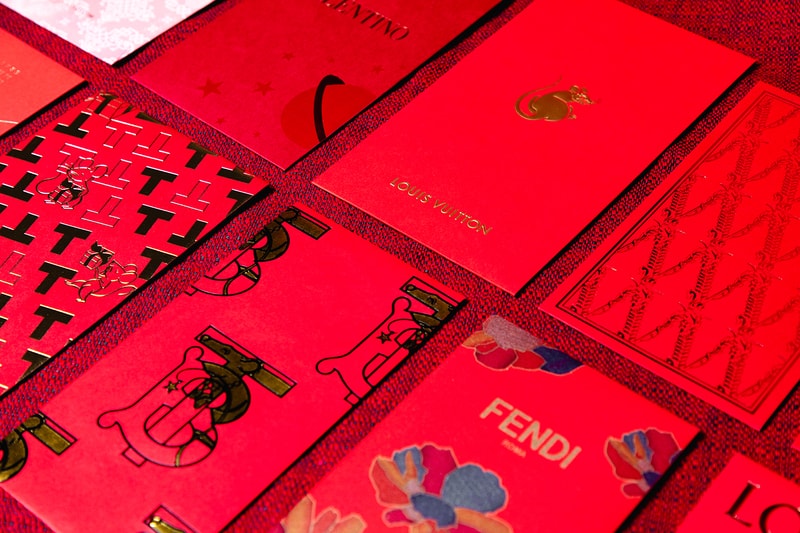 It's that time of the year again, when the East and Southeast Asian populations around the globe celebrate one of Greater China's biggest holidays, Lunar New Year. That is, the changing of the year based on the lunar calendar, and January 25 will welcome the Year of the Rat in the Chinese zodiac cycle. On top of the superstitious and traditional events that will take place over multiple days, there's one large aspect to the holiday that many look forward to the most — opening red pockets (known as 紅包/Hong Bao in Mainland China, and 利是/Lai See in Hong Kong) for gifted money.
Typically given to those that are younger or in school, by married couples or someone older and earning their own money, each red pocket is inserted with new bills, amounting numbers that avoid denominations of four (unlucky) and also coins. For those who are still confused about how it all works, Molala did a whimsical infographic on who should give and receive a red pocket.
2019's Year of the Pig red pocket round-up saw a lot of creative and colorful envelopes presented in exuberant packaging. However, the general presentation for 2020 seems to be more toned-down across the board. This may be due to smaller budgets in light of a forecasted slower economy this year, or a conscious effort from big brands towards sustainability.
Nonetheless, the minimal red pockets still showcase each label's creative ability for branding one of the oldest traditions in Chinese history. This year, we sorted through over 30 different designs from the likes of Fendi, RIMOWA, adidas and more, selecting the most innovative designs to showcase. We've categorized our favorites them into three groups: Luxe, premium fashion houses that have consistently taken part in the yearly event; Unexpected Entrants, those that didn't make the cut last year or have stepped up their "lai see" game; and finally, Editors' Picks, the red envelopes that we felt stood out the most.
Luxe
While we did note that major brands and fashion houses held back on exuberant packaging this year, many of the luxe labels nonetheless maintained a high level of quality in their red pockets. Details like magnetized slim boxes, textured print and thick matte-red paper were present throughout. Many of the envelopes take a more traditional route with the colors red and gold dominating the luxe category.
Leading the pack is Louis Vuitton with a simple-branded cardboard case that sees the brand's name debossed in gold letters. The pocket features a single golden rat at the center and an "LV" monogram at the back. Versace offers a duo-pack that contains one envelope with a gold-framed "V" above the "Versace" name, and one with a baroque-style pattern in gold foil. On the more playful side, Paul Smith's take sees an illustrated smiling rat with Paul Smith's signature cursive penmanship.
Unexpected Entrants
For this category, designs that made the cut were either brands new to the red pocket celebration, or those that have outdone themselves compared to last year's submission. This year features Filipino fast-food chain Jollibee's co-branded design with Pepsi. PORTS was one of the few names to go against the traditional red pocket, and as the brand instead opted for a bold yellow envelope featuring multi-colored graphics. Tiffany & Co almost had us fooled with its signature Tiffany Blue color on its packaging, but kept to auspicious red for its pockets.
One of the more intricate displays in this category belong to watch brand IWC. Its envelopes came in a hefty pull-out box where each individual pocket had its own ancient Chinese coin closure and knot art string.
Editor's Picks
For our editors' picks category, we chose red pockets based on how well the brand was able to combine its story with the holiday — and whether it was done with panache. Gucci was able to carry over its Disney collaboration and released Mickey Mouse-branded envelopes stored in a green and black Mickey Mouse display box. Going a step further, Calvin Klein really surprised us by including a fully-functioning toy maze at the center of a traditionally gifted Chinese candy box.
Japanese streetwear brand BAPE chose to walk the non-traditional path by releasing a bold pocket themed off its coveted Shark Hoodie. The envelopes came in a functional PVC pencil case that can be used for storage long after Lunar New Year. Baby Milo followed suit in terms of thinking outside the box, releasing multi-variant pockets that brandish the first camo in pink. CLOT managed to get its timing right this year with the release of a pink pocket that rifts off its "Rose Gold" Silk Royale Air Force 1.
So here it is, 2020's Year of the Rat red pocket round-up. Have a scroll through the images above and let us know who had the best design.
In other Lunar New Year News, LEGO captures the spirit of Lunar New Year with lion dance and temple fair sets.