Antonio Brown Released By Patriots Amid Allegations of Sexual Assault
Brown is currently being investigated by the NFL.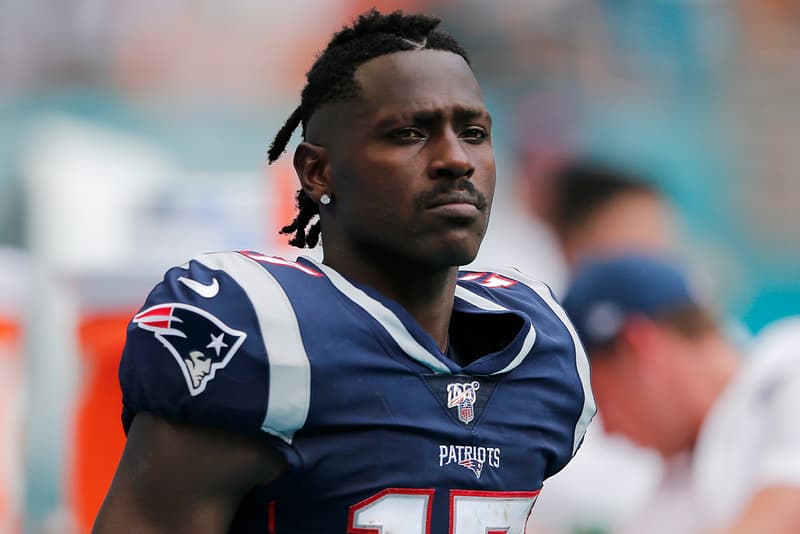 UPDATE (September 20, 2019): According to ESPN, the New England Patriots have released Antonio Brown just two weeks after signing the superstar wide receiver, which was also days after he was let go by the Oakland Raiders. The news comes 10 days after Brown was accused of sexually assaulting his former trainer, according to a civil lawsuit the trainer filed on September 10.
Adding to the turmoil was a report released by Sports Illustrated on Monday that detailed another allegation of sexual misconduct, this time by a female artist who was working at Brown's Pennsylvania home in 2017. Then, on Thursday, the artist's lawyer contacted the NFL claiming Brown sent threatening text messages to her client.
"We appreciate the hard work of many people over the past 11 days, but we feel that it is best to move in a different direction at this time," the Patriots said in a statement.
Brown is currently under investigation by the NFL and will not be paid his $9M USD signing bonus. It is unclear when or if he will be interviewed by the NFL or what the future of his career holds. Brown has yet to speak on the allegations and rumors, other than thanking the Patriots in the tweet below, his agent however stated, "It's unfortunate things didn't work out with the Patriots, but Antonio is healthy and is looking forward to his next opportunity in the NFL. He wants to play the game he loves and he hopes to play for another team soon."
Last Sunday's game between the Patriots and Dolphins is the only game Brown has played this season, totaling four catches for 56 yards and one touchdown.
Thanks for the opportunity appreciate @Patriots pic.twitter.com/envfHEd6N8

— AB (@AB84) September 20, 2019
Stay tuned as this story develops.
UPDATE (September 7, 2019): A few very short hours after his release from the Raiders, 31-year-old wide receiver Antonio Brown signed a one-year, $15 million USD deal with the New England Patriots, a contact that includes a $9 million USD signing bonus. Brown will not join the Pats for their Week 1 game against the Steelers (could you imagine?!) as he won't be an official roster player by kickoff; he will however be available for Week 2 against the Dolphins.
LFG #GodsPlan pic.twitter.com/MflFD1MqoT

— AB (@AB84) September 7, 2019
---
ORIGINAL STORY: The Oakland Raiders have officially released Antonio Brown from their roster, making him an unrestricted free agent and eligible to sign with any team in the league as of today.
The Raiders have released WR Antonio Brown from the team today.

— Oakland Raiders (@Raiders) September 7, 2019
Earlier today, the wide receiver took to Instagram asking the team to release him. "I have worked my whole life to prove that the system is blind to see talent like mines.Now that everyone sees it, they want me to conform to that same system that has failed me all those years. "I'm not mad at anyone. I'm just asking for the freedom to prove them all wrong." Release me @raiders #NOMore #theyputblindersonahorseforareason #NoMoreFake" he captioned in the post.
The response comes after a series of incidents in the past month, one which included AB being fined for $215,073.53 USD for his conduct in relation to a confrontation with GM Mike Mayock.  The fine essentially voided his $29.125 million USD worth of guaranteed money in his deal, according to NFL Insider for ESPN Adam Schefter. The Raiders also sent a letter to Brown stating that he was ineligible for termination pay and reduced his contract to a week-to-week basis.
The Pro Bowler joined the team in March 2019, after being traded by the Steelers. Brown's agent Drew Rosenhaus stated that they are focused on immediately signing him to a new team and that "Antonio is looking forward to a new beginning."
Elsewhere in sports, LeBron James recently launched the Glass Helmet Project in order to encourage young football players to be seen and heard.