Tetsu, Chris Gibbs, Carol Lim and Humberto Leon Delve Into the Importance of the Vans Era
The four behind WTAPS, Union LA, and Opening Ceremony offer insight into their collaborative designs.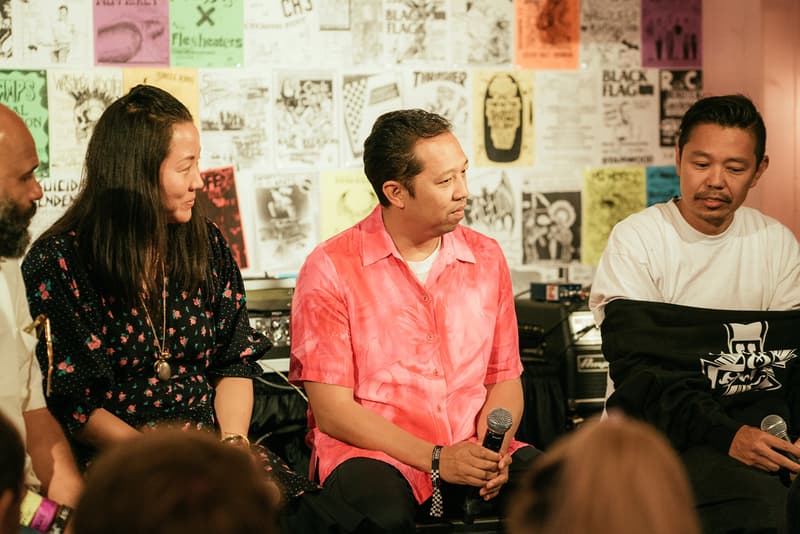 1 of 2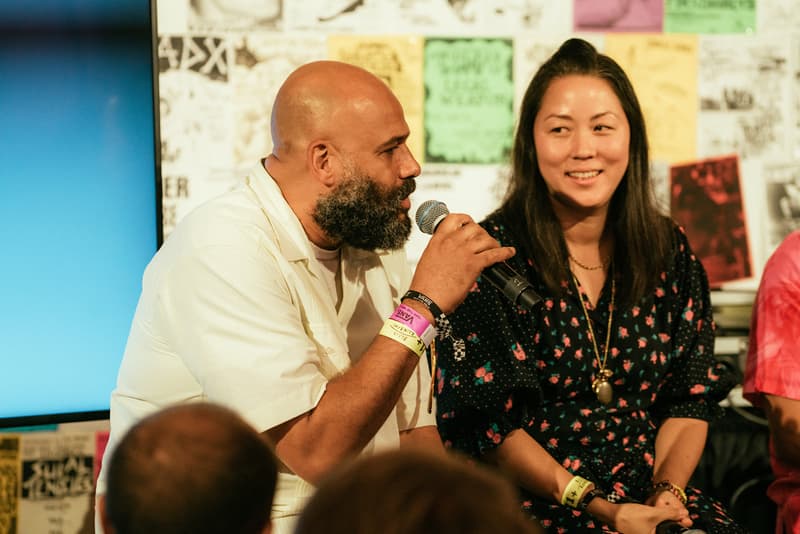 2 of 2
Vans recently held a special 10-day long event in Venice, California, celebrating the Era and the creative spirit of the people that wear them. The theme of the experiential program was "Black Rainbows," a term coined for the wheel marks left from wall-rides, symbolizing the vision to creatively reimagine the world around you. These reinterpretations are not limited to just skaters and concrete, but also the artists and brands Vans chooses to overhaul its classic sneakers.
At Black Rainbows, Vans hosted the "Collaborations Through the Era" panel, which looked to give attendees insight into the design process between the shoemaker and its collaborators, including Tetsu Nishiyama of WTAPS, Chris Gibbs of Union Los Angeles, and Carol Lim and Humberto Leon of Opening Ceremony. Despite growing up in different parts of the world, each panelist can recall a deep personal history with Vans that has informed their own design processes. Read on for our interview with these fashion veterans as we take a deep dive into the world of Vans collaborations.
Can you tell us about your first experience with the Era? If not the Era, how about your first experience with Vans?
Chris Gibbs: It's probably an unexpected answer, but the Era is the last shoe in the Vans quiver that I gravitated towards. The first shoe was the Half Cab, that would be my first skate shoe of note in junior high. That was my entry level Vans shoe. As I got more into the Vans world I pivoted more towards the Old Skool and the Sk8-Hi.
The Era was the last, quite frankly, I probably didn't get my first Era until I moved here, and I was 28 when I moved here. I feel like now I know it's this universal thing, but back then it was kind of a Cali thing. When I moved out here and embraced Los Angeles and started learning and appreciating California culture and as a part of that, I embraced the Era.
Tetsu Nishiyama: My first experience with Vans was the Sk8-Hi. When I was in middle school, an older guy at school sold me a thrashed pair of Sk8-Hi's that were Shoe Goo'ed up for ¥500 JPY. Back then, for me, Vans were something I dreamed of; you could not get them easily, so I remember how happy I was regardless of them being used. I think the first pair of Eras I bought had a navy body with white foxing tape.
Humberto Leon: Growing up with very little money, somehow my sister managed to get a small collection of Vans under her bed. She never wanted to wear them and wanted to keep them pristine. Being the nosy little brother, I would worship what she kept as a shrine, which was my first experience with Vans.
Carol Lim: For me, when I was in junior high, I didn't know that it was called the Era. I went to private school, so the one thing that differentiated the uniform was the shoes that you could wear. I saw a girl wearing the red Eras and she was super cool so I remember I wanted those.
"The attractiveness of the Era is its universal design, along with a presence that cannot be replaced by anything else, regardless of the times." — Tetsu
Design-wise, what do you like about the Era?
Humberto Leon: They are the perfect shoe and have been imitated by everyone. They are classic and the perfect proportions.
Chris Gibbs: Simple and classic. I'm a big fan of classic designs. Design-wise I always want to push, I always want to update and move it forward and evolve it, but I do love a classic thing and it doesn't get more classic than the Era.
When we've worked with the Era in the past we try to take it and bring it to the modern day while still keeping its roots and indelible sensibilities. It's simple and sometimes that's necessary. There's a different season for different shoes and different designs and there's something to be said when you want that classic shit. Through the lens of skate, it doesn't get more classic.
Tetsu Nishiyama: I think the attractiveness of the Era is its universal design, along with a presence that cannot be replaced by anything else, regardless of the times.
Why do you think the Era represents this area, Venice/Santa Monica?
Humberto Leon: They are the ultimate laid back shoe. I grew up in Los Angeles, so to me, they represent my hometown.
Chris Gibbs: It's the quintessential, classic skate shoe. One of my favorite words is indelible [laughs] and I feel like it's the indelible skate shoe. It's the gold star, the thing that represents the culture. It's authentic and that's something that I'm always striving towards.
Tetsu Nishiyama: Skateboarding and California. I cannot think of any other footwear than the Vans Era that represent these two elements.
What makes this sneaker so iconic, not just to skateboarding but the entire footwear industry and culture at large?
Humberto Leon: They go beyond skateboarding. They represent culture.
Carol Lim: Well Vans is about making quality shoes that are accessible, democratic and inclusive. Even though the Era is rooted in sport, it is part of everyone's wardrobe and you see it everywhere. There aren't that many brands that permeate that spectrum. Most people I'd say would remember exactly the first time when they bought Vans. It's the brand that you have emotional connections to and I think any brand out there wants to be that.
Tetsu Nishiyama: Starting with skating, I think that music also plays a huge role. I feel it is because of how the relationship with culture is that deep.
What's your favorite Era of all time, or do you have a favorite Era that you've collaborated on?
Humberto Leon: To me, our Opening Ceremony x Vans "Magritte" Eras stand the test of time. They are a placed graphic and look like they are worth a million bucks.
Chris Gibbs: We're here with one of my favorite designers of all time, Tet. I think maybe the first round of the WTAPS with the crossbones embroidered on it is one of my favorites of all time. I'm a big fan of what we've done as well. For our last Era we did, we added this kente cloth print, and we're very proud of that and that was for the cush version.
Tetsu Nishiyama: The two-tone model released in collaboration with [Vans] Vault for FW18. I feel I was able to express the elements I liked through the alligator embossed nubuck that was an homage to Caballero, along with colors inspired by Vans that Neil Blender wore in the '90s.
Why choose the Era when you're working on a Vans collaboration?
Chris Gibbs: It's a really great canvas to apply your version of what Vans means to you. It's the perfect complementary shoe; when I'm traveling it can fit with everything. It's the perfect canvas and you can fill it with something, but you can also leave it blank. A white Era for me can go with anything, whether I'm dressing myself up or going super casual.
Humberto Leon: I feel like it's one of the most authentic shoes and it's instantly recognizable. Somehow even with the cut lines it doesn't obstruct the artwork. Also, I feel like it's been copied so many times, it really is just the perfect proportions.
Can you talk a little about a specific design you did with the Era?
Chriss Gibbs: What I tried to do was reimagine the classic Vans checkerboard. So it's supposed to be circles as opposed to checkerboard. With the checkerboard everything lines up and there's no negative space, so with the circles the challenge for us was what to do with the negative space from the circles. So that was the thought process with that; let's pay homage to the classic checkerboard but do something different.
Humberto Leon: I think we try to push dimension as far as we can. One of the things we always try to bring to the Vans team is how far can we push the material; how far can we push the application on a midsole. So I think some of our past examples are how can we take something classic and exaggerate it. Even when we did the Kenzo collab, which was on the Era, I feel like on a global scale that really took it, with that pattern work and taking some of those authentic patterns and really seeing those explode. For us we saw a massive growth rate in the shoes. It was super cool.
Carol Lim: Yeah it's interesting, we also have a stronger women's business than the men's, which is great.
Tetsu Nishiyama: Yeah I always think about respecting the Vans identity. I want to keep its original form as much as possible.
"Most people I'd say would remember exactly the first time when they bought Vans. It's the brand that you have emotional connections to." — Carol Lim

When you guys are working with the Era and redesigning it, are you seeing the skate origins in the shoe?

Chris Gibbs: I do, I definitely see the emotional origins of skateboarding when I look at it. Like it's the skate shoe, not a skate shoe. I think of all the classic pictures of the guys cruising down the hills not too far from here. For me it's the emotional side, not really the logistical.

Carol Lim: Same, I'm more of a rollerskater and I don't see it technically, but more emotionally and culturally for me personally. I know skaters wear it and have an affinity for it. It's the perfect shoe in many ways and the fact that people skate in it is even more amazing.

Humberto Leon: In the San Gabriel Valley, it was mostly Asians and Latinos, and we had Vans on our feet and I don't think a lot of these people were skaters. I relate it more to culture than just skateboarding. It has to do with music and art. I think it's a huge part of music. When you think about all the kids that would go to the Morrissey concerts or the first Lollapalooza, all these kids would wear Vans so it's definitely embedded in culture. The skate portion is obviously a huge part of that as well.

Tetsu Nishiyama: Yeah, it's the Vans style. I think of Tony Alva wearing the shoes and to me that's the Vans look.
---
For more on the Vans Era and its cultural impact, check out our recent interview with Tony Alva, Jim Muir, Jeff Ho and Eric Dressen.